NASCAR Roots
Peyton Sellers Cherishes Second NASCAR National Title More
Peyton Sellers Cherishes Second NASCAR National Title More
Sixteen years after winning his first NASCAR national championship, Peyton Sellers cherishes his second national title more than he did his first.
Dec 7, 2021
by FloRacing Staff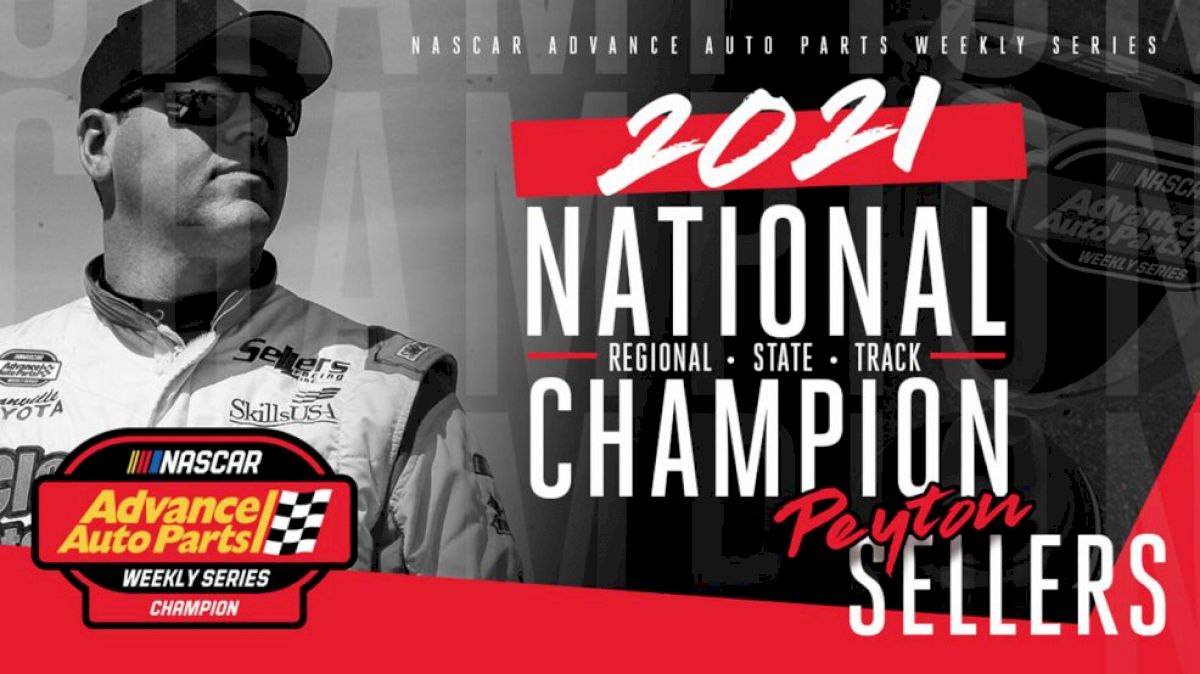 When Peyton Sellers won his first NASCAR national championship 16 years ago, he hoped the title could be used as a stepping stone in his racing career.
In many ways, it was. He got an opportunity to race across the country, in the NASCAR Xfinity Series, and with Richard Childress Racing.
"I went from a local driver driving around Virginia and North Carolina to all of a sudden my name was more on a national platform," Sellers said.
Even though the 38-year-old said he didn't take his first national championship for granted, he cherishes his second more. Sellers won the 2021 NASCAR Advance Auto Parts Weekly Series Division I title this year by 34 points.
"It's very humbling for sure," Sellers said. "I cherish it and enjoy it even more because I realize how hard they are to come by. I realize how fortunate I have been able to race as long as I have and still be competitive. A lot of guys my age changed directions and just lost that confidence to do it week after week, and I'm still able to do it."
Sellers' team, Sellers Racing, had a lot to celebrate this season. Not only did Sellers win a national championship, he also won track titles in the late model divisions at South Boston Speedway in South Boston, Virginia, and at Dominion Raceway in Woodford, Virginia.
Sellers' teammate Daniel Silvestri won a CARS Tour race. He also won the pole award at the ValleyStar Credit Union 300 late model race at Martinsville Speedway, a race won by fellow teammate Landon Pembelton. Another teammate, Dustin Rumley, won the late model division championship at Ace Speedway in North Carolina.
The team had a get-together and dinner just before Thanksgiving to celebrate Sellers' championship and the success of the other drivers. Drivers and their families, as well as sponsors, teammates and supporters, attended.
"It was a very enjoyable night," Sellers said. "A lot to be thankful for, a lot to celebrate and enjoy. Going into the holidays, it's good to keep it fresh in everyone's mind of how much hard work you put into it and enjoy it."
Throughout his two-decade career, the one constant for Sellers has been his family. His brother, H.C., is his crew chief and runs the Sellers Racing team. His dad, Burt, serves as his spotter, and his mom, Mary, films the races. His wife, Jennie, is also at every race.
One member of the crew, Les Young, who Sellers said is "like a brother to me," has also been with the team for both national championships.
Making the sport a family event is what has helped keep Sellers going all these years later.
"In life, we gauge everything on money most of the time, the monetary value of things," Sellers said. "For me, I try not to do that. I try to put the value in having your family and having the support of your loved ones around and doing what you enjoy doing. For me to be able to do that has been really neat because we sit around on the lunch table on Sunday afternoon and talk racing. We work during the week and talk racing. To have that family value that we're all pulling in the same direction is what gives me the sense of accomplishment that I need every day to go out and do it."
The other constant in Sellers' career has been the support of his sponsors and fans throughout southern Virginia and his hometown of Danville. Danville Toyota and Clarence's Steakhouse have been his primary sponsors off and on for 20 years.
Sellers Racing has a tailgate spot at South Boston Speedway, and Sellers said on any given race night they'll have 20 or 30 friends, family and supporters watching there.
"For me to be from Danville, Virginia, I still live in Danville. I've had the opportunity to go live in other places, but Danville has always been home," he said. "The history of racers who come from Virginia in general is something I'm very proud of; I feel like I've been able to add to that history with a couple Virginia Triple Crown titles, a couple national titles.
"I'm hoping I'm a driver people will talk about for years to come. It's nothing I'm bragging about or anything of that nature, but just to be able to do this and compete and enjoy what I do. I enjoy going out to anywhere in Danville and seeing people I know and them saying, 'Oh yea, we saw you Saturday night. We were down at South Boston, we watched you race. Enjoyed what you're doing.' That sort of thing, that is special to me. To be able to be a part of your community and have people come out and watch us race is something that I don't take lightly."
Seemingly everyone has asked Sellers about his plans for next year, but he honestly hasn't thought about it. For now he's focused on enjoying the success of 2021 and savoring it as much as possible.
One of Sellers' two cars this year got a new body and went Nashville for the NASCAR championship banquet. It was also put on display at the Performance Racing Industry trade show in Indianapolis.
"To have a car in that show, to be able to show our sponsorship and support, that they thought enough of us to be invited to go was a pretty neat deal," Sellers said.
Once the calendar gets closer to Christmas, Sellers said he and the team will start thinking about next season.
Sixteen years ago when Sellers won his first national title he made sure not to take it for granted. Now that he's finally won a second, he's savoring the title and what that means for his career even more.
"This is grassroots racing. The Advance Auto Parts [Weekly] Series is grassroots. It gives me the opportunity to compete on a national level by racing at my local track," Sellers said. "To be able to still compete at this level at 38 and win races and do what I love to do with my family involved the whole way is something I'm very proud of. I don't take it for granted. I don't take any of the opportunities that I have with our partners and sponsors that stick by us year after year; some of those relationships you don't come by being part-time racers.
"We're full-time racers. We race hard, and we've been able to do this and chase this dream for a long time now."