2022 Lucas Oil Chili Bowl Nationals
Jonathan Beason's Indoor Legacy Is Nothing New
Jonathan Beason's Indoor Legacy Is Nothing New
Jonathan Beason is a rather reserved lawnmower salesman that transforms into an indoor racing sensation during the Tulsa Shootout and Chili Bowl Nationals.
Dec 6, 2021
by FloRacing Staff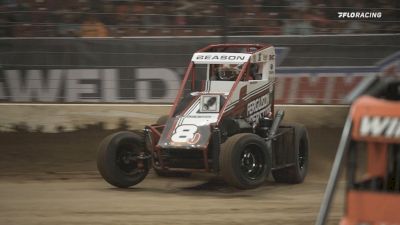 The kids are calling it "BZN SZN."
It's a month-long period in the winter months when a rather reserved lawnmower salesman from Broken Arrow, Oklahoma transforms into an indoor racing sensation.
This weekend, the beast known as Jonathan Beason tore apart the city of St. Louis with a statement sweep of the Gateway Dirt Nationals. He dominated preliminary action on Thursday and Friday, then capped the weekend with a jaw-dropping rally from dead last to victory lane thanks to a thrilling last-lap pass.
Don't get it twisted, though, this "BZN SZN" phenomenon is nothing new. It's been a threat for more than a decade, primarily with sightings reported in Tulsa – which happens to be his next destination.
At 33-years-old, Beason already has one of the most remarkable resumes at the Tulsa Shootout, and he's proven to be a legitimate contender at the Chili Bowl Nationals as well.
It goes all the way back to 2001, when a then 12-year-old Jonathan won the first Restricted title at the Lucas Oil Tulsa Shootout. Fast forward 15 years later, he grabbed a second Golden Driller in Stock Non-Wing in 2016. He's still the ONLY driver to win the Restricted division and eventually go on to win one of the major Stock/Outlaw classes.
As a whole, he's got 26 A-Main appearances in the "Internet Era" (Since '03), which ranks fourth only behind Chris Andrews, Frank Flud, and Brady Bacon.
More impressive is the fact that Beason has more top-five finishes (16) and more top-ten finishes (20) than anyone over that stretch.
In each of his last five runnings, he's found a way to land on the podium every single time. In fact, his average finish is 5.7 over his last 10 Shootout A-Mains. He'll enter this year's 37th annual event as the runner-up finisher in both of the last two Winged Outlaw finales.
That's the "Mecca of Micros," now how about the Lucas Oil Chili Bowl Nationals? Next month's 36th annual show will mark Beason's 17th consecutive attempt at the indoor spectacle held in his own backyard.
It all started back in 2006 when a then 18-year-old Jonathan made his CBN debut driving for his father Mike Beason in an Eagle / Ed Pink Chevy No. 19S. They ended the week in the F-Main, but his Chili Bowl addiction had started.
By 2011, the Beason's had upgraded to a Stealth / Esslinger No. 36, and boy did they have success. He was fourth on Tuesday night behind Bryan Clauson, Michael Pickens, and Jon Stanbrough. He transferred through the B-Main on Saturday to make his first Chili Bowl A-Main, but the run was far from over.
Charging forward from 17th-to-4th, Beason rattled off his best Chili Bowl result in his first appearance. At one point, he was side-by-side with Sammy Swindell in a battle for the second spot.
Come 2013, Beason paired with Jon Kantor at Hard 8 Racing, and he's never left the No. 8J since. The partnership has seen incredible success inside the Tulsa Expo, most notably a 2014 Tuesday night preliminary win. They've also locked-in on two other occasions and started a total of five Saturday A-Mains together.
They'll contest their 10th Chili Bowl together next month when the Spike / Toyota No. 8J rolls out.
Beason is always a factor come wintertime, but this year his confidence and momentum is at a whole new level. Look out, Tulsa.
FloRacing's indoor season coverage continues all with USAC's Jason Leffler Memorial at Du Quoin on December 18, the Lucas Oil Tulsa Shootout on December 29-January 1, and the Chili Bowl Nationals on January 10-15.
If you're not a subscriber, #IndoorSzn is the perfect time to click here and subscribe.