2021 Castrol® Gateway Dirt Nationals
Making A Case To Keep Midgets At The Gateway Dirt Nationals
Making A Case To Keep Midgets At The Gateway Dirt Nationals
Brian Walker of Walkapedia makes his case for Midgets to return to the Gateway Dirt Nationals after a thrilling finale on Saturday night.
Dec 6, 2021
by FloRacing Staff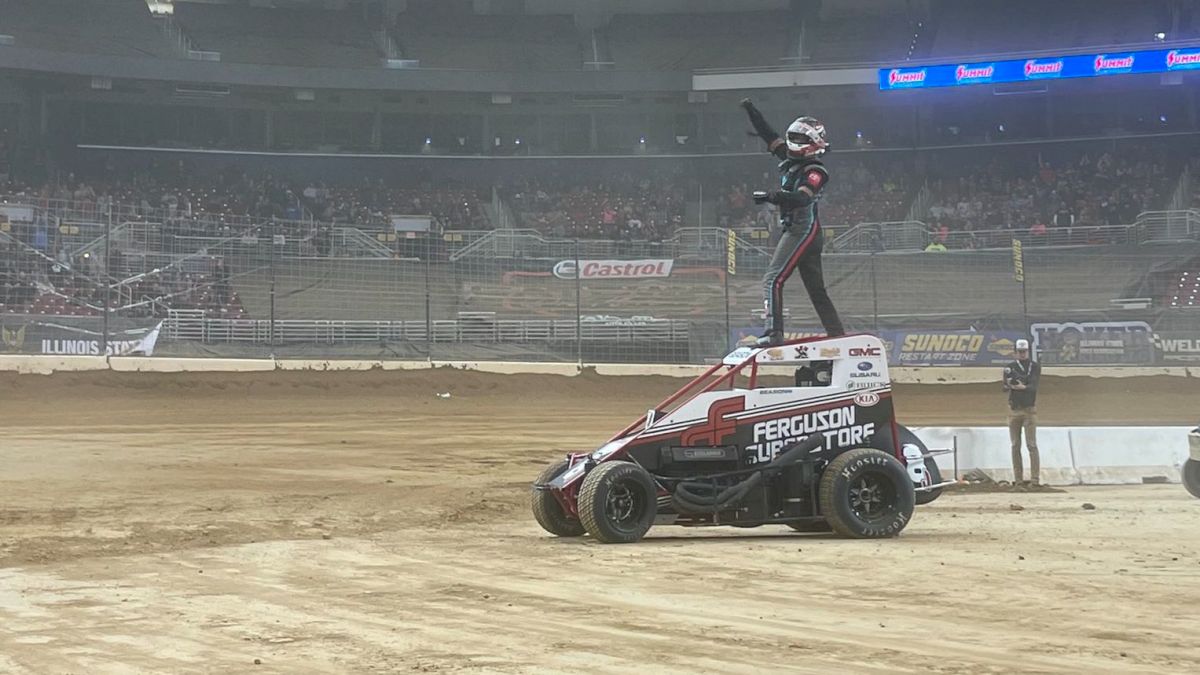 They came for the Late Models, and they left in awe of the Midgets.
The insanely exciting on-track action in Saturday night's race – highlighted by Jonathan Beason's worst-to-first run and capped with a last-lap pass for the win – created the loudest roar of the weekend in "The Dome." It captivated all social media as the finish immediately became an indoor instant classic.
As much as jaws were dropped, though, heads were scratched at the thought of Saturday potentially being the final night for Midgets at the event, especially after they provided by the most thrilling show of all three classes.
The overwhelming consensus is that the Midgets are adored. I mean, how can you not be after that race? An entire flock of fender fans even showed their support for the so called "push n flips." There's also the unique crossover dynamic the event brings as both cultures mix.
Let's stop thinking with the heart, though, and think with the brain for a second.
The single-most eye-opening stat is that 19 cars showed up last night for a $10,000-to-win race inside an impeccable dome in St. Louis, but 350+ cars are going to turn out for a $10,000-to-win race indoors in Tulsa next month.
In fact, the @GatewayDirt Twitter published 74 different invitations. Of those, only 13 showed up.
How can you not understand Cody Sommer's decision to cut the class on that basis alone? If you aren't being supported, it's hard to justify offering such an impressive purse.
If you want further comparison, the Midgets only raced for five-figures on SIX OCCASIONS this year. For outsiders, that's a shockingly low number considering USAC has a 40+ race slate and POWRi runs more than 30 shows. On the contrary, this is the most money available to the Midget community in quite some time.
Placerville's Hangtown 100 ($20,000), Huset's USAC Nationals ($20,000), and Indianapolis' BC39 ($15,000) are the only three races on this planet that currently pay more to win than Gateway.
It's worth looking at several of the factors that created the low car count, though. It's also worth remembering that the room for growth in 2022 is now quite large.
Obviously, being so close to the Turkey Night Grand Prix has an impact. Following a three-week western swing, the full-timers only had four days to make the 26-hour haul across the country. After that, you still need to maintenance and prepare your machines.
The timing played arguably the largest role. CB Industries was the only USAC team to race at Gateway, making a stop in St. Louis on their way back to the North Carolina shop. In the end, Windom's #86 profited $5,000 for finishing second place, more than most National Midget shows pay TO WIN.
In talking to teams such as RMS Racing, who initially planned on attending, timing was what did it for them. They were ready to run with Thomas Meseraull and Justin Grant, but at the conclusion of the west coast swing, the crew decided they needed a break after a tough tour.
Track conditions was also mentioned by some. In the past, a lot of equipment was torn up on a rough and tough venue. On the flip side, this year ended up being quite the opposite for the Midgets. Kevin Gundaker delivered a solid surface and the racers who did show up took it from there.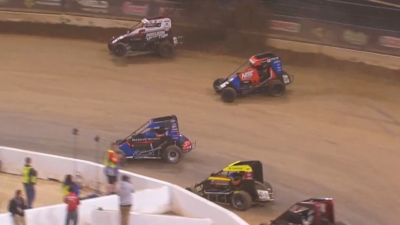 VIDEO: Watch the highlights from Saturday's thrilling Gateway Dirt Nationals Midget feature.
It could be argued that elimination of the invitation process wouldn't hurt. USAC's Kirk Spridgeon said it best: "invite races really only end up inviting judgement, headaches, and frustration."
A few Midwestern teams were willing to compete but felt unwelcomed compared to the bigger names in say Sprint Cars who got those invites, but in fact were uninterested and didn't show.
If parking is an issue, could you open the entry up to say the first 75 teams and solve that problem? Those who want to attend would not miss the cutoff.
Something that was immediately noticeable on Saturday night was voices of support following proof that the track issues were gone, and the Midgets were putting on a show.
Former USAC National Midget champion and current All Star Circuit of Champions racer, Tyler Courtney, voiced his concern afterwards.
Sunshine noted that different reasons kept a lot of drivers away this year, but "if the other guys are like me, that race will make you want to be there." He even expressed interest in a Late Model ride to double up, and that brings us back to the epic crossover aspect of the race.
At the end of the day, the Gateway Dirt Nationals isn't going anywhere. The #DirtInDecember concept has struck absolute gold with Late Models & Modifieds, but a true commitment to the Midgets could continue to elevate the race.
The Chili Bowl has all the open wheel snobs. The World 100 has all the fender snobs. This? This could have both. It already has a decent swirl of fans, but Saturday night's race did a great job of bringing both fan bases together even more.
Plus, there's the potential of Kyle Larson, Nick Hoffman, maybe Tyler Courtney, and others pulling double or triple duty. That will only sell more and more tickets and bring more viewers to the live broadcasts.
Gateway is through year five now, and the tradition only builds stronger as it grows older. If you keep the faith and make some tweaks, the Midgets can evolve into just as much of a staple at this event as the Late Models.
We all saw what they did last night. The entertainment value is through the roof.
It's the type of night EXPECTED by this division. On the regular, Midgets continually produce some of the most incredible racing in all of Motorsports. Just look at that Gateway Dirt Nationals finale for proof in the pudding.
In conclusion, I hope everyone realizes the phenomenal job that Cody Sommer and his staff have done with this event. It's no small undertaking to conduct this deal inside a colossal dome such as the one they've found in St. Louis.
I love Midgets. I love this race. I just hope both stay together for a long time to come.