2021 Castrol® Gateway Dirt Nationals
Tyler Carpenter Lets Second Gateway Dirt Nationals Win Sink In
Tyler Carpenter Lets Second Gateway Dirt Nationals Win Sink In
Tyler Carpenter was overcome with emotions after winning his second Gateway Dirt Nationals and earning a NASCAR Camping World Truck Series ride.
Dec 5, 2021
by Kevin Kovac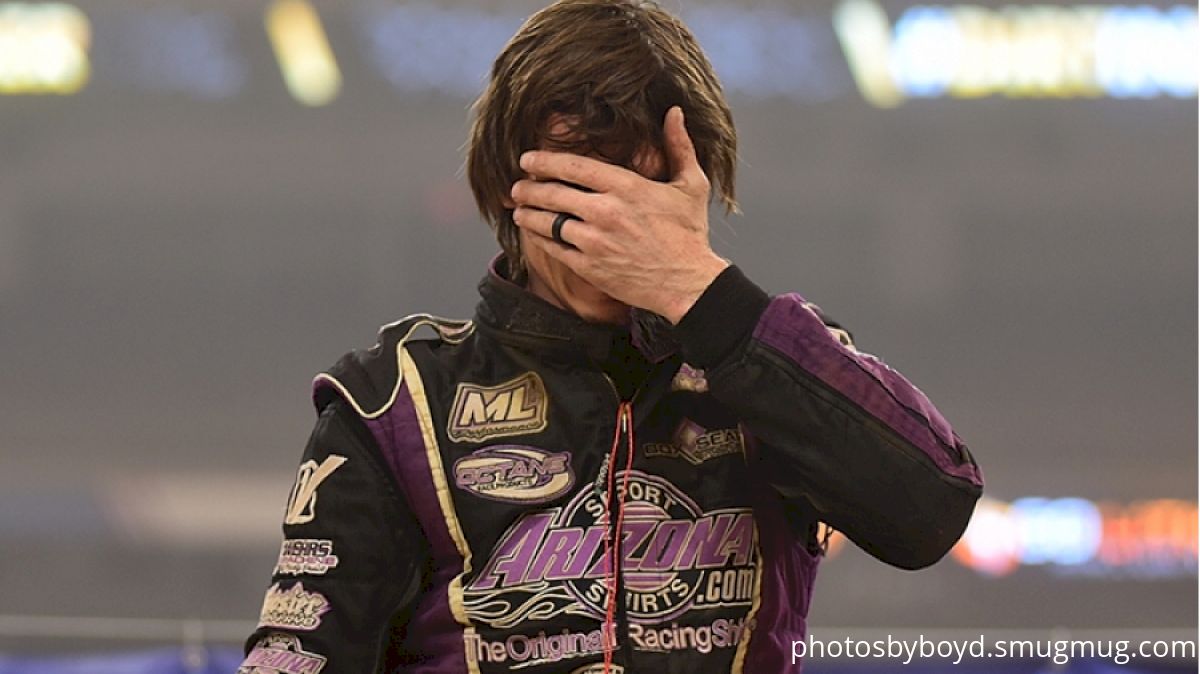 ST. LOUIS, Mo. — The Tyler Carpenter who climbed out of his car in victory lane after capturing Saturday's Castrol Gateway Dirt Nationals finale at The Dome at America's Center wasn't quite the same Tyler Carpenter who memorably swept the event in 2019 and won Thursday's preliminary feature.
It's not that the bubbling 30-year-old driver from Parkersburg, W.Va., withdrew into himself and became a programmed racer spouting colorless remarks. He spoke in his usual stream-of-consciousness manner, words tumbling from his mouth in rapid-fire fashion.
But this time Carpenter didn't bound about with the unadulterated excitement of a kid opening Christmas presents nor stray into R-rated territory with his comments. Instead, he climbed gingerly onto his car's roof, unassumingly waved to the crowd and generally moved around like a guy attempting to figure out his emotions.
Carpenter barely even cracked a smile — because, of course, he was unsuccessfully fighting back tears. Winning the 40-lap headliner's $30,000 top prize to complete a sweep of the Gateway Dirt Nationals Super Late Model program for the second straight time over three years caused the waterworks to break out in his eyes.
Usually brash and unabashed in victory — especially amid the super-charged atmosphere of the Dome — Carpenter flashed a softer side as he processed the enormity of another Gateway triumph. He negotiated the postrace ceremonies — his interview, the photography session with family, crew, friends, event principles and members of the Niece Motorsports NASCAR Camping World Truck Series team for whom he earned the right to run next year's Truck race at Knoxville (Iowa) Speedway as an extra reward for winning — in a dream-like state.
"I don't even know what I said (in victory lane)," Carpenter explained later while standing alongside his car in the Dome's pit area. "I ain't the type to chuckle up or anything, but it was starting to sink in out there."
Carpenter's amazement over his accomplishment was actually evident even before he reached the winner's circle. After taking the checkered flag he stopped his car between turns one and two of the fifth-mile temporary dirt oval to allow the race's other competitors to cross the track and head to the pits and it became a quiet moment to himself. He ducked his head and held the front of his helmet in his hands, clearly overcome with emotion.
"I couldn't believe it," Carpenter said when asked for the thoughts circulating through his head as he sat in his cockpit. "I was just like a damn firework. I was just glad it was over, because it was about to be over for me."
Indeed, the feature ended just in time for Carpenter. When he parked his machine in victory lane, his right-rear tire was almost completely flat.
"About 10 laps to go I felt the tire going down," Carpenter said. "I knew I had problems. It was laying down on the right-rear really hard and I could feel it. It didn't like the rough (track) … nobody's car liked the rough, but when you got a flat tire and you're hitting your wheel in the rough you gotta watch it, because if it's already done it'll pinch it and it'll blow out."
Up to that point Carpenter had enjoyed a virtually flawless feature run. Starting from the pole position by the redraw, he assumed command at the initial green flag and maintained a short-but-steady edge over eventual runner-up Tanner English of Benton, Ky. He barely even had to deal with lapped traffic thanks to well-timed caution flags on laps 16, 26 and 37.
Aside from one circuit when he "nicked the wall" with his mount's right-rear corner because he pressed a bit too hard thinking "somebody was gonna poke their nose around me," Carpenter almost appeared to be on cruise control. Even his father, Freddie, who failed to qualify for the feature, noted the absence of mayhem from Tyler's outing — until the race's final stretch.
"I'm not gonna say it was easy, but it looked so easy it was almost unbelievable," Freddie said. "But I was really sweating bullets. I looked with about 10 to go and I saw the right-rear was going flat, and then the caution comes out with three to go and I'm like, 'Holy s---! He ain't gonna make it.' He was on the rim when they went back green."
"When that caution come out, I just wanted to run three more laps," Tyler said. "Man, I wanted to win. Everybody else did too, but I wanted it really bad. I couldn't believe I held 'em off."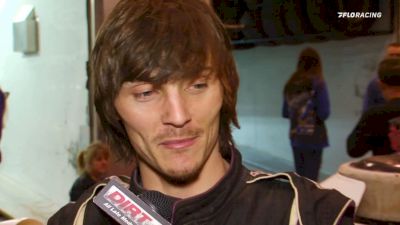 VIDEO: FloRacing caught up with Tyler Carpenter after his Gateway Dirt Nationals win on Saturday.
Carpenter certainly possessed some extra incentive to win the big prize. Sure, he had proven himself in 2019 with his Dome exploits, but he was aware of the questions in certain quarters surrounding his Thursday-night preliminary victory — Ricky Thornton Jr. of Chandler, Ariz., and Brandon Sheppard of New Berlin, Ill., both condemned Carpenter's aggressiveness racing through lapped traffic as contributing to their involvement in a mid-race accident while they were bidding for the lead — and the criticism was on his mind during Saturday's main event.
"I had a comfortable lead, but I was just a nervous wreck," said Carpenter, who could check his edge over English by glancing at the Dome's video boards at each end of the track. "I felt like everybody on the internet was bashing me because, yeah, we ran a little bit rough Thursday night, but who wouldn't? I didn't come here to get third or fourth or 10th or not make the race. I want to win 'em all. They do, too, and if they could've did it, they would've made the same move I did. By no means did I feel I did anything wrong, but it depends how they look at it."
In the end, Carpenter's bullring prowess shined through.
"He's just good on them little, little tracks, and this place suits him perfect," Freddie Carpenter, 50, said of his son, who drives a car from Freddie's Kryptonite Chassis shop. "Some of those small tracks he's not so good at, but some of them, he just bonds with that racetrack, and this is one of them."
There was another key to Carpenter's success: the powerplant he had under the hood.
"If it weren't for Chad Mullins, he probably would've have won this race," Freddie said of the Mount Olive, Ill.-based engine builder. "He probably would've been here, but he would've been here with junk probably."
The relatively modest resources of Carpenter's family-owned racing operation have been most evident in his engine program. He admittedly doesn't have the motors to compete with the sport's best on bigger tracks, and his struggles in that department have become ever-more pronounced.
"It's been really tough on me for the last two years," Carpenter said. "Ever since I won Gateway (in 2019) I felt like I was on top of the world, and then that next year I just sucked. I had good runs but then just had problems, had problems. I was like, 'Well, sometimes you're just gonna have a bad year.' I started this year off fresh thinking, This is gonna be the year. Not that I ran bad (he entered the weekend with 12 wins at 10 tracks in his home region), but I just didn't get the finishes that I wanted and I was blowing up motors left and right (he estimated he broke a dozen engines this year) and just stupid stuff happening."
With no engine left in his arsenal to defend his Gateway championship — aside from assembling a piecemeal powerplant — Carpenter linked up with Mullins, who became the Mountaineer State driver's savior by providing him a motor that couldn't have worked better at the Dome.
"He got me a modified motor," Carpenter said of Mullins. "This is a steel-block wet-sump, and I know some people have already heard it, but this is a motor that I kind of borrowed from him that he already had sold to a guy.
"Dude, I'll tell you what, being a steel-block don't mean it's got less horsepower. You just got less of a headache. You ain't got no oil lines, no cooler, no nothing, so that's just less problems you can have at a place like this.
"And it's obvious Chad builds one helluva motor, so I gotta give them guys credit where credit is due. I knew they built a nice piece, but I kept telling these guys all weekend long: 'That's a bad-ass motor.' It's like a lightswitch, but very smooth. When you want it, it's there right now. You could run it really hard, or you could just drive really slow and keep the car hooked up.
"The motor's very drivable, and I'll tell you what — anybody who runs modifieds, I highly recommend it. And hell, why not run it in a Late Model, too? She's bad to the bone. I'd run it everywhere. Hell, it's the best piece I've had in there for a long time."
Carpenter paused. He considered his rare weekend spent with no worries about his engine and then mourned what he has to do with his Gateway-winning piece.
"I've got to go back to the house, wash the car up and give (the engine) back," Carpenter said.
What the engine allowed Carpenter to accomplish, though, left him in a state of shock. He took his Dome legend to an even higher level as evidenced by the huge roar he received from the crowd during the pre-race driver introductions and after his victory.
"This place, it's not just me, it puts on a lot of excitement for fans," Carpenter said. "The fans can actually get really into it. That's why I love this place. And I've said it for a long time — I don't care if I come here and get 10th in the B-main. This place is bad to the bone. It's awesome."
The love toward Carpenter from the Dome faithful was very real. He sold out of all the T-shirts he brought to St. Louis even before his weekend-ending win. His pit stall was enveloped by a throng of fans after Saturday's feature. People were seemingly buying up every piece of sheetmetal on Carpenter's car. When Gordy Gundaker of St. Charles, Mo., with whom Carpenter spent the weekend engaging in a good-natured WWE-style back-and-forth for the fans and FloRacing cameras, visited Carpenter after the race to pay off the $1,000 bet they made for who would finish better, the moment was recorded for posterity on dozens of smart phones that people held high in the air.
Carpenter has become so well known and recognizable when he's in and around the Dome that he admitted he's somewhat overwhelmed by the notoriety. He can't simply fade into the woodwork.
"Dude, all weekend long. I try to stay hidden, not because I don't want to talk to my fans or anything, but everybody sees me and I feel like a superstar," Carpenter said. "I don't see me as that person. Hell, my fans, I ain't no better than them. They're probably better than I am.
"I feel like they're looking at me like a celebrity, like, 'Oh, my God! There he is!' I see people crying when they look at me. I don't see me being that person, but if they love it, I love it."
And then there's the money Carpenter collected. He earned $35,000 (plus the thousand bucks from Gundaker), which represents a whopping total for the married father of five kids.
"I hate talking about money because people give me hell about that stuff," said Carpenter, whose older brother, Chris, also qualified for Saturday's headliner in his first-ever appearance at the Dome but didn't take the green flag because his car's rear end broke during the pace laps. "But for sure, this will definitely let me take care of some bills. I was only dreaming that I could win this and take care of some bills I got.
"But you can't come racing for money. Hell, you play with scared money and you got problems. I worry about money every day and so does everybody else, but I just try to eliminate the problems we got and what's up for grabs and I just take it as a bonus at the end of the day."
No, neither fame nor a Gateway windfall is changing Carpenter.
"Really, he's just Tyler," Freddie said. "It don't matter what he wins. He'll razz everybody awhile and tell 'em how good he is and how bad they are, but then that'll wear off and he'll be back to normal. If he don't give 'em a rough time it ain't him."