2021 Castrol® Gateway Dirt Nationals
Gateway Winner Will Receive NASCAR Truck Ride For Knoxville
Gateway Winner Will Receive NASCAR Truck Ride For Knoxville
The winner of the Gateway Dirt Nationals Super Late Model race will receive a NASCAR Camping World Truck Series ride at Knoxville Raceway on June 18, 2022.
Dec 2, 2021
by Brandon Paul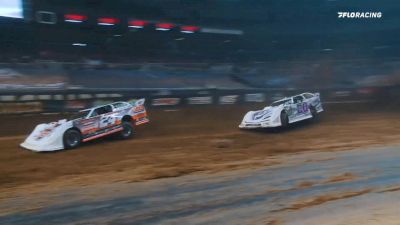 Super Late Model drivers competing in this week's Castrol Gateway Dirt Nationals will have an extra carrot dangling over their head. Event organizers and Niece Motorsports have announced that the winner of Saturday's $30,000-to-win main event will receive a NASCAR Camping World Truck Series ride for the event at Knoxville Raceway on June 18, 2022.
Since the event's inception in 2016, the Gateway Dirt Nationals have become a fan-favorite winter racing event.
Dirt Late Model legend Scott Bloomquist won the inaugural race in 2016 before fan-favorite Bobby Pierce visited victory lane in 2017 and 2018. In 2019, an underdog emerged as West Virginia driver Tyler Carpenter shocked the world by getting to victory lane. The event was not held in 2020 due to COVID-19 restrictions.
"That's a big deal because a lot of people dream of that opportunity and unless they have a bunch of money to go rent a ride or do something like that, they don't get that opportunity," said Gateway Dirt Nationals promoter Cody Sommer. "I just can't help but to think about and imagine if we had that last year and Tyler Carpenter got to run the NASCAR series."
Niece Motorsports is a winning team on the NASCAR Camping World Truck Series circuit, with three victories on its resume. The team was a playoff team this past season with driver Carson Hocevar behind the wheel.
"So many of us at this organization cut our teeth in racing at dirt tracks," said Niece Motorsports General Manager Cody Efaw. "I truly believe that these drivers are some of the most talented in the country, so we're excited to give someone another platform to showcase their abilities."
"It's a really cool opportunity. Niece Motorsports jumping in and being a part of the event, it's exciting to have that," Sommer said. "That's definitely got to turn it up a notch. You're not just thinking about $30,000 anymore; you're thinking about getting the opportunity of a lifetime to drive a NASCAR Truck at Knoxville."
Widely recognized as one of the top dirt tracks in America, Knoxville Raceway hosted the NASCAR Camping World Trucks Series for the first time in 2021. The event featured stars from the dirt racing world including Brian Brown, Donny Schatz, Jessica Friesen and Kyle Strickler.
This time around, one lucky Dirt Late Model driver will have the chance of a lifetime to compete in one of NASCAR's top national series.
Who will it be? If you can't make it to St. Louis, find out by watching all the action from The Dome at America's Center live on FloRacing beginning Thursday night.
If you're not a subscriber, you can become one today by clicking here.