2021 USAC National Midgets at Merced Speedway
Kyle Larson Wins Another Race & Sets Track Record
Kyle Larson Wins Another Race & Sets Track Record
Kyle Larson won Tuesday night's 360 Sprint Car feature at Merced Speedway after failing to qualify for the USAC National Midget Series main event.
Nov 24, 2021
by Brandon Paul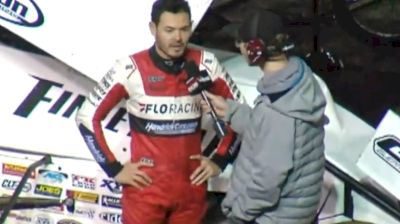 NASCAR Cup Series champion Kyle Larson has been around motorsports long enough to know that there will be ups and downs in racing. On Tuesday night at Merced Speedway, he experienced those highs and lows over the course of a single evening.
Competing in both the USAC National Midget Series and 360 Sprint Car events at the Merced, California dirt track, Larson enjoyed the joy of victory and the disappointment that comes with defeat.
Larson's night began with misfortune as his No. 1K Midget was unable to fire during his qualifying attempt. That set the Hendrick Motorsports driver up for an uphill battle to qualify for the USAC National Midget Series A-Main.
Larson ultimately charged from 15th to eighth in the semi feature, coming up one spot shy of the final transfer spot. This resulted in Larson's first DNQ in a USAC National Midget Series event in 75 career starts.
"We'll come back tomorrow," Larson said on the FloRacing broadcast. "I have all the belief in the world in Paul Silva. Every year we've had my car, we always have some bugs early on. Once we shake through that, we're really good. If we can just get some more laps tomorrow, get hot laps and qualifying, we'll be in a much better spot. Definitely didn't make it easy on ourselves tonight, but like I said Paul is the best in the business and we'll get it figured out."
On the bright side, Larson enjoyed a perfect night behind the wheel of his 360 Sprint Car.
The Elk Grove, California driver recorded a new 360 Sprint Car track record in qualifying, won his heat race and claimed his second consecutive win in the main event at Merced. The win was the 32nd overall victory of the 2021 season for Larson.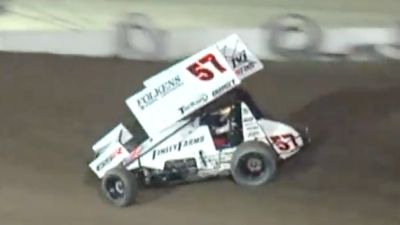 VIDEO: Watch Larson's track record shattering qualifying lap in a 360 Sprint Car.
"[The track] definitely changed quite a bit there," he said. "It finally blew off. I felt like for where I was running in three and four I kind of had to run that half-slider line in one and two. I wasn't quite sure where to be in three and four. I wanted to get to traffic, it was going to be a lot of fun through traffic there. The car felt really good so we'll try to do it again tomorrow."
Larson will once again be driving both his Midget and 360 Sprint Car during Wednesday night's finale at Merced Speedway. His Hendrick Motorsports teammate and 2020 NASCAR Cup Series champion Chase Elliott will join him in both races.
Race fans worldwide can watch both races live on FloRacing. If you're not already a subscriber, click here to subscribe today.