2021 USAC November Classic at Bakersfield Speedway
Buddy Kofoid Aims To Make A Statement Tuesday At Bakersfield
Buddy Kofoid Aims To Make A Statement Tuesday At Bakersfield
After beating Kyle Larson in the 2020 November Classic at Bakersfield Speedway, Buddy Kofoid will look to make a statement in Tuesday night's race.
Nov 16, 2021
by FloRacing Staff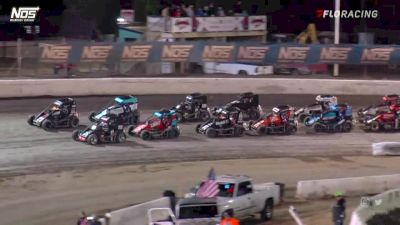 Bakersfield, California -- Coming up through the ranks in the earliest years of his racing career, Buddy Kofoid idolized Kyle Larson.
In November 2020's November Classic at California's Bakersfield Speedway, the two competed as teammates for the first time on the venerable Keith Kunz/Curb-Agajanian Motorsports team where, not only did Kofoid team up with him, he went toe-to-toe and prevailed.
"I can't believe we just beat Kyle," Kofoid exclaimed at the time. "As a young kid coming out of California and racing Outlaw Karts, I always looked up to him. Everyone already knows how good he is and racing with the best helps you become better."
While Larson won't be in attendance in this year's edition, Kofoid will be front and center. He enters this Tuesday night's November Classic on November 16 at Bakersfield in an even better spot on his second full season on the trail, winning four times and positioning himself right in the thick of the championship race.
Kofoid now stands at a 13-point deficit behind leader and defending champion, Chris Windom, the winner of the most recent series round last Saturday during the Western World Championships at Arizona Speedway.
Windom's only previous Bakersfield appearances came in 2019 where he won his heat but flipped on the 2nd lap of the feature. He restarted but only managed a 16th place finish. His most memorable Bakersfield moment came in 2020 where he raced from 20th to 6th to clinch the championship by one point in a wild and controversial final lap flourish. He'll be joined on the CB Industries team by series Rookies Jade Avedisian (Clovis, Calif.) and Ryan Timms (Oklahoma City, Okla.).
Logan Seavey (Sutter, Calif.) won the November Classic at Bakersfield in 2018 in grand style by driving around Rico Abreu in the fourth turn on the 30th and final lap to score the victory, which also locked up the series title for him in one fell swoop.
Kofoid's KKM teammate Tanner Carrick (Lincoln, Calif.) finished inside the top-10 in three-straight Bakersfield USAC National Midget races with a 10th in 2017, a 6th in 2018 and another 10th in 2019. Kaylee Bryson (Muskogee, Okla.) made her debut in 2020 with a 15th while Bryant Weideman (Colby, Kans.) was 21st. Brenham Crouch (Lubbock, Texas) will be aiming for his first Bakersfield start as will Taylor Reimer (Bixby, Okla.).
Tanner Thorson (Minden, Nev.) is two-for-two in earning top-tens during his USAC National Midget career at Bakersfield, taking a best of 3rd in 2017 and 7th in 2020. The 2016 series champ is equaled with Windom as the winningest driver in the series this year, earning seven feature victories on the Reinbold-Underwood Motorsports team, which will also have top series Rookie Chase Randall (Waco, Texas) and Hayden Reinbold (Gilbert, Ariz.) in its arsenal.
Thomas Meseraull (San Jose, Calif.) was a top-ten runner with the USAC National Midgets at Bakersfield all the way back in 2000, finishing 7th. In 2019 at the 1/3-mile dirt oval, Meseraull ripped through the pack from his 20th starting position to finish 8th and earn hard charger honors.
Justin Grant (Ione, Calif.), a 2007 BCRA Midget titlist, earned his best Bakersfield result in USAC National Midget competition with a 5th in 2017. A 2018 USAC Western States Midget champion and a winner with the series at Bakersfield in 2016 and 2018, Michael Faccinto (Hanford, Calif.) led the first six laps and finished 9th in the 2017 November Classic.
USAC National Midget series vets Ethan Mitchell (Mooresville, N.C.) and Cannon McIntosh (Bixby, Okla.) look to break through for their first wins of the season. Mitchell was the fastest qualifier during the 2020 November Classic at Bakersfield and finished a best of 17th in 2019, while McIntosh returns for his third appearance at Bakersfield after a career best 8th place result in 2020 and will team with Kevin Woody Jr. (Victor, N.Y.) on the Dave Mac Motorsports stable.
Lemoore, California's Carson Macedo, a past USAC National Midget Rookie of the Year, and third-place finisher in 2020 World of Outlaws points, will be eying his first career USAC National win in the Tarlton Motorsports ride after finishing 10th in the 2020 November Classic.
Chase Johnson (Penngrove, Calif.) finished 4th in the November Classic in 2020 and has been undefeated in three different USAC series at Bakersfield this season. He captured the Western States Midget opener there in March after being the fastest qualifier. He won the USAC CRA round on the last lap after starting 16th. Finally, he scored in September with the West Coast Sprint Cars, coming all the way from 14th.
Ben Worth (Coalinga, Calif.) captured his first, and to date, only career USAC Western States Midget win in April of 2019 at Bakersfield, leading the final nine laps en route to victory. He's seeking his first Bakersfield USAC National Midget start on Tuesday.
Two-time USAC National Midget feature winner Jason McDougal (Broken Arrow, Okla.) returns to the lineup at Bakersfield following finishes at Bakersfield of 9th in 2018 and 6th in 2019. After a one-year absence, Kevin Thomas Jr. (Cullman, Ala.) will be back at Bakersfield after finishing 14th in 2019. Thomas' Petry Motorsports' teammate, Emerson Axsom (Franklin, Ind.), took 12th in his lone Bakersfield start in 2020.
First-time Bakersfield USAC National Midget starters are all throughout the field, including recently crowned USAC Western States Midget champ, Blake Bower (Brentwood, Calif.), who finished 8th with the series there this year. Western States Midget runner-up Brody Fuson was the fastest qualifier with the USAC West Coast Sprint Cars at Bakersfield in Sept. He won his heat and finished 11th with the midgets there back in March.
Maria Cofer (Macdoel, Calif.) was 20th at Bakersfield's USAC Western States Midget round in March of 2021. Her father, Johnny, finished 3rd with the USAC National Midgets at Bako in 1993. Dylan Ito's uncle, George Ito, finished one spot behind Cofer in that same race with a 4th. Dylan's Josh Ford Motorsports teammate for Bako will be Tony Gomes (Modesto, Calif.).
Three-time USAC National Midget feature winner Zach Daum (Pocahontas, Ill.) will make his first attempt at a Bakersfield feature start this Tuesday. Looking for first November Classic starts include 2020-21 All Star Circuit of Champions runner-up Cory Eliason (Visalia, Calif.) and Rudeen Racing teammate Chance Crum (Snohomish, Wash.).
Max Adams (Loomis, Calif.) finished 5th with the USAC Western States Midgets in March of 2021. He'll try to crack his first November Classic lineup on Tuesday along with fellow Californians Carson Sousa (Red Bluff, Calif.) and Jake Andreotti (Castro Valley, Calif.).
USAC NOS Energy Drink National Midgets and California's Bakersfield Speedway have a history that dates back six decades. Davey Moses won the first trip by the USAC National Midgets in the summer of 1959. Over that period, 22 series races have been held at the lightning-quick 1/3-mile that has been both paved and dirt throughout its history.
Jay Drake and Billy Vukovich are the winningest drivers with the series at Bakersfield with three victories apiece.
Tuesday at Bakersfield, the USAC NOS Energy Drink National Midgets will be joined by the California Lightning Sprints.
The pits open at 2pm Pacific with the grandstands opening at 5pm, the drivers meeting at 5pm and cars on track at 5:30pm.
Adult general admission tickets are $20. Kids 6-12 general admission tickets are $10. Kids 5 and under general admission tickets are free. Pit passes are $45 for USAC members & $50 for non-members.
The NOS Energy Drink November Classic from Bakersfield will be streamed live on FloRacing at https://bit.ly/2ZpafUr.