FloRacing 24/7
Kyle Larson Marathon Airing This Week On FloRacing
Kyle Larson Marathon Airing This Week On FloRacing
FloRacing will honor 2021 NASCAR Cup Series champion Kyle Larson by running a marathon throughout the week on FloRacing 24/7.
Nov 9, 2021
by Brandon Paul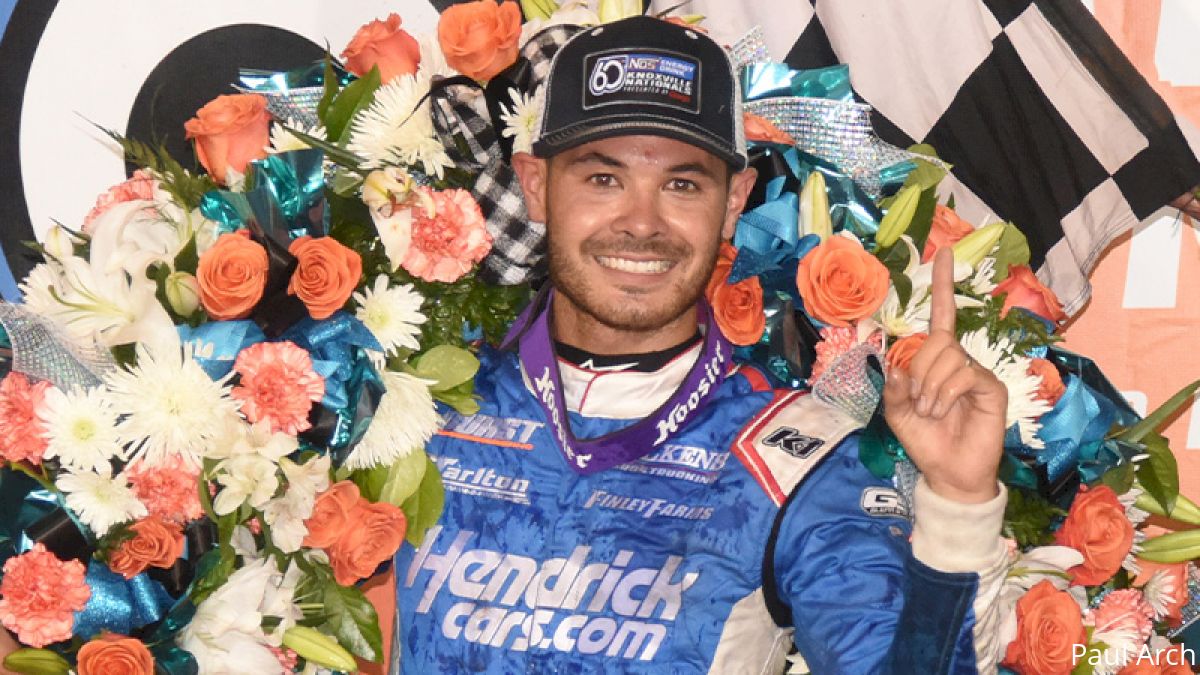 2021 NASCAR Cup Series champion Kyle Larson will be honored this week with a marathon on FloRacing's 24/7 channel. Throughout the week, the FloRacing 24/7 channel will highlight many of Larson's dirt racing achievements prior to and during his championship season.
From his Turkey Night Grand Prix victory in 2012 to his Chili Bowl Nationals wins and everything in between, you'll be able to watch Larson doing his best work throughout the week on FloRacing.
FloRacing 24/7 is a live programming feature on FloRacing that offers motorsports enthusiasts "all racing, all the time." The channel is available for subscribers to watch at all times throughout the week.
If you're not already a subscriber, click here to subscribe today to enjoy the 24/7 channel and all of FloRacing's live programming.
Take a look below at some of the races and videos you can expect to see during this week's Kyle Larson marathon on FloRacing.
Kyle Larson Marathon
2012 Turkey Night Grand Prix at Perris Auto Speedway

2013 Louie Vermeil Classic at Calistoga Speedway

Lucas Oil On-Board: Kyle Larson Vs. The Swindells

2016 Turkey Night Grand Prix at Ventura Raceway

2018 World 30 Lap Derby at Western Springs Speedway

2019 Ohio Speedweek at Attica Raceway Park

2019 Gold Country Showdown at Placerville Speedway

2019 Gateway Dirt Nationals

2020 Lucas Oil Chili Bowl Nationals

2020 Indiana Midget Week at Gas City I-69 Speedway

2020 Indiana Midget Week at Lawrencburg Speedway

2020 All Star Circuit of Champions at Lawton Speedway

Katelyn Larson Embracing Dirt Life With Family

2020 Bob Weikert Memorial at Port Royal Speedway

2020 Rayce Rudeen Foundation Race at Plymouth Dirt Track

2020 All Star Circuit of Champions at 34 Raceway

2020 All Star Circuit of Champions at Knoxville Raceway

2020 Dirt Classic VII at Lincoln Speedway

2020 Bettenhausen 100 at Springfield Mile

Larson Wins First Career Late Model Race

2020 Copper Classic at Arizona Speedway

Kyle Larson: The Greatest Dirt Track Season Ever

2021 Lucas Oil Chili Bowl Nationals

From Tulsa To All-Tech, Kyle Larson Still Just Wants To Win

2021 Tommy Hinnershitz Classic at Williams Grove Speedway

Kyle Larson Reacts to First Night in a Dirt Late Model

Ride With Kyle Larson On-Board A Super Late Model

2021 Castrol FloRacing Night in America at Brownstown Speedway

2021 Ohio Speedweek at Wayne County Speedway

2021 Ohio Speedweek at Waynesfield Raceway Park

2021 Pennsylvania Speedweek at Grandview Speedway

Kyle Larson Talks About His Strengths And Weaknesses As A Driver

2021 Pennsyvlania Speedweek at Port Royal Speedway

Kyle Larson Reigns In 37th Kings Royal At Eldora Speedway

2021 Front Row Challenge at Oskaloosa

Kyle Larson Chats About Knoxville Nationals Win

2021 Stoops Pursuit at Indianapolis Motor Speedway

2021 BC39 at Indianapolis Motor Speedway

One Lap, One Beer: Kyle Larson