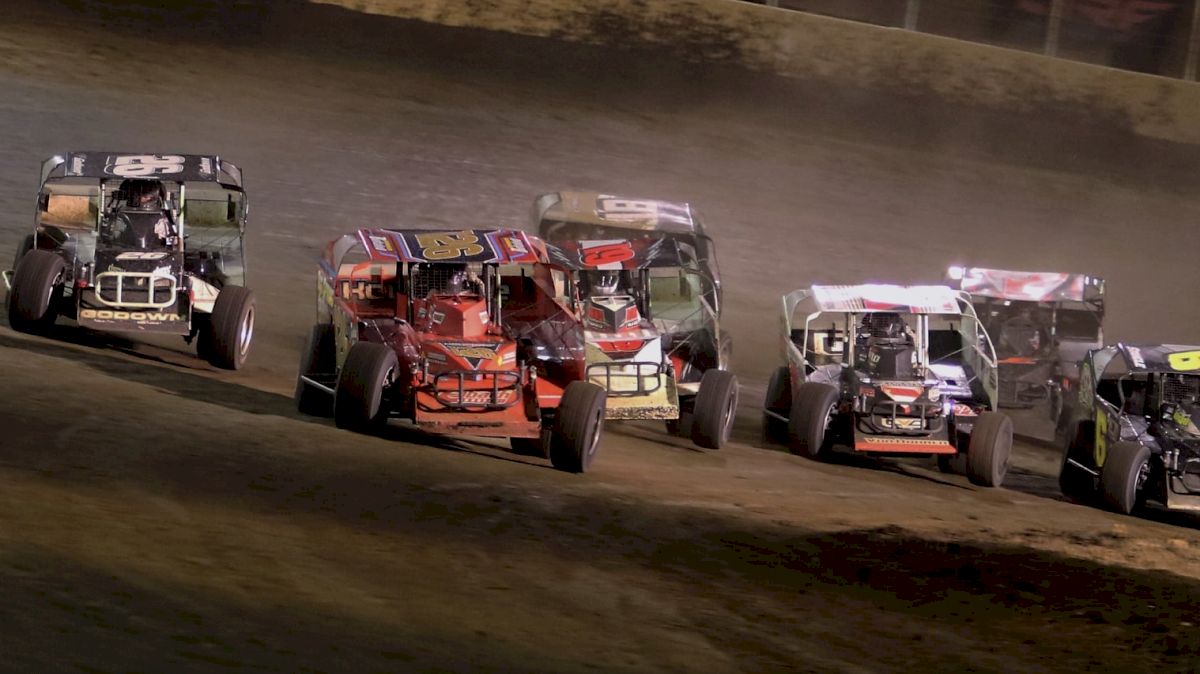 Bridgeport, NJ – The 2021 season may be winding down but the Bridgeport Motorsports Park's High Banks Classic is a big three-day weekend that is sure to satisfy the tastes of any race fan. At least three divisions of racing will be featured on each day of the weekend.
The big weekend gets started on Friday, November 5 when the Rapid Tire USAC East Coast wingless sprints return to the Bridgeport Speedway for another thrilling event. It's been the Bright and Danner show so far this season with Alex Bright and Briggs Danner battling for the win in each of the three Bridgeport events. A flat tire cost Danner a win in the last race and Bright was able to capitalize for his second Bridgeport win of the season.
The Street Stocks will make their first appearance at the Kingdom of Speed since the Street Stock Nationals – an event that has already been included in the plans for next season. The South Jersey Overhead Door 602 Crate Sportsman will compete in their first of three events this weekend with the Underdog 20 for all drivers that have not visited Victory Lane so far this season. There will also be two sessions of timed hot laps for the 602 Crate Sportsman with four drivers earning starting redraw positions in Sunday's feature event. The USAC All Pro SpeedSTRs will have the opportunity to practice on the high banks during Friday's program.
Saturday's program will see the Capitol Renegade United Racing Club 360 winged sprint cars compete in their final race of the 2021 season. A new champion will be crowned as Jason Schultz comes into this event with 147 point lead over Dallas Schott. Andy Best and Adam Carberry are only a few points behind Schott
Saturday is also the day of the 2nd Annual Precision Hydraulics and Oil 602 Invitational with its $4,000 pay day. Who can forget the race long battle between Steve Kemery and Steve Davis just a year ago? There was plenty of rubbing is racing as the two competitors raced to the finish line with Davis taking the win. Both drivers will return to this year's event along with a host of drivers, each with their own plan to get to the checkered flag first. Young Payton Talbot sat in third, right behind the leaders and waiting for his chance to steal the win last year. Talbot will return to try again.
In addition in the big purse for their main event, there are three special awards posted for Saturday's 602 competitors. $500 for the winner of the Cash Dash courtesy of Guaranteed Rate. $250 Halfway Bonus offered by Candy's Homemade Ice Cream and a $250 Hard Charger award presented by Fastline performance.
The USAC All Pro SpeedSTRs will be featured in qualifying and a feature event. The Foley Cat Modifieds will have timed hot lap sessions with two drivers locking into Sunday's High Banks Classic.
On Sunday, the Modifieds will compete in their final event of the 2021 Bridgeport season with the 50-lap, $5,000 to win High Banks Classic. The 602 Crate Sportsman will race in a 25-lap feature event with $2,000 going to the winner. The Four Cylinder Stock Cars will round out Sunday's program.
Last season, the High Banks Classic was captured by an invader in Pottsdam, NY's Mike Maresca who is expected to defend his title. Maresca backed up that first Bridgeport victory with another win on 2021 opening day.
Pit gates open at 4pm on Friday and then at 1pm on Saturday and Sunday. Grandstand gates will open at 5pm on Friday with grandstand access on Saturday and Sunday at 3pm. Friday night's warm-ups will get underway at 6pm to be followed by green flag racing immediately thereafter. Warm-ups will hit the track at 4pm on Saturday and Sunday with racing action to follow.
And just when you were ready to close the book on the 2021 season, Bridgeport's Doug Rose adds another weekend on November 13th and 14th for the Garden State 100. It will be an event of a different kind with action on both the high banks of the 4/10th mile speedway as well as the Spirit Auto Center quarter mile. The 602 Crate Sportsman will go "topless" on both days. The Four Cylinders will also compete on both days. Saturday will see a Slinger Derby and SpeedSTR timed practice sessions on the big track with Wingless 270 and 600 Micro Sprints and Junior Slingshots on the quarter mile. Sunday's race will feature the Garden State 100 for the USAC All Pro SpeedSTRs – 100 laps and $10,000 to win in additon to the topless 602s and Four Cylinders. The 600 Micros Sprints, Junior Slingshots and the Slingshot ROVAL will be featured on the quarter mile.
It's not over yet! You don't want to miss it!
Add December 4th to your calendar for the Bridgeport Banquet. And Opening Day 2022, another three days of action is scheduled to get the new season underway on March 25-27!
Be there! The Kingdom of Speed is where its happening!
Friday's racing gets underway at 6pm with warm-ups and the first green flag to wave immediately thereafter. The USAC East Coast Wingless Sprints will head the action Friday as they will run qualifying events and a twenty-five lap feature event. The 602 Crate Sportsman will compete in the Underdog 20 – a race for all drivers who went winless during the 2021 season. There will also be two rounds of practice for the 602s with four drivers being locked in for Sunday's 602 feature event based on timed hot lap sessions.