2021 Coors Light Fall Classic at Whynot Motorsports Park
Dennis Erb Jr. Does It Again At Whynot's Fall Classic
Dennis Erb Jr. Does It Again At Whynot's Fall Classic
Dennis Erb Jr. became the first back-to-back winner in 26 versions of the Fall Classic at Whynot Motorsports Park.
Oct 24, 2021
by FloRacing Staff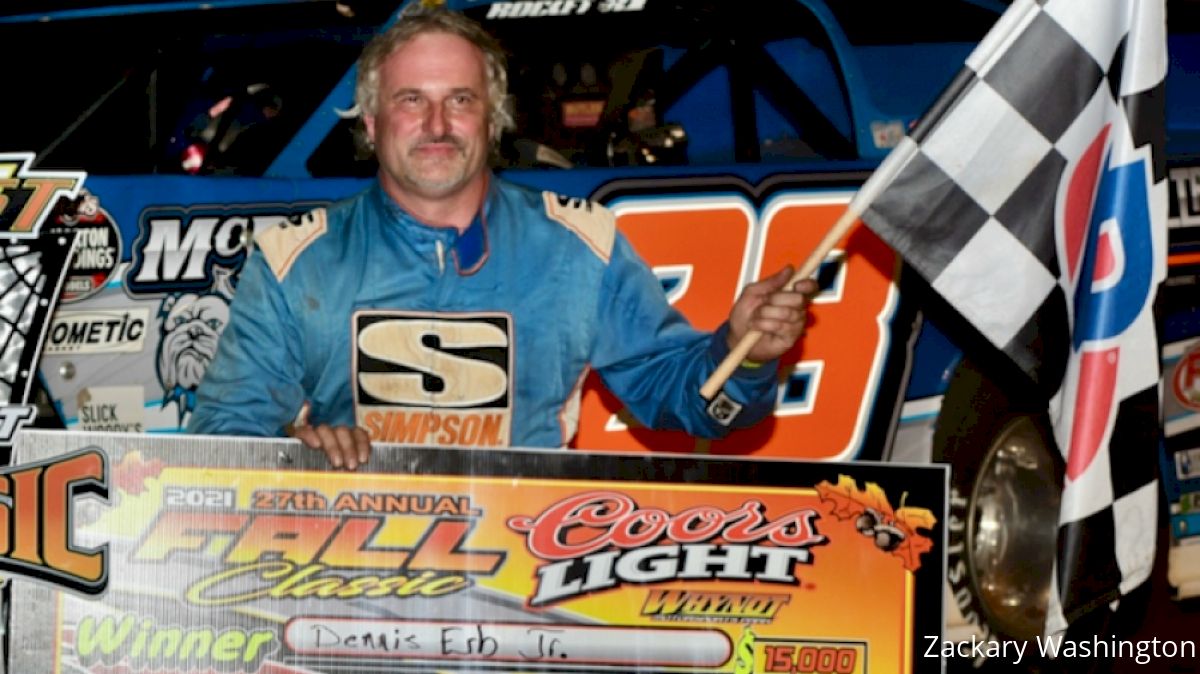 MERIDIAN, Miss. — In 26 runnings of the Coors Light Fall Classic entering the event's 2021 edition, never had a driver won the Mississippi event in back-to-back seasons. Not only did Dennis Erb Jr. accomplish that feat Saturday at Whynot Motorsports Park, the 49-year-old Carpentersville, Ill., driver did it in no-doubt fashion, winning by a half-track margin and lapping all but five competitors for a $15,000 Super Late Model payday.
"I'm really happy for that. Coming down here for a lot of years and getting that first one last year, and coming back and do it again, that's a good deal for us," Erb said. I'm real proud of that. Like I said, everything worked out for us this weekend and we had a good car."
The third-starting Erb patiently stalked polesitter and early leader Neil Baggett through the race's early stages, making an outside pass amid traffic on the 38th lap and cruising the rest of the way to win by a 7.505-second margin in a 100-lapper where the final 90 laps ran caution-free.
"That definitely was good for me," Erb said of the lengthy green-flag run that allowed him to maintain his rhythm."Once things started going and I got heat in the tires and everything, the car started working really good and I was real comfortable out front, so I didn't really want to see a caution out there, even when I was catching lapped traffic, I was able to be patient and move around and not have to worry about hustling (the car)."
Baggett, who led the first 37 laps, settled for second, his best career finish in the event, while Morgan Bagley of Longview, Texas, was third after taking the spot from Cade Dillard of Robeline, La., with six laps remaining. Dillard was fourth while hometown driver Chad Thrash rounded out the top five finishers.
Tony Jackson Jr. of Lebanon, Mo., making his first start in the event, started eighth and pressured Baggett from the second spot from laps 13-23 before slipping back to finish as the last car on the lead lap.
Erb, like Baggett a heat winner in Friday's prelims, looked strong throughout the race with his car running equally well in the inside, middle or outside groove at the racy oval.
"The racetrack, it started off pretty fast up around the top, which I thought it would," Erb said. "We just got up and kinda maintained there a little bit, and then, you know, waited for it to kinda slow down a little bit and be able to make a move. The car was working really good in the middle and I was real happy with that. I was able to get a good run there once we got out front, then the car felt good and I could pretty much maneuver it around. I was happy with that."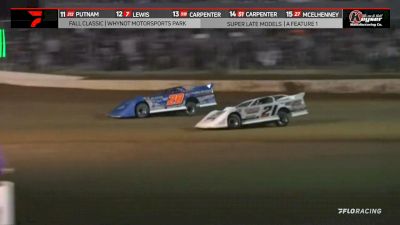 VIDEO: Watch highlights from Saturday's Fall Classic at Whynot Motorsports Park on FloRacing.
Baggett was more than three seconds behind at halfway and Erb built his margin up to seven seconds with 10 laps remaining.
"I didn't know how big of a lead I had," Erb said. "I know (crew chief) Heather (Lyne) was signaling I had a pretty big lead. But, you know, I just wanted to keep smooth and keep everything underneath me and didn't want to lose that lead either. You never know what's going to happen. The car was really good. It just kind of drove itself around there so I didn't have to really hustle it. I just kind of cruised around there at the end."
The handling on Baggett's car got too loose as the race went on as the part-time racer couldn't keep up with Erb, a World of Outlaws Morton Buildings Late Model Series regular and longtime national touring driver.
"These guys do it for a living. We race 20 times a year. So, I mean, I would make two or three good laps, then I would drive a different line and banzai in there and then I would, I would catch myself hanging, or whatever, or slip the wheels. And I knew that was hurting me," Baggett said. "I just, I don't know, I just couldn't keep the car up under me. And like I said, with 20 or 30 (laps) to go, I was just kinda out to lunch, and I was just riding then. At the end, I kinda wanted a caution ... I'm a Hail Mary type guy, so I would've definitely like to zip that top one time. But it didn't work out. Dennis was good."
Baggett, who topped 31 cars in Friday's time trials, bettered his previous high of eighth place in 2019's Fall Classic, but he feared he might've let his best chance to win slip away.
"I'm happy with second, but this is one race since I was a kid my daddy used to bring me to. And watching Rex Richey win it, and (Mike) Boland and a lot of drivers over the years, just a kid coming up through here. I want this race, you know," he said. "And I don't know if I'll have another chance. That might've been my time. And I don't want to race forever, I don't want to be that guy. And a couple of more years and I'll be ready to hang it up. I thought tonight was my chance, and it just didn't work out."
The 100-lapper was slowed twice on the 10th lap, the second time for a turn-three pileup that saw former race winner David Breazeale getting upside down with Noah Daspit's car perched atop the Billy Franklin-owned car Breazeale was fielding. No one was injured but several other cars were involved in the red-flag accident that began on the backstretch including Brennon Willard, Rick Rickman, Jason Milam, Justin McCree, Matthew Brocato and Darrell Lanigan, who gave up the second spot to pit after the previous caution because of a flat right front tire and was restarting near the rear.
"I said to myself when I was in (the pits) I shouldn't go back out there," quipped Lanigan.
The red flag following the race's lone caution on the 10th lap for a turn-four pileup inside turn four that included Brocato, Shelby Sheedy and Luke Bennett. It took more than 30 minutes to cleanup the two accidents.
Notes: Erb has started every Fall Classic since 2010. ... He has seven top-five finishes, including a runner-up performance in 2011. ... His victory was the third of the season and second richest. He earned $20,000 for a July 10 WoO victory on July 10 at Jackson (Minn.) Motorplex. ... Nine of Whynot's 29 starters were out of the race before the 10-lap mark. ... Justin McCree started the main event Crate Late Model after issues in his Super Late Model; he finished 17th after retiring on lap 35.