2021 Castrol FloRacing Night in America at Volunteer Speedway
Star-Studded Entry List For Wednesday's Castrol FloRacing Night In America
Star-Studded Entry List For Wednesday's Castrol FloRacing Night In America
An impressive list of home state drivers will battle national stars during Wednesday's Castrol FloRacing Night in America at Volunteer Speedway.
Oct 19, 2021
by Brandon Paul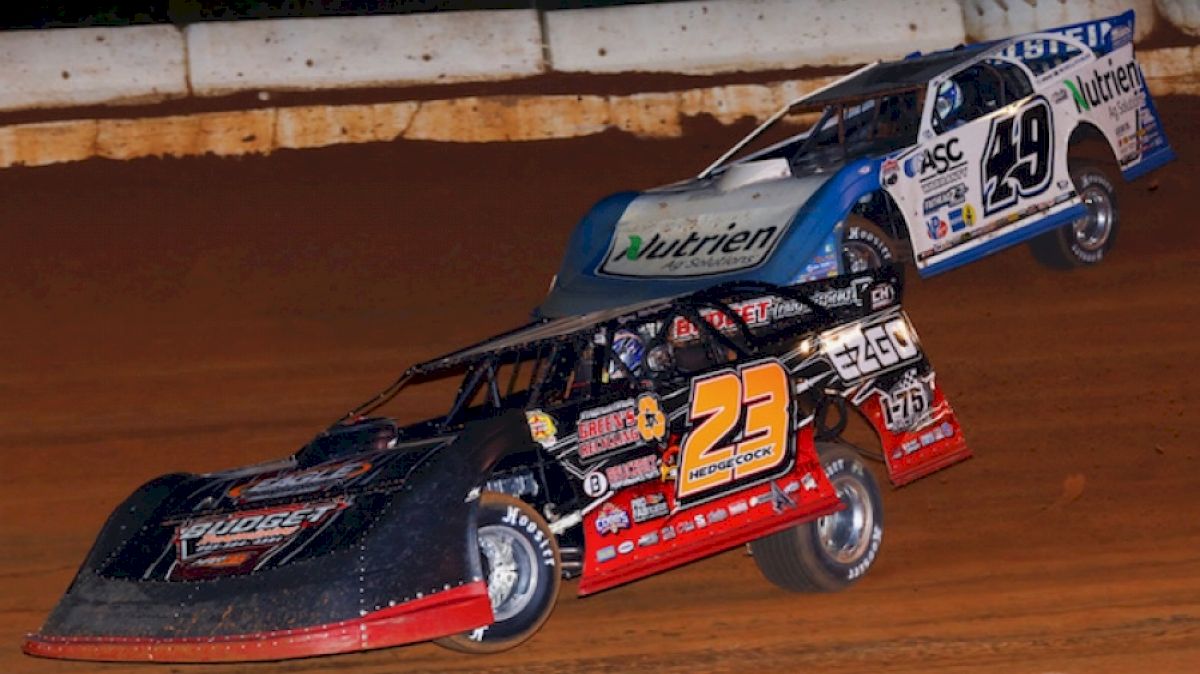 With two races remaining on the 2021 schedule, Castrol FloRacing Night in America invades Tennessee's Volunteer Speedway on Wednesday night for a $10,000-to-win main event. The entry list for the race includes some of the best drivers from the Volunteer State, as well as the biggest names on the national Dirt Late Model scene.
Tentatively, 24 drivers are currently slated to compete race, which will be the seventh event of the Castrol FloRacing Night in America season. Through six events, there have been six different winners: Jonathan Davenport, Devin Moran, Kyle Larson, Bobby Pierce, Brandon Sheppard, and Jimmy Owens.
Four of those drivers are expected to compete Wednesday night at Volunteer Speedway, with the only exceptions being Moran and Sheppard.
Davenport enters the event with a 96-point advantage over Larson in the championship standings. The driver at the top of the standings after eight events will be rewarded with a $20,000 check.
Bobby Pierce, a Castrol FloRacing Night in America winner earlier this year at Tri-City Speedway, will make the trip to Tennessee looking to become the first multi-time winner this season.
Six-time Lucas Oil Late Model Dirt Series winner and championship runner-up Hudson O'Neal is planning to make the trip from his home state of Indiana to compete at Volunteer Speedway.
"The Winfield Warrior" Mike Marlar, who enters the race third in the standings, is also entered for the event after recently becoming a three-time Knoxville Late Model Nationals winner.
Fresh off his win at 411 Motor Speedway one week ago, "The Newport Nightmare" Jimmy Owens will be looking to go back-to-back in his home state.
Other Tennessee natives looking to defend their home turf include Ryan King, Jadon Frame, Christian Hanger, Cory Hedgecock, Joe Denby, Matt Tharp, Chase King, Troy Eads, Kaede Loudy, Joe Bray, Jensen Ford, Jeff Neubert and Forrest Trent.
Regional stars Ross Bailes and Kyle Strickler are tentatively expected to represent the Carolinas.
"The Georgia Bulldog" Shane Clanton is entered and hopes to bring the $10,000 check back to the Peach State.
Ricky Weiss, a regular with the World of Outlaws Late Model Series, is also planning to compete Wednesday night.
The full entry list for Castrol FloRacing Night in America at Volunteer Speedway can be viewed below.
In addition to the 40-lap Super Late Model main event, Sportsman Late Models, Street Stocks and Front Wheel Drives will also be in action. Hot laps being at 6:30 p.m. ET, followed by qualifying and feature racing.
Don't miss out on the fun during Castrol® FloRacing Night in America. Subscribe to FloRacing today to watch!
Castrol® FloRacing Night in America runs from March through October with races at nine tracks in six states. Each event will be streamed live and on-demand only on FloRacing and also feature a new live studio show co-hosted by DirtonDirt.com's Michael Rigsby and Derek Kessinger that includes commentary and expert analysis, social media integration via the FloSports app and special guests from the Dirt Late Model world.
In addition to races paying $10,000- to $22,000- to win, the Castrol® FloRacing Night in America also offers a points fund totaling $62,500. Any questions regarding Castrol® FloRacing Night in America and its events can be directed toward series general manager Ben Shelton at msrmafia@gmail.com or 901-335-3037.
For more information on Castrol® FloRacing Night in America sponsors, visit the company websites at www.castrol.com; www.renegaderacefuel.com; www.keysermanufacturing.com/brand/integra-racing-shocks-springs; www.pitstopusa.com; www.pfcbrakes.com; www.buzzeracing.com; www.arizonasportshirts.com; and www.hoosiertire.com.
For complete details regarding Castrol® FloRacing Night in America, please visit the series landing page at www.flosports.tv/castrolfloracingnightinamerica/.
Castrol FloRacing Night In America Expected Entry List
(October 20 at Volunteer Speedway)
| | | | |
| --- | --- | --- | --- |
| # | First | Last | Hometown |
| 1 | Bobby | Pierce | Oakwood, IL |
| 1g | Ryan | King | Seymour, TN |
| 6 | Kyle | Larson | Elk Grove, CA |
| 7 | Ricky | Weiss | Headlingly, MB |
| j8 | Jadon | Frame | Winchester, TN |
| 8 | Kyle | Strickler | Mooresville, NC |
| 15 | Christian | Hanger | Winchester, TN |
| 20 | Jimmy | Owens | Newport, TN |
| h22 | Brandon | Hardgrove | Burnside, KY |
| 23 | Cory | Hedgecock | Loudon, TN |
| 25 | Shane | Clanton | Zebulon, GA |
| 27 | Joe | Denby | Winchester, TN |
| 35 | Matt | Tharp | Luttrell, TN |
| 44 | Chase | King | Seymour, TN |
| 49 | Jonathan | Davenport | Blairsville, GA |
| 52 | Troy | Eads | Tazewell, TN |
| 71 | Kaede | Loudy | Rogersville, TN |
| 71 | Hudson | O'Neal | Martinsville, IN |
| 76 | Joe | Bray | New Tazewell, TN |
| 79 | Ross | Bailes | Clover, SC |
| 83 | Jensen | Ford | Johnson City, TN |
| 86 | Jeff | Neubert | Rockford, TN |
| 101 | Forrest | Trent | Morristown, TN |
| 157 | Mike | Marlar | Winfield, TN |