2021 RaceFest World Championship at West Virginia Motor Speedway
Devin Moran Sweeps RaceFest At West Virginia Motor Speedway
Devin Moran Sweeps RaceFest At West Virginia Motor Speedway
Devin Moran collected his third straight victory at West Virginia Motor Speedway with a clean sweep of Race Fest World Championship weekend.
Oct 11, 2021
by FloRacing Staff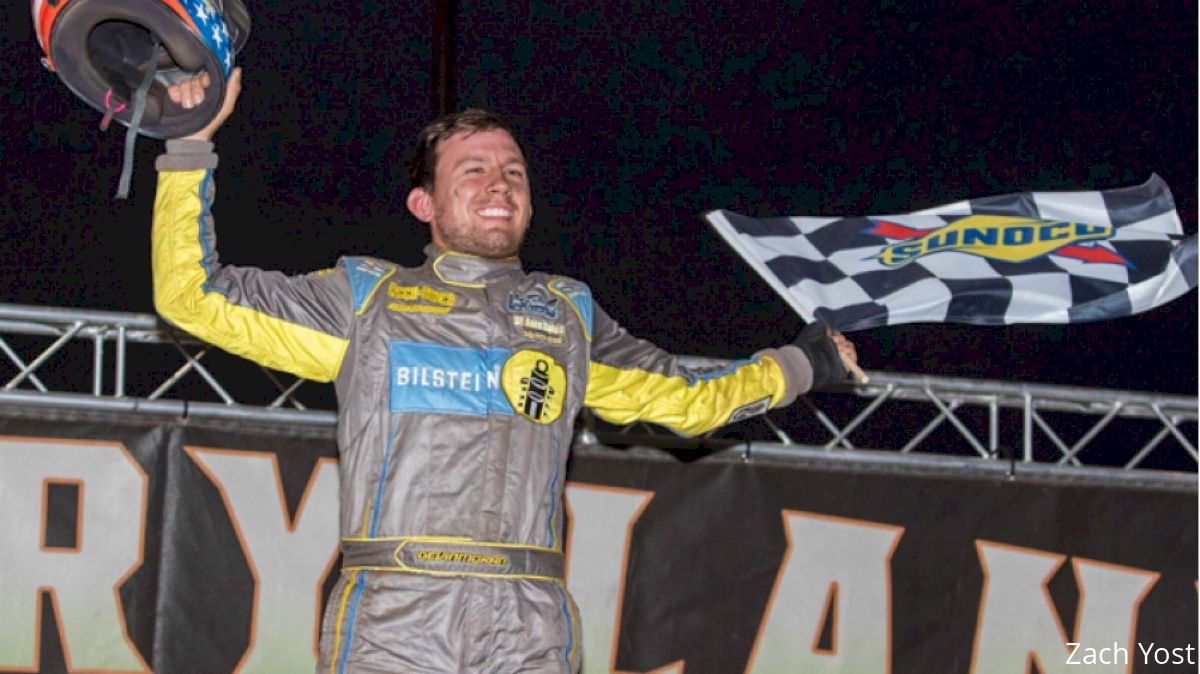 MINERAL WELLS, W.Va. — Devin Moran was snakebit in the first three races of West Virginia Motor Speedway's comeback season. He's been unbeatable in the last three.
Continuing his rebound from the bad luck that cost him shots at victory earlier this season at the 5/8-mile oval, Moran completed a sweep of the track's Racefest World Championship weekend with an uncontested flag-to-flag triumph in Sunday's 35-lap Super Late Model finale co-sanctioned by the Zimmer's United Late Model Series North and South Regions and Valvoline Iron-Man North Series.
Moran, 27, of Dresden, Ohio, was never seriously challenged en route to capturing Sunday's $15,000 top prize, which pushed his two-day earnings to a cool $20,000. He began the weekend Saturday night with a 25-lap win worth $5,000.
What's more, the perfect weekend gave Moran three straight victories at WVMS, which reopened this year for a special-event schedule under promoter Cody Watson following a decade of silence. He also claimed Aug. 6's $10,000 unsanctioned A-main after having his bids in the track's spring events — April 25 (second place), June 4 (seventh) and June 5 (third) — hampered by flat tires that plagued him.
The swing in Moran's WVMS fortunes left him anxious to turn more laps at the track in 2022.
"I love that Cody got this place going again," said Moran, who has 14 overall victories in his career-best 2021 campaign driving Longhorn Race Cars for fellow Ohioan Tye Twarog. "I can't wait for all of his races next year. I can promise you we'll try to be at all of them if we can. It's fun to come out here and hang out and race good."
Moran seized control of Sunday's headliner as soon as the green flag was displayed, surging off the outside of the front row to assume command over the polesitting Max Blair of Centerville, Pa., exiting turn two. Blair spent the remainder of the distance chasing Moran but couldn't summon the speed to draw his Shawn and Lisa Martin-owned Viper Motorsports XR1 Rocket car close enough to mount a challenge.
Blair, 31, was a runner-up for the second consecutive night, crossing the finish line 3.288 seconds behind Moran.
Colten Burdette of Parkersburg, W.Va., inherited third place when Kyle Strickler of Mooresville, N.C., retired with mechanical trouble on lap seven and maintained the final podium position to the checkered flag. Michael Chilton of Salvisa, Ky., finished fourth while veteran Rod Conley of Wheelersburg, Ohio, completed the top five.
Moran said his car became "a little tight with the soft tires we had on," but the push the developed in its handling proved little hinderance to his performance.
"Our car was just really good all weekend," Moran proclaimed. "I was hoping they were gonna water the top there before the feature so we didn't get locked around the bottom, but it is what it is. It's Sunday afternoon."
Moran ended WVMS's 2021 special-show schedule having won three times and contended for victory in his other three starts. He demonstrated a clear affinity for the track where his Hall of Fame father Donnie was triumphant in several major events during his career.
"I guess it just must have been some of the genetics I got from my dad," Moran said when asked why he's taken such a liking to WVMS. "He loved these big places, and I felt like this (would) fit my driving style."
Five caution flags put Blair on Moran's rear bumper for restarts but was unable to offer a challenge. The Pennsylvanian had to be satisfied with a pair of second-place finishes in his first-ever visit to WVMS and clinching the ULMS North and South points championships.
"The way this place restarts, it's really tough to start on the bottom," said Blair, who chose the outside lane on each of the Delaware double-file restarts in hopes of sticking with Moran. "That's why I got the lead on (Moran) last night (for the feature's first 14 circuits) and why he got the lead on the initial start tonight.
"I wish it would've played out a little different," he added. "I wish we would've had some more green laps and we would've got to race it out in lapped traffic a little bit, but he was definitely better than I was. We didn't go quite far enough (with the setup). We'll add it to our notebook and maybe next time we'll be a little better."
Burdette conceded that he clearly had the third-best car on the track at the finish, but he was very pleased with his outing after not even entering Saturday's opener due to work commitments.
"I sure love this place," Burdette said. "Cody's done an excellent job. I was watching last night … I did everything I could to get off work but it just wasn't happening."
The most serious of the race's five caution flags came on lap 10 when teenager Tristan Chamberlain smacked the turn-three wall. His car was towed off the track.
A second caution flew on the lap-10 restart for Robbie Bostic's spun car on the backstretch. Lap 17 proved troublesome to complete as well with Wayne Francis's smoking car and a tangle involving Deshawn Gingerich, Ed Shuman, Dustin Smith and George Klintworth causing back-to-back cautions. The final slowdown occurred on lap 24 when Dave Stamm slowed.
Twenty-one of the event's 22 entries started the feature. The lone scratch was Ashton Winger of Hampton, Ga., whose debut weekend in the G.R. Smith/J.C. Clary Brodnax-Shaker Motorsports No. 89 ended early with terminal engine trouble during hot laps.
Dustin Nobbe of Batesville, Ind., who finished eighth, was crowned the 2021 Valvoline Iron-Man North Series champion.