2021 Tuscarora 50 at Port Royal Speedway
Lance Dewease's Oil Soaked Underwear & Drivers Suit Hits Market
Lance Dewease's Oil Soaked Underwear & Drivers Suit Hits Market
Lance Dewease has his race suit and underwear on sale after heroic Tuscarora 50 performance.
Sep 28, 2021
by Tyler Burnett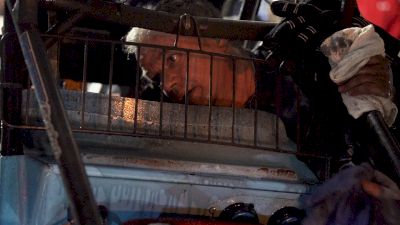 Drivers suits have been sold and raffled off for ages but underwear? There's a first for everything. Sprint Car driver Lance Dewease has listed his oil-soaked drivers suit and underwear from the Tuscarora 50 up for auction on his Facebook page.
The argument is that no pair of underwear in motorsports has ever been as famous as these ones. They have instantly sky rocketed to the under garment hall of fame, if it exists.
The legend of Lance Dewease grew at the Tuscarora 50, as the seven-time champion of the famed Port Royal Labor Day tradition was heroic in the 2021 version. At the halfway point of the race, having led nearly the entire first 25 laps. Dewease parked the car on the front stretch of the Halfway break in a panic. "I can't see anything," he said. "I'm covered in oil."
And he wasn't wrong. I've never seen anything like it. His car was drenched in oil and Dewease himself was also drenched in oil.
"Kassidy get the brake cleaner, I gotta clean off my visor," Dewease said.
He attempted to put on tear offs, but didn't get the time as his team called out the time remaining in the open red.
Minutes passed by that seemed like seconds and he was strapping back in, and I couldn't believe it. The team had found the loose oil line, put oil in the car and pushed it back out. Surely they couldn't make it.
Imagine sitting on a rocket ship you don't know can last. It takes a different breed.
Taking nothing away from one of the biggest Tuscarora 50 history wins in history by Logan Wagner, it was his first, the victory lane celebrations rivaled that of a Chili Bowl or a Daytona 500. To pass that (Dewease) guy at Port Royal is one of the greatest feats in Tuscarora 50 history.
Highlights 2021 Tuscarora 50 Highlights from FloRacing
But these underwear and this drivers suit
went on a ride of a lifetime. Again leading nearly the entire final 25 laps, until Wagner really pushed the issue late and passed him with a lap to go and stole the victory.
"We didn't come here to run second," Dewease said to the voice of the All Stars, Blake Anderson in victory lane.
Yes, he still had finished second but the car and driver both lasted the entire race.
Dewease's suit and nomex deserve a walk over to the Eastern Museum of Motor Racing. But I do appreciate the sense of humor that is selling your underwear on the internet in this day and age.