2021 Fall Brawl at Lucas Oil Raceway
Lucas Oil Raceway Oval Season Ends With Fall Brawl
Lucas Oil Raceway Oval Season Ends With Fall Brawl
Four divisions will be in action during the Fall Brawl at Lucas Oil Raceway Park this weekend.
Oct 5, 2021
by Brandon Paul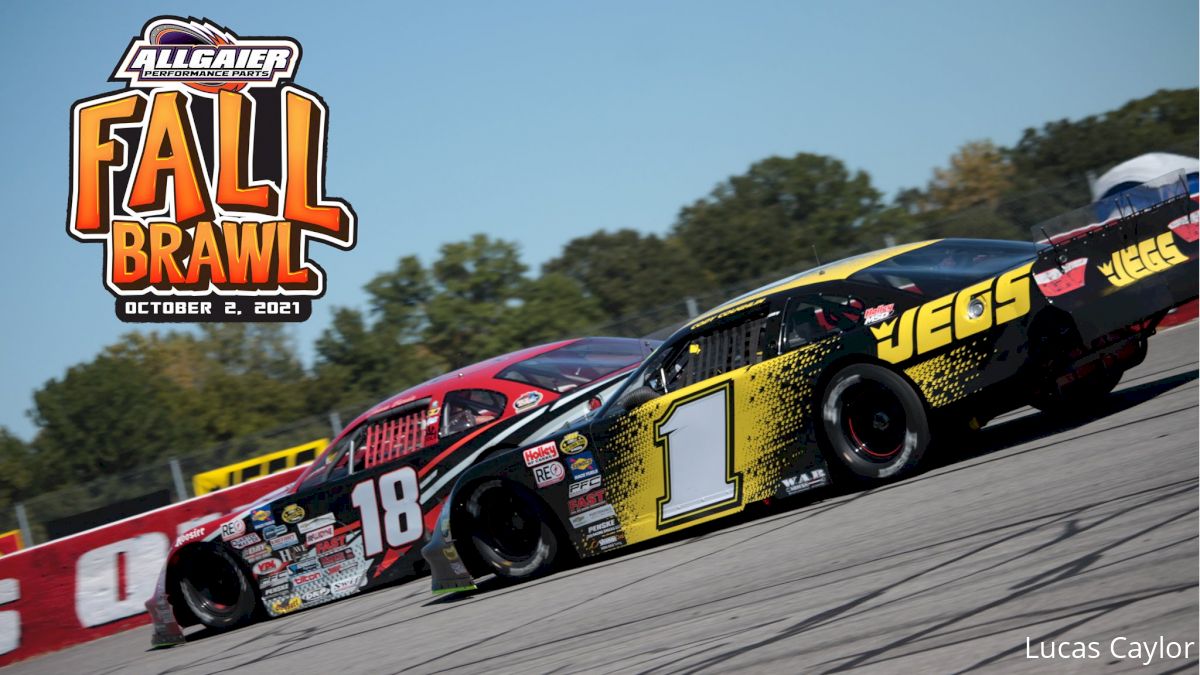 Lucas Oil Raceway will close out its oval racing season with a bang and a brawl this Saturday, October 9. The traditional Fall Brawl event will feature four divisions of racing, including a 100-lap race for the JEGS/CRA All-Stars Tour Pro Late Models.
In addition to Pro Late Models, the CRA Late Model Sportsman, CRA Street Stocks and Vores Compact Touring Series will be in action.
Currently, 26 drivers are entered for the JEGS/CRA All-Stars Tour main event. The complete entry list as of Monday afternoon can be found at the bottom of this story.
Drivers chasing a victory on Saturday include current JEGS/CRA All-Stars Tour points leader Cody Coughlin, two-time Fall Brawl winner Brian Campbell and 2015 Fall Brawl winner Jack Smith. The winner of the race will secure a coveted pair of boxing gloves to wear in victory lane.
Saturday's Fall Brawl 100 will be the second race of the JEGS/CRA All-Stars Tour Chase for the Championship. Coughlin currently leads the standings over Andrew Scheid, Chase Burda, Tanner Jack, Dylan Bates and Brian Demland. The championship field will be narrowed down to four drivers after Saturday's race, leading into the finale during Winchester 400 weekend at Winchester Speedway.
Former winners of the Fall Brawl include 2019 Snowball Derby winner Travis Braden, NASCAR Truck Series driver John Hunter Nemechek and NASCAR Xfinity Series driver Daniel Hemric.
Qualifying will begin at 4:30 p.m. ET on Saturday, with racing getting underway at 6 p.m.
Race fans unable to make it to the Indianapolis oval will be able to watch the action live on FloRacing.
If you're not already a FloRacing subscriber, click here to become one today.
JEGS/CRA All-Stars Tour Fall Brawl Entry List
| | |
| --- | --- |
| 1 | Cody Coughlin |
| 1 | James Krueger |
| 2 | Joey Strode |
| 2J | Kyle Jones |
| 9 | Tony Brutti |
| 11 | Stacy Crain |
| 15 | Jordan Riddick |
| 15C | Trey Craig |
| 18 | Chase Burda |
| 20 | Ethan Stadniczuk |
| 20B | Mike Bursley |
| 22 | Evan Shotko |
| 22B | Brandon Oakley |
| 22P | Chad Pendleton |
| 23 | Mandy Chick |
| 26 | Jack Smith |
| 28 | Kevin Cremonesi |
| 29 | Hunter Wright |
| 33 | Albert Francis |
| 41 | Tanner Jack |
| 44 | Colby Lane |
| 47 | Brian Campbell |
| 50 | Kyle Crump |
| 77 | Andrew Scheid |
| 86 | Danny Trent |
| 91 | Dylan Bates |