2021 4-Crown Nationals at Eldora Speedway
Chris Windom Wears Another Crown At 4-Crown
Chris Windom Wears Another Crown At 4-Crown
Chris Windom had already checked off a couple of the boxes at the 4-Crown Nationals in his illustrious USAC career. He added another on Saturday.
Sep 26, 2021
by Richie Murray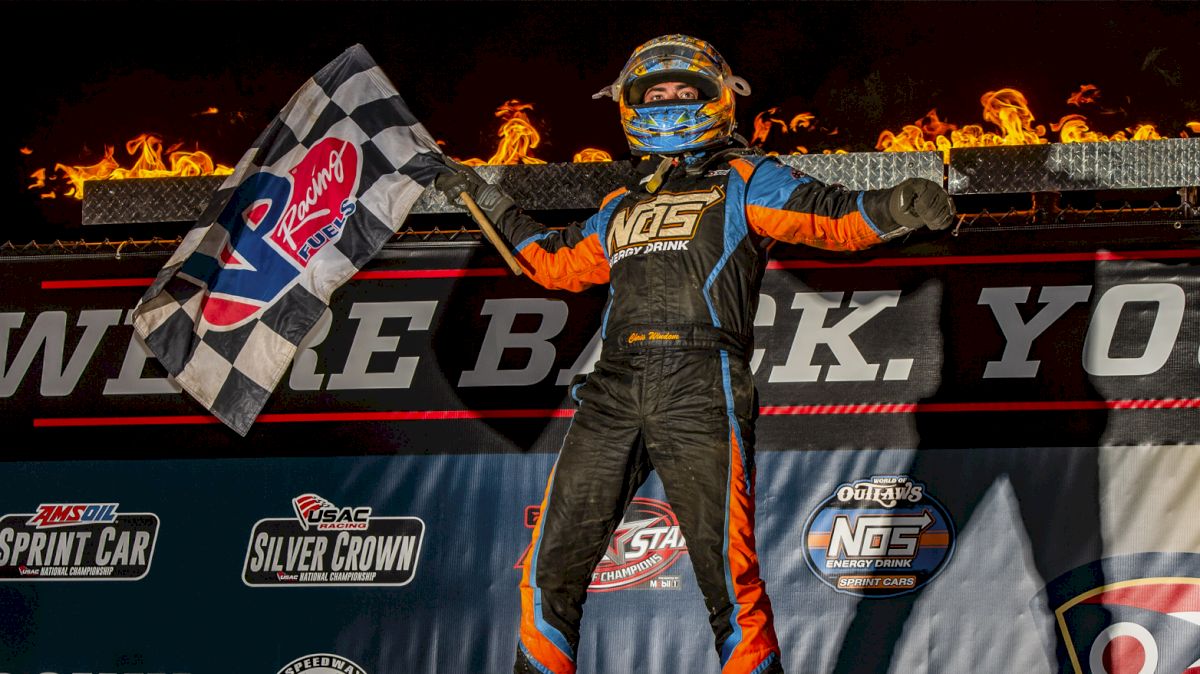 Chris Windom had already checked off a couple of the boxes at the 4-Crown Nationals in his illustrious USAC career.
First, there was a USAC AMSOIL National Sprint Car win added to his resume in 2013 followed by victories in the USAC Silver Crown division in both 2013 and 2016.
However, the one that had long eluded the Canton, Ill. native was a score in the USAC NOS Energy Drink National Midget feature at Rossburg, Ohio's Eldora Speedway.
After Saturday night's 39th running of the event, the reigning series champion could now check that one off the list as well, leading all 25 laps in a highwire, wire-to-wire thrill show in which he successfully fended off a barrage of bullets from challengers Spencer Bayston and Logan Seavey during the final laps of the non-stop, green-to-checker feature, which took less than eight minutes to complete.
By doing so, Windom became just the sixth driver to win all three of USAC's open wheel divisions at the 4-Crown Nationals in his career, joining Jack Hewitt, Dave Darland, Tyler Courtney, Jerry Coons Jr. and Kyle Larson in that regard.
The victory was the 12th of Windom's USAC National Midget career, equaling him with Danny Caruthers, Gene Force, Russ Gamester, Jeff Gordon, Bobby Grim and Ron Shuman for 57th on the all-time list, and successfully avenged his performance in Friday night's opener in which he led 11 laps before fading to third at the end.
Out of his 12 career USAC National Midget triumphs, this one, at the Big E, was a biggie for the USAC Triple Crown champion.
"I've wanted to win here in a midget pretty bad," Windom exclaimed. "Turns three and four were sketchy on the fence for 25 laps, but I just knew I had to run the heck out of it down there. Coming off the top in one and two, I felt like was gaining there instead of following it around.
I had to use a little more tire than I expected to after that one," Windom continued. "I had to run super hard to stay out front. The midgets are so tight on competition right now. All these guys are so good."
Windom started fourth in the main event, but already found himself in the lead by turn three of the opening lap as he charged around the outside of pole sitter Tanner Thorson, then withstood outside front row starter Spencer Bayston's side-by-side challenge down the entire length of the back straightaway before emerging in front of the pack to lead the first circuit of the $6,000-to-win affair.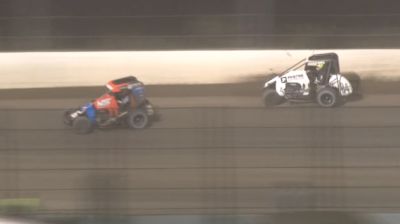 Watch highlights from Saturday's USAC Midgets 4-Crown Nationals feature at Eldora Speedway.
Throughout the middle stages, Windom held a steady three-four-five car length lead over 2017 4-Crown Midget winner Bayston for a majority of the run as the cushion essentially became the wall, with Windom briefly kissing the outside concrete between turns three and four on multiple occasions as he knifed his way through the backend of the 20-car field.
With four laps remaining, the second, third and fourth place cars of Bayston, Seavey and Buddy Kofoid began to clamp down on Windom with just a single car length acting as the separation between the top-four cars as they freight-trained their way around the half-mile dirt oval.
On lap 23, Bayston found a kick in his step as he took a surge of momentum and utilized it to peek outside Windom at the exit of turn two. Unfortunately, for Bayston, that's where the racetrack ended and the outside wall met, with Bayston pounding his right rear tire off the perimeter, knocking him sideways, and forcing him to re-wrangle his machine which glanced off the wall once more for good measure before he was able to gather it up just as both Seavey and Kofoid raced by to his inside, dropping him to fourth.
Windom subsequently gained a bit of battleground for his own use as he upped his advantage to six car lengths once again now with Seavey in hot pursuit. Like he had been perfecting all weekend, Seavey carved through the middle groove to catch up to Windom and was a single car length behind entering the first turn just after seeing the white flag fly when he too saw his winning dreams dashed when his right rear tire met face-to-face with the outside wall on entry.
As a result, Seavey lost his ground, and was unable to throw one more jab at Windom during his final voyage through turns three and four.
Windom ultimately prevailed by 2.5 car lengths – a 0.304 second margin – with Seavey second, Bayston third, Kofoid fourth and Friday night's winner Tyler Courtney rounding out the top-five.
Windom's victory shot him ahead of Kofoid in the season-long USAC NOS Energy Drink Midget National Championship standings with a narrow two-point advantage in his CB Industries/NOS Energy Drink – PristineAuction.com – K & C Drywall/Spike/Speedway Toyota while Kofoid now resides in second.
For the second straight evening, Seavey (Sutter, Calif.) finished a close second aboard his Tom Malloy/Trench Shoring – Rodela Specialty Fabrication/King/Ed Pink Toyota. In now four USAC National Midget starts at Eldora, Seavey possesses a third-place finish in both 2018 and 2019, and a second on back-to-back nights in 2021.
Bayston (Lebanon, Ind.) nearly pulled off his first USAC National Midget win since a 2018 victory at Lawrenceburg (Ind.) Speedway, running second until a late-race mishap initially cost him two positions, from second to fourth, but he was able to find his way back to the "podium" a lap later, finishing third in his CB Industries/PristineAuction.com – K & C Drywall – TRD/Spike/Speedway Toyota.
===================================
USAC NOS ENERGY DRINK MIDGET NATIONAL CHAMPIONSHIP RACE RESULTS: September 25, 2021 – Eldora Speedway – Rossburg, Ohio – 1/2-Mile Dirt Oval – 39th 4-Crown Nationals Presented by NKT.TV
SIMPSON RACE PRODUCTS FIRST HEAT: (8 laps, all transfer to the feature) 1. Cannon McIntosh (#08 Dave Mac), 2. Daison Pursley (#71K Kunz/Curb-Agajanian), 3. Buddy Kofoid (#67 Kunz/Curb-Agajanian), 4. Tyler Courtney (#7BC Clauson-Marshall), 5. Bryant Wiedeman (#01 Kunz/Curb-Agajanian), 6. Chance Crum (#26 Rudeen), 7. Austin Barnhill (#17B Dave Mac). 2:22.94
COMPETITION SUSPENSION (CSI) SECOND HEAT: (8 laps, all transfer to the feature) 1. Logan Seavey (#25 Malloy), 2. Emerson Axsom (#15 Petry), 3. Justin Grant (#2J RMS), 4. Spencer Bayston (#84 CBI), 5. Kevin Thomas Jr. (#5 Petry), 6. Thomas Meseraull (#7x RMS), 7. Kaylee Bryson (#71 Kunz/Curb-Agajanian). 2:23.95
INDY METAL FINISHING / INDY RACE PARTS THIRD HEAT: (8 laps, all transfer to the feature) 1. Tanner Thorson (#19T Reinbold-Underwood), 2. Chase Randall (#19A Reinbold-Underwood), 3. Chris Windom (#89 CBI), 4. Brenham Crouch (#97 Kunz/Curb-Agajanian), 5. Hayden Reinbold (#19AZ Reinbold-Underwood), 6. Greg Mitchell (#001 Mitchell). 2:25.45
FEATURE: (25 laps, starting positions in parentheses) 1. Chris Windom (4), 2. Logan Seavey (5), 3. Spencer Bayston (2), 4. Buddy Kofoid (3), 5. Tyler Courtney (6), 6. Daison Pursley (8), 7. Cannon McIntosh (7), 8. Justin Grant (12), 9. Tanner Thorson (1), 10. Kevin Thomas Jr. (20), 11. Emerson Axsom (9), 12. Chase Randall (10), 13. Thomas Meseraull (15), 14. Bryant Wiedeman (11), 15. Hayden Reinbold (16), 16. Brenham Crouch (13), 17. Chance Crum (14), 18. Kaylee Bryson (17), 19. Austin Barnhill (19), 20. Greg Mitchell (18). 7:47.17
FEATURE LAP LEADERS: Laps 1-25 Chris Windom.
USAC NOS ENERGY DRINK MIDGET NATIONAL CHAMPIONSHIP POINTS: 1-Chris Windom-1931, 2-Buddy Kofoid-1929, 3-Emerson Axsom-1801, 4-Daison Pursley-1767, 5-Tanner Thorson-1760, 6-Justin Grant-1726, 7-Logan Seavey-1665, 8-Thomas Meseraull-1549, 9-Kevin Thomas Jr.-1523, 10-Cannon McIntosh-1375.
OVERALL PROSOURCE PASSING MASTER POINTS: 1-Chris Windom-157, 2-Tanner Thorson-154, 3-Brady Bacon-150, 4-Justin Grant-140, 5-Robert Ballou-131, 6-Kevin Thomas Jr.-130, 7-Thomas Meseraull-122, 8-Logan Seavey-121, 9-Buddy Kofoid-91, 10-Kyle Cummins-84.
NEXT USAC NOS ENERGY DRINK MIDGET NATIONAL CHAMPIONSHIP RACE: October 8, 2021 – Wayne County Speedway – Wayne City, Illinois – 1/8-Mile Dirt Oval – Jason Leffler Memorial
CONTINGENCY AWARD WINNERS:
GSP Driving Performance of the Night: Spencer Bayston
Simpson Race Products First Heat Winner: Cannon McIntosh
Competition Suspension, Inc. Second Heat Winner: Logan Seavey
Indy Metal Finishing / Indy Race Parts Third Heat Winner: Tanner Thorson
KSE Racing Products Hard Charger: Kevin Thomas Jr. (20th to 10th)
Wilwood Brakes 13th Place Finisher: Thomas Meseraull
ProSource Hard Work: Brenham Crouch
Rosewood Machine Precision Move of the Race: Logan Seavey