2021 4-Crown Nationals at Eldora Speedway
Two Straight Nights Of USAC Midgets At Eldora
Two Straight Nights Of USAC Midgets At Eldora
USAC National Midgets will compete at Eldora Speedway on Friday and Saturday night during the 4-Crown Nationals.
Sep 24, 2021
by FloRacing Staff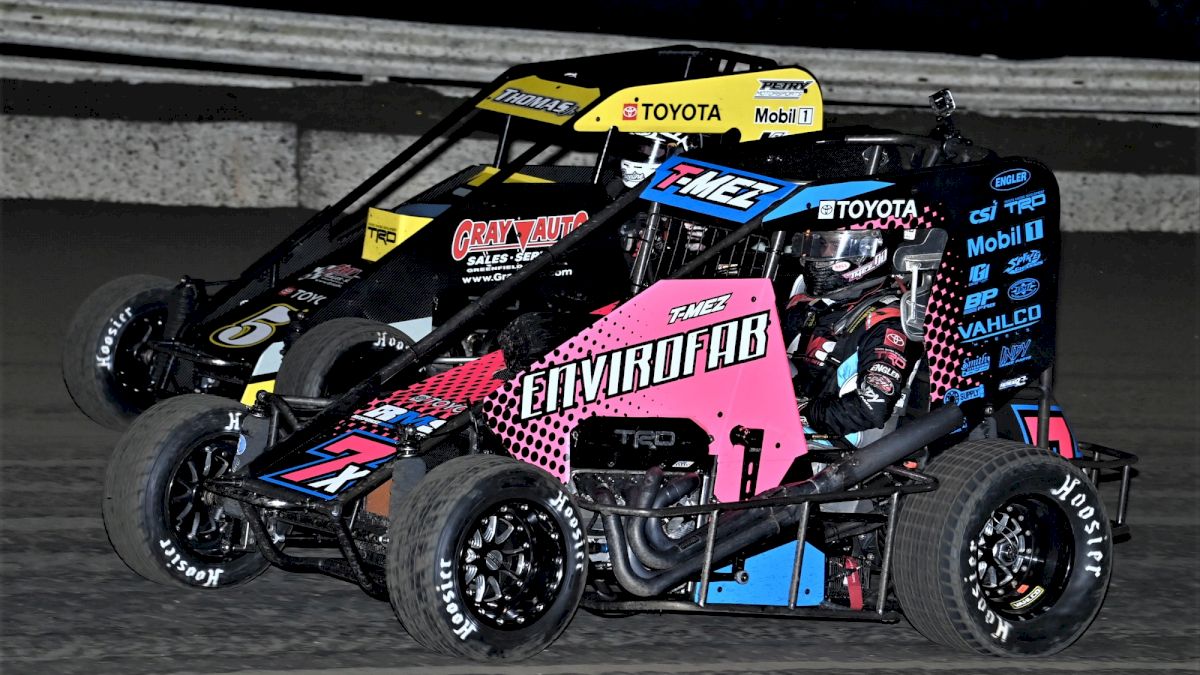 Rossburg, OH -- For the first 38 years of the 4-Crown Nationals, we have been treated to competition unlike you'll find anyplace else as a full field of USAC NOS Energy Drink National Midgets attack the half-mile dirt oval of Eldora Speedway in Rossburg, Ohio.
A massive swarm of two, three and four-wide on the banks is enough to make you hold your breath for the entire 25-lap distance and provides all of us a one-of-a-kind thrill each year.
Now, you can make that two-of-a-kind.
Two programs over two nights are set for the midgets this Friday and Saturday night, September 24-25, at Eldora with a slight twist in the format for the 39th running of the 4-Crown Nationals presented by NKT.TV.
Friday's midget program will utilize the traditional format of single-car qualifying, followed by heat races, semi-feature (if needed) and a 25-lap feature event paying $4,000-to-win, with the starting lineup based on qualifying results and heat race winners, as standard.
The format for Saturday's midget event will not include qualifying. Instead, heat race lineups will be based on the finishing order of Friday's event. Friday night's feature winner will receive the one seed with the second-place finisher getting the second seed, and so on. For Saturday, those seeds, in essence, will act as the official qualifying time.
The number one seed will line up in the 6th position of Saturday's heat race one and the number two seed will line up in the 6th position of heat race two, and so forth. From there on, the "traditional" USAC format for a three heat race format will take over with the top-five transferring/getting their qualifying time back from each of the three heat races, etc.
The fastest top-six "seeds" who transfer through the heats will occupy the first three rows of Saturday's feature, followed by heat race winners, then the balance of the field based on their seeds, to set the starting lineup for the 25-lap finale paying $6,000-to-win.
Furthermore, Friday will be a full points event, awarding points for qualifying, heats and the feature event. Saturday's event will pay points for the feature only.
Tyler Courtney (Indianapolis, Ind.) enters as the winner of the last two 4-Crown USAC National Midget events in 2018 and 2019. The 2019 series champ can become the first driver to win three consecutive USAC National Midget features at Eldora. Only Rich Vogler (1985-86) and Kyle Larson (2011-12) have won two-in-a-row at the 4-Crown before him.
Spencer Bayston (Lebanon, Ind.) is the most recent driver not named Tyler Courtney to win a midget race at the 4-Crown, scoring the victory during his USAC National Midget championship season of 2017. He was also 7th in his Rookie year of 2015. He'll pilot a second CB Industries car as a teammate to 2020 series champ Chris Windom.
Windom (Canton, Ill.) finished a best of 6th in his last midget go at Eldora. Windom has won the USAC Sprint (2013) and USAC Silver Crown (2013 & 2016) portions of the 4-Crown before but will try to become the sixth driver to win all three USAC open wheel classes at the 4-Crown in his career, which has only previously been done by Courtney, Jack Hewitt, Dave Darland, Jerry Coons Jr. and Kyle Larson.
Justin Grant (Ione, Calif.) finished as the runner-up in the 4-Crown midget feature of 2018 and was 7th in 2019. Grant was the 2016 4-Crown feature victor with the USAC National Sprint Cars.
Thomas Meseraull (San Jose, Calif.) won his first USAC National Sprint Car feature ever at the 4-Crown in 2015. He'll try to add a midget score to the tally as he makes his first Eldora midget appearance since that same year six years ago when he finished 9th. He was also a 10th place midget finisher in 2012.
Looking for his first Eldora win of any kind is Kevin Thomas Jr., a top-five finisher in each of the last three midget appearances at the 4-Crown. The 2014 USAC National Midget Rookie of the Year from Cullman, Ala. took a best of 4th in 2018 and was 5th in both 2015 and 2019.
Tanner Thorson (Minden, Nev.) has notched seven victories on the USAC NOS Energy Drink Midget National Championship tour in 2021. One of those he'd like to add to the resume is Eldora where he's finished inside the top-10 in all five of his previous starts. The 2016 series champ was a best of 2nd at Eldora that same year, and was also 4th in 2015, 5th in 2017, 6th in 2013 and 10th in 2019.
Logan Seavey (Sutter, Calif.) has been lightning-quick in his only USAC National Midget appearances at Eldora, finishing 3rd during his championship season of 2018 and was 3rd again in 2019.
For many drivers, however, this will be their first jaunt to Eldora in a midget. For series point leader Buddy Kofoid, this isn't exactly his first go-around at Eldora or at the 4-Crown. In 2019, the Penngrove, California driver finished 4th in the All Star Circuit of Champions Sprint Car feature event at the 4-Crown.
A trio of USAC National Midget feature winners will be making their first stops at the Big E this weekend, including two-time 2021 winners Emerson Axsom (Franklin, Ind.) and Daison Pursley (Locust Grove, Okla.). Bixby, Oklahoma's Cannon McIntosh, owner of three career USAC National Midget wins, will test the high banks for the initial time.
Kaylee Bryson (Muskogee, Okla.), in her second year with the series, will tackle Eldora for the first time as will leading Rookie of the Year candidate Chase Randall (Waco, Texas), who is on his way to the 4-Crown along with fellow series first-timers Brenham Crouch (Lubbock, Texas), Bryant Wiedeman (Colby, Kan.), Hayden Reinbold (Gilbert, Ariz.), three-time 2021 USAC Midwest Regional Midget winner Chance Crum, Austin Barnhill (Wilmington, N.C.), Greg Mitchell (Parkersburg, W.Va.) and Kyle Simon (Covington, Ohio), who finished 5th in his first and only career series start back in 2020 at the Southern Illinois Center.
This will be the 52nd and 53rd USAC National Midget events held at Eldora since Bob Wente's victory in 1964. While this will mark the first instance of back-to-back nights of midget racing at the 4-Crown, series events have been held on consecutive days at Eldora just once before. It happened for the first and only time 20 years ago in 2001 during the Buckeye Nationals with Jay Drake and Dave Darland taking the wins.
On Friday, it's a full program for the USAC NOS Energy Drink Midget National Championship, plus USAC Silver Crown qualifying and a full program for the World of Outlaws NOS Energy Drink Sprint Cars. Stands open at 2pm Eastern with the drivers meeting at 5pm and hot laps at 6pm.
On Saturday, it's full programs for the USAC NOS Energy Drink Midget National Championship, USAC AMSOIL Sprint Car National Championship, USAC Silver Crown and the All Star Circuit of Champions. Spectator gates open at Noon Eastern with a driver autograph session scheduled from 3-4 pm in the Fan Zone, followed by the drivers meeting at 5pm and hot laps at 6pm.
On both nights at Eldora, general admission tickets are $34 for adults and free for ages 12 and under. Reserved tickets are $39 for adults and $9 for ages 12 and under.
The USAC portions for this weekend's events from Gas City and Eldora can be watched LIVE on FloRacing at https://bit.ly/3frPoW6.