2021 World 100 at Eldora Speedway
Jonathan Davenport Plays Chess, Not Checkers At Eldora
Jonathan Davenport Plays Chess, Not Checkers At Eldora
Jonathan Davenport used patience and strategy to win his fourth career World 100 at Eldora Speedway.
Sep 15, 2021
by FloRacing Staff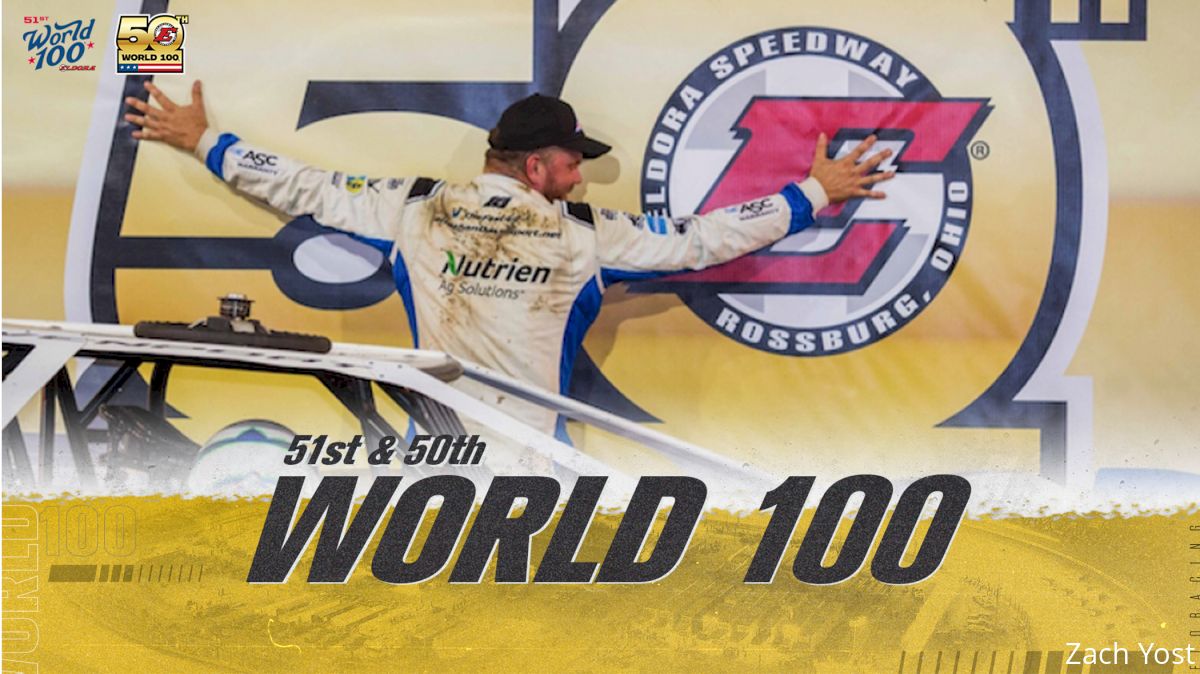 ROSSBURG, Ohio — Jonathan Davenport knows what it takes to win crown jewel events at Eldora Speedway.
And in case you thought otherwise, it's not a matter of hammering the gas pedal and going straight to the front.
"This place is chess, not checkers," Davenport pronounced. "You gotta think 20 laps ahead of yourself."
The 37-year-old superstar from Blairsville, Ga., made that assertion from a position of authority after winning Saturday 's 50th World 100. It was his fourth career victory in Dirt Late Model racing's most prestigious race — only Hall of Famers Billy Moyer (six), Scott Bloomquist (four) and Donnie Moran (four) can also make that lofty claim — with all of them coming since 2015, cementing the fact that Davenport has mastered the art of circling the famed high-banked, half-mile oval in the cornfields of western Ohio.
Davenport displayed all the critical attributes necessary for Eldora success — patience, strategy, experience, talent — to capture the World 100 for the fourth time in seven years and register his sixth overall major-event triumph at the track. He slipped backwards early from his sixth starting spot, calmly marched back forward and made all the right moves after gaining command for good on lap 55 from Brandon Overton of Evans, Ga.
Of course, Davenport isn't the only driver who's found the key to reaching Eldora's winner's stage. The latest racer to join him in the pantheon of Eldora greats is the 30-year-old Overton, who swept June's double Dreams to the tune of $273,000 and continued his Big E domination by winning the 51st World 100 on Thursday for another $54,000 and a $10,000 preliminary feature on Friday.
In fact, it was Overton's emergence as a shining Eldora star this year that provided Davenport and his Lance Landers-owned team some extra incentive to make their Longhorn Chassis better and for Davenport to hone his legendary Eldora focus to an even more razor-sharp level.
"Of course it did," Davenport said when asked if Overton's hot streak had increased his team's preparation and his determination. "I mean, we can't let somebody come in and just steal all the money."
Davenport, wearing jeans and a Kevin Rumley Engineering hoodie outside his trailer after the postrace crush of fans died down, smiled as he spoke. But the Overton Effect certainly was real for J.D., who had his fellow Longhorn Chassis campaigner on his mind as he headed into Saturday's feature.
"Everybody's saying, 'Brandon's gonna win unless he wrecks, something tears up,'" Davenport said of Overton, who started directly in front of him in the fourth spot. "I told (crew chief) Jason (Durham) right when I was crawling in the car (after driver introductions), 'We're gonna drive by him tonight. I got that feeling.' "
Getting to that point, though, was a process that began during June's Dream week, when Davenport admittedly lost a step to Overton. He opened the week with a victory in a preliminary feature, but went on to finish seventh in the first 100-lapper, fourth in Friday's preliminary 25-lapper and fourth in Saturday's Dream finale as Overton stole the show by winning every night.
"I felt like we'd had such a good year coming into June, and then we came here with a completely different package," said Davenport, who entered the Dreams with 14 victories already on his 2021 ledger, including a $35,000 sweep the previous week at West Virginia Motor Speedway in Mineral Wells. "Then we ran it the first two nights and I feel like we got behind, so then we switched around (for the final two programs) and (Overton) was two nights ahead of us.
"I felt like we caught up a little bit, but we just wasn't where we needed to be. We got there (in contention) on the last night, but then it just didn't work out."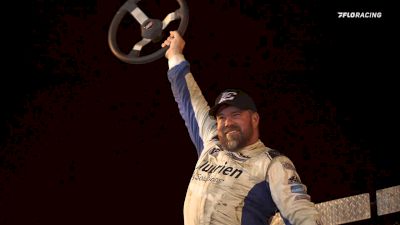 Jonathan Davenport discusses his 50th Annual World 100 victory.
Davenport and Co. returned to Eldora on Wednesday looking to close that gap with Overton even more.
"I'm telling you, this place, once you get there, like, you're making really small, fine-tune adjustments, from the slick to even when it's fast," Davenport said. "So we knew where we struggled at (in June), and where he was beating us at. We worked on that, and I felt like, the first night this week (a fifth-place finish in Wednesday's prelim feature), I fixed where he was beating us at, but I created another problem. So then we worked on that, and then I felt like I had the car to win on Thursday (in the 51st World 100), I really did."
Coming from the 17th starting spot in Thursday's century grind, Davenport cracked the top five on lap 37 and on lap 55 moved to third. Three circuits later he was in the midst of overtaking Dale McDowell of Chickamauga, Ga., for second — and had his eyes on Overton's first-place car — when a caution flag for Tyler Erb of New Waverly, Texas, dulled his building momentum.
"If the caution don't come out, I feel like I take the lead," Davenport said. "Maybe they pass me back, I don't know, but we had started way in the back and my car was very maneuverable, it was very good. I'd just passed Dale for second … I rolled him through (turns) three and four and Overton was still running the bottom through one and two, so I felt like that lap that Tyler pulled up and brought out the caution after we lapped him, I was gonna take the lead the next lap. The rubber (strip) was through (turns) one and two and (Overton) hadn't found it yet, so I felt like we was gonna sneak by him right there.
"But there's a lot of what-ifs; he could've passed me back or whatever. But we still put ourselves in position to win again and I just totally screwed it up. I got a little too anxious (after the restart) and tried to pass Dale on the outside (for the lead on lap 69 after slipping past Overton for second), but I didn't commit. Like, I was kind of hesitant, and then I got out of the rubber (and fell back to fifth)."
Unable to recover because Thursday's track surface rubbered into a single lane late in the race, Davenport settled for a fifth-place finish and admitted he was "madder than hell" about his missed opportunity.
"I wanted to go a little bit further on the problem that we had created and try to do something else the next night," Davenport said of Friday's preliminary program. "We didn't run good last night (he finished 10th in the 25-lapper) — and honestly, I didn't want to run that good, because I was tired of starting fifth or sixth in a heat race every night (due to the inversions). We ended up on the pole of a (Saturday) heat because of it.
"We was lucky enough to get in through the heat (with a convincing victory), and we come in and had time to talk about every change throughout the weekend and when we was here in June. All five of us (crew chief Jason Durham and crewmen Clint Campbell, Vinny Guliani and Matt Langston) talked every change out that we wanted to do. Every piece of the car we fine-tuned it — it's like, a round here, a round there, a little bit here and there — and the son of a bitch was about perfect tonight."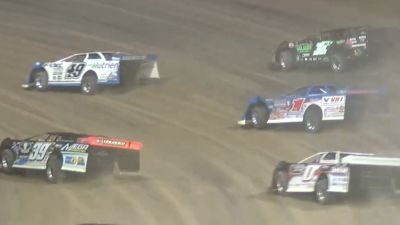 Highlights from the 50th Annual World 100 at Eldora.
Davenport still had to put himself in position to win Saturday's 100-lapper, and, to the untrained eye, he didn't appear to be on his way to doing that when the race began. He initially slipped backward, falling to 10th by lap 13, but he asserted it was part of his plan.
"That was just me," Davenport said. "That was because I knew they'd reworked the track (before the feature). It gets dirty, it gets dusty, but that's what it needed for us to race 100 laps instead of race for, like, 60 laps. But I also know when it gets dusty like that, it tears your tires up. You slide, you do this and and that …
"So when we took off, I set a pace that I wanted to do and I was getting drove by, and it's really hard not to go. But, at 10, 15 laps into that run, I really felt like they started coming back to me and I never changed my pace so I felt like I'd made the right decision at that point."
Davenport experienced some bumps in the road, however, during his progression forward.
"It felt like when every caution come out, I was just about to get in the right position," Davenport said. "After the first caution come out (on lap 27), I was just about to pass two cars. I'd just come up on 'em, and the caution comes out, and I needed to be two cars ahead to be in the top two rows (for the restart). Well, that didn't happen, so I'm like, 'Son of a bitch.' Then we took off again and it took three, four, five laps to get going, and I got by (Brandon) Sheppard (for fifth on lap 44), another key guy I got by, and we ran down Bobby (Pierce) and we ran down Overton, and as soon as I was about to pass Bobby (for second) the caution come out again (on lap 49). I was like, 'Oh, s---, now I gotta start on the second row instead of the front row.'
"But I learned from that. From where Overton took off (on the restart as the leader), I got to see exactly where he was taking off, what he was doing with his wheel, just processing data to learn stuff.
"(Overton) was a little tight (handling). I could see that. But, I didn't know if that's how he was driving his car. You really don't know what hand somebody's showing at that point,. Once I got to second behind him (after passing Pierce on the lap-49 restart) I could see where he was better than me, but I didn't know if that was just because of clean air or his car was that much better."
The crucial moment for Davenport came on a lap-54 restart when he lined up alongside Overton on the front row.
"He chose the outside again (for the restart) and that gave me the opportunity," Davenport said. "The way they've got us boxed up on these starts sucks now because the guy running second knows exactly when you're gonna take off within a half a car length, maybe a car length, so I knew where he was gonna take off. I done learned where he did the two times before actually — because the caution come out right after he took off one time (on lap 49) — so I felt like I had a pretty good timing on what he was gonna do.
"I just wanted to mess up his rhythm and give him a little bit of dirty air, so I slid him down in turn one. I figured he would cross me back over, but he didn't and we got the lead."
Overton didn't second-guess his decision to restart in the outside lane. On this night, he just wasn't strong enough to outrun Davenport.
"I chose the top and he got a good run and kind of slid me," Overton said after settling for a third-place finish that snapped his Eldora crown-jewel win streak. "When I started in the bottom of (leader) Johnny (Scott earlier in the race), hell, when I'd go down in there (into turn one), I knew when that brown (moisture) died, when I turned left I was gonna shove right across the racetrack. I didn't want to get down there and get tight and blow up the racetrack and get passed. You see it — you mess up one time and they swarm you, like four of five of 'em go by you. I didn't want to do that so I chose the top, and (Davenport) hit that brown, jumped through that hole and slid up … he was good, and even at that time I wasn't too bad, but I got too tight and couldn't hold him off."
Overton couldn't summon the speed to mount any challenge on Davenport before he lost second to Mike Marlar of Winfield, Tenn., on lap 77. He managed to turn back Tim McCreadie of Watertown, N.Y., in the final laps to preserve a podium finish.
A third-place finish worth $12,500 wasn't what Overton wanted, but he conceded he didn't have the best car.
Overton said he knew his car wasn't as good as it was in his three previous 100-lap wins "before we ever got going on them restarts. I couldn't get in there (the corners) like I wanted to, and I said, 'Oh, s---. Just too tight in.'
"I guess just circumstances," he continued. "The track was different tonight. When they watered it (before the feature), I don't know what that water did, but, like, it didn't make my ass-end no looser, but it definitely made my front end way tighter. Like, I could not steer it. When I'd try to turn off the wall, I'd chatter all the way in until I'd jump and I couldn't even feel the front tires, and when I'd land, they'd still be shaking."
Overton gracefully accepted the end of his spectacular run.
"Like I said earlier, hell, I can't change it," Overton said, referring to how difficult it is for him to alter his car's setup when it had been working so well. "I won so much money doing pretty much the same thing. How do you change it until you get beat?
"But what do you do? It's bound to happen. We got beat by a good one — got beat by J.D. Hell, what do you do? You see it, he's got a helluva posse back there. They're good at what they do. Hell, he beat me, and we're just gonna keep working, and we'll come back and we'll see 'em again next time.
"Most of the time, when money's on the line, you need to be stuck, tight and digging," he added. "This place can change so many different times, and I haven't been in too many situations here but I'm steadily writing down notes — how they prepped it, what it feels like — and trying to build a notebook. They've seen it in about every different condition and they're always up front. We just gotta get more consistent and keep working on it."
Davenport certainly has grown to understaff the vagaries of Eldora since his first visit there for the 2006 World 100. He employed all of his acquired knowledge to maintain his spot leading the pack as the race wound down.
As Davenport noted, the mental game never stops at Eldora.
"Oh, 100 percent," Davenport said. "This place is so technical, you can have your car perfect, but if you don't put yourself in the right position at the right time then it ain't worth a s---."
In that vein, Davenport was constantly analyzing what his best strategy would be to stave off the second-place driver, whether it be choosing the inside lane for restarts on laps 61 and 72 when Overton was behind him in order to block slider attempts or contemplating choosing the outside lane on lap 88 when Marlar was his closest challenger.
Indeed, Davenport's most perplexing — and stressful — moment in his seat came during that lap-88 caution period.
"I was really worried when Marlar got to second and we had that caution with eight to go," Davenport said. "Marlar's lining up next to me and I know he's more likely (than Overton) to go to the top. Brandon's probably not gonna go up there and rip the cushion through one and two, so I almost picked the outside just to block (Marlar), not sliding me getting into turn one, but actually sliding me getting into turn three. I figured Marlar, after he seen what I did a couple times — and I could watch him on the board when we were going into one try to slide just to create a little bit of dirty air for Brandon — Marlar would go all the way to the lip and then try to get a run down the back straightaway. I'd prevent the slider going into turn one (by restarting on the bottom), but if he goes all the way to the cushion and runs it just right, well, then he gets a big run down the back straightaway."
Davenport opted to stay on the bottom for the final restart. Like most everything else he did on Saturday, it worked.
"I don't think (Marlar) did it (went to the cushion in turn one) that time so I think that's what saved me," Davenport said. "I almost picked the outside and then I thought, Man, I'll feel like a dumb ass if I pick the outside and Marlar slides me on the inside. I had to stick to my guns and try to do the same thing that I'd been doing.
"I had been blocking (sliders) getting into turn three, so I was just trying to do the same thing (over the final circuits), and listening for an engine on the inside or the outside, and trying to watch the Jumbotron to do the best job I could."
Not surprisingly, Davenport closed out the race with aplomb — and with that he entered the rarified air of Eldora's legends.
"It's crazy," Davenport said of putting his name among Dirt Late Model racing's all-time greats with his Eldora success. "Somebody else asked me to explain it to them, but I feel like you're not as good until the last race that you run. So we didn't win Thursday and I feel like we should have, so I had a little chip on my shoulder and had something to prove. If I have the car just right I feel like I can drive around this place with the best of 'em."