2021 World 100 at Eldora Speedway
How Mike Marlar Charged From 26th To 2nd At Eldora
How Mike Marlar Charged From 26th To 2nd At Eldora
Mike Marlar went from the B-Main to contending for the 50th Annual World 100 win at Eldora Speedway.
Sep 15, 2021
by FloRacing Staff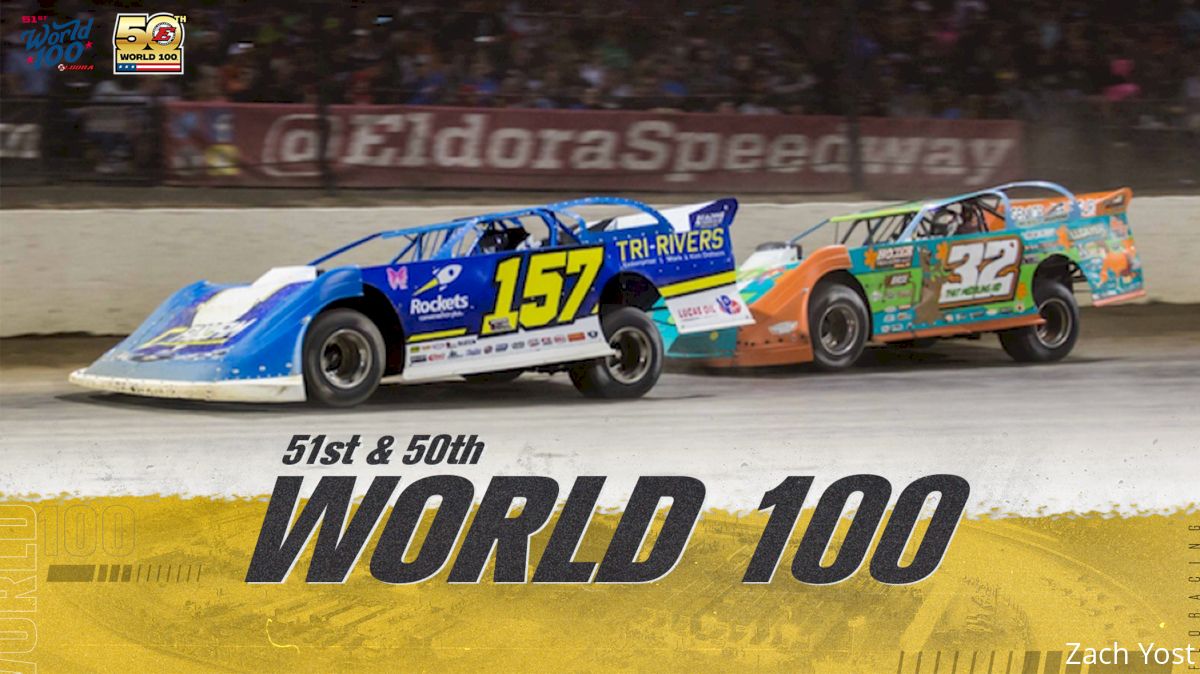 ROSSBURG, Ohio (Sept. 11) — Mike Marlar didn't head out onto Eldora Speedway's high banks for Saturday's second B-main with visions of later contending for a $53,000 victory in the 50th World 100. His goal was to simply turn a few more circuits around the half-mile oval before calling it a weekend.
And the 43-year-old driver from Winfield, Tenn., barely made it out of the pit area in time to even do that after a heat-race accident left him and his team scrambling to repair their car. | Complete World 100 coverage
"I was working on setup, the (crew) guys were popping rivets," Marlar said when asked what was happening at his trailer as the consolation's starters staged on pit road. "When the field pulled onto the track I didn't have a helmet on. I went onto the track with no helmet. It literally wasn't on my head. I had to pull out there (and stop) and make sure they didn't start the race without me so I could put on my gear, and then I caught up and took the green from pretty much the tail I guess."
Marlar started at the back of the 21-car race — he had been scheduled to start 17th, so reporting late didn't drastically change his position in the lineup — and knew claiming one of the three transfer spots (with one additional berth available to the winner of the five-lap scramble that immediately followed the B-main's checkered flag) would be an uphill climb. But over the course of the 20-lapper his fortunes changed dramatically — not only immediately with his march forward to finish third, but also in the finale as he made a stirring rally from the 26th starting spot to earn a $20,000 runner-up finish.
After registering a career-best World 100 finish on a night that a few hours earlier seemed doomed to end his already frustrating Eldora trip in forgettable fashion, Marlar could only thank his crew for keeping his hopes alive.
"My guys, man, they've really bailed me out multiple times this weekend," Marlar said of his team led by Josh Davis and Jerry "Donk" Sprouse. "It's been a rough weekend, but it turned out good."
Marlar entered Saturday's action having produced middling results over the first three nights of the double World 100s week. He didn't qualify for Thursday's 51st World 100 finale and tallied preliminary-feature finishes of 12th (Wednesday) and ninth (Friday).
Debuting a 2020 Longhorn Chassis his team owner, Ronnie Delk, recently purchased lightly-used from Crate Late Model racer Justin Smith of Barbourville, Ky. — the third chassis brand he's run this year following stints in Rocket and Capital machines — Marlar struggled in the week's opening program. But he at least understood where his difficulties were centered.
"We had some brake problems," said Marlar, who briefly ran a Longhorn last year but feels that now, with a Clements Chevy under the hood rather than one of the Fords he had in '20, he has a better chassis-motor combination. "You know, (Smith) had Crate brakes (on the car), so I had to upgrade the brakes to run it as a (Super) Late Model and we really just picked the wrong pads for it. The first night I just couldn't drive the car good because when I'd hit the brakes I'd slide the back tires. With some help from Spike (Logue) at Wilwood, he got me all the right pads and master cylinder sizes figured out and we fixed our brakes."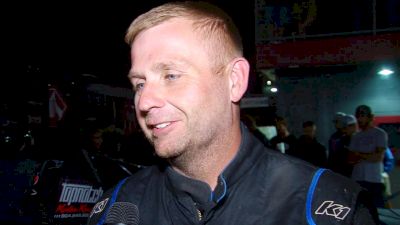 Mike Marlar recaps his 26th-to-2nd run at the World 100.
Marlar didn't hit his stride, however, until Saturday — and only after nearly seeing his weekend come to a sudden, crashing halt. As he was bidding for a transfer spot in the fifth heat with two laps remaining, Tyler Erb of New Waverly, Texas, smacked the turn-two wall just ahead of him and Marlar couldn't avoid clipping the Best Performance Motorsports driver's car.
"He just pushed and hit the fence," Marlar recalled. "All weekend long I seen a lot of guys do that, so he just messed up and bounced 'er off the fence and his ass went down in front of me and I more or less tank-slapped him as I went by. It ripped everything (cosmetically) off the car and spun me out backwards."
The damage to Marlar's No. 157 appeared significant enough to sideline him from further competition — especially with the impending B-mains giving him scant time to fix the machine — but he didn't throw in the towel. His decision to press on proved prescient.
"When I come in (after the wreck), I just thought, My car's been good all weekend (despite his finishes) and I was looking forward to today, so I just said, 'Well, if this ain't the year (for World 100 contention), at least I need to go out here and get valuable laps and get my car working good,' " Marlar said. "So I did some setup stuff to it and went out there for the B. Starting in the back I don't think really hurt me because I could just ease my way up through there and it worked out.
"I was being cautious through there (in the B-main), because Billy Franklin's my buddy and I was racing with him there early and I was just trying to be respectful to everybody. I barely made it up through there to a transfer. Actually, I passed Tyler (Erb) late to transfer in.
"And then in the feature you just roll out there and you got what you got," he added. "And I had something good."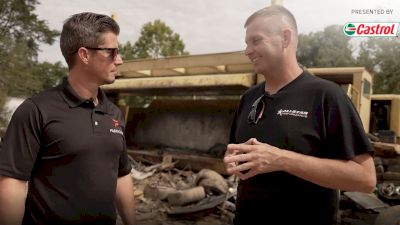 We made a stop at Mike Marlar's family-owned salvage yard on the Road to Eldora.
Eldora's track surface was reworked before the 100-lapper, creating speedy conditions during its early stages. But Marlar made headway even with the quicker pace, finding moisture on the extreme inside of the speedway to cut through half the field by lap 30.
"About any of these tracks we go that end up being a really good track, they gotta get it a little muddy to start so it transitions, gets a little crumbs on it and blows off and cleans up and it's real racy," said Marlar, a Lucas Oil Late Model Dirt Series regular this season (he's 10th in the points standings with a single series victory on May 21 at 300 Raceway in Farley, Iowa) and winner of a modest three features overall in '21. "And that's how this was. That bottom was fastest for a long time, maybe 30, 40 laps, and then it got streaked up and we could move out and run all over it.
"Early I was literally touching the (inside) wall with left front all the way around the racetrack. Timmy (McCreadie) and me both were just mowing 'em down rubbing that inside wall. Then later the middle was better for me."
Marlar seriously entered the picture on lap 53, cracking the top five for the first time with a pass of Rick Eckert. He moved by Bobby Pierce for fourth on lap 58, grabbed third from McCreadie on lap 62 and shot by 2021 Eldora dominator Brandon Overton for second on a lap-72 restart.
After fending off a brief return volley from Overton, Marlar found himself between the 2021 season's two biggest winners — leader and ultimate victor Jonathan Davenport of Blairsville, Ga., and Overton — for the race's final quarter. When the feature was slowed for the last time by a caution flag on lap 92, Marlar was presented his opportunity to snatch the most prestigious triumph of his career.
Alas, while Marlar drove into turn one neck-and-neck with Davenport on the restart, he couldn't maintain sufficient traction to execute a pass. He settled for second place, 1.766 seconds behind Davenport, who captured the World 100 for an unprecedented fourth time in six years.
"We got a perfect restart that last restart," Marlar said, still wearing his firesuit with his car unloaded long after the checkered flag had fallen. "We were pretty much door-to-door all the way down the front straightaway. He just turned in the center and I just kind of pushed across the center a little bit, just enough for him to pull ahead of me.
"His car was just balanced just a little bit better. He was, I guess, almost a little freer to turn in the center of the corner than me. My car would be a little tight across the center, so that little bit was all it was.
"If I'd have got in front, I could run pretty close to the same lap times as him," he continued. "But I was just having to hustle my car a little bit to do it."
There was little disappointment evident on Marlar's face after he came up one spot short in Dirt Late Model racing's biggest show. It was, after all, a rare up-front run in an Eldora crown jewel for Marlar, whose previous career-high World 100 finish of third, in 2017, is his only other placing better than eighth in a combined 20 World 100 and Dream feature starts since 2003.
"Heck, it was fun," said Marlar, who heads to Knoxville (Iowa) Raceway this weekend to chase a third career victory in the $50,000-to-win 17th Lucas Oil Late Model Knoxville Nationals presented by Brandt Professional Agriculture. "This place here, it's all about your car. For a lot of years, I just felt like, 'Man, I just don't drive the track right.' Then, when I got my car right a few times, I realized, 'Nah, it's really just how your car is.' You just can't mask a bad car on this racetrack, so if you get your car good you can show out.
"My best (World 100) finish is now a second here, so I'm getting closer. For a long time honestly, this has been kind of too big of a deal, I guess. I didn't really even enjoy coming here. But I'm starting to enjoy it more and more and looking forward to coming and my results are starting to show it."