2021 World 100 at Eldora Speedway
Jonathan Davenport Halts Brandon Overton's Streak At Eldora
Jonathan Davenport Halts Brandon Overton's Streak At Eldora
Jonathan Davenport passed this year's Eldora Speedway dominator Brandon Overton to win the 50th Annual World 100.
Sep 13, 2021
by FloRacing Staff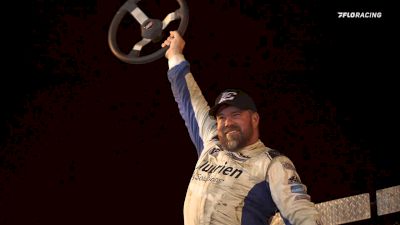 ROSSBURG, Ohio — Surely Eldora Speedway's running of the 50th annual World 100 provided plenty of motivation for Jonathan Davenport.
But with fellow Georgian Brandon Overton entering the event aiming for his fourth crown jewel victory of the season at the historic oval, Davenport felt his motivation grow, perhaps fiftyfold.
"Hell yeah it did," Davenport said Saturday on the victory stage after the historic oval's milestone event. "I mean, everybody was talking that we might as well just wreck him. 'No, I'm going to drive by him.' And that's what we did."
The 37-year-old from Blairsville, Ga., indeed drove past Overton on a lap-55 restart, leading the rest of the historic event and changing the conversation from Overton's incredible run of two Dreams and a World 100 in the same season to Davenport's incredible stretch of four World 100 victories in the last six runnings of the event.
Staving off Mike Marlar's 26th-to-second charge on the final restart with eight laps remaining, Davenport took the checkers 1.766 seconds ahead of the Winfield, Tenn., driver while Evans, Ga.'s Overton settled for third after leading laps 42-54.
Tim McCreadie of Watertown, N.Y., Thursday's runner-up to Overton in the 51st World 100 (the races were run out of order because the 50th was a makeup from last year's pandemic-restricted postponement), came from 18th to finish fourth while Chris Ferguson of Mount Holly, N.C., improved nine positions in rounding out the top five.
The sixth-starting Davenport, whose previous World 100 victories came in 2015, '17 and '19, set a patient pace in dropping back to 10th early in the race before heading forward and reaching the top five on the 32nd lap.
"What an awesome race car. I knew in the back of my mind when they redone the track (surface) I just had to pace myself. Because I knew with these soft tires and the way we got our right-rears cut up nowadays, if I could just stay patient, I knew I'd have a better tire at the end," Davenport said. "Man, it was tough seeing all those guys drive by me. I fell back a pretty good ways there, but I just tried to keep my same pace, and then finally after 10 or 15 laps, they started coming right back to me. It's awesome when a plan works out."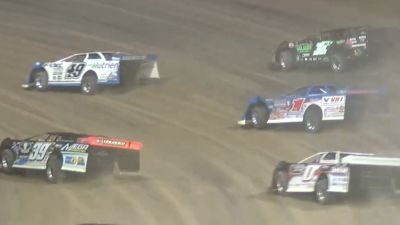 Highlights from the 50th Annual World 100.
Another four-time winner, Hall of Famer Scott Bloomquist of Mooresburg, Tenn., was the fitting polesitter for the 50th event, but after leading 18 laps, upstart Johnny Scott of Las Cruces, N.M. — whose Wednesday preliminary feature victory was just his third in a Late Model — took command and kept the vaunted Overton in check by leading through lap 42. When Overton blew past and quickly built his lead on the fading Scott, Eldora fans who'd watched the 30-year-old captures 100-lappers all season might've thought the race was over.
But Davenport, who was fifth when Overton took the lead, picked up positions on a couple of restarts and then drove under Overton entering turn one with 45 laps remaining and wasn't seriously challenged the rest of the way.
"We talked every little change over right before this feature," Davenport said, thanking his crew for their hard work. "We had three days leading up to it when we was good and we was bad. And so we just, like, luckily we (transferred through the) heat and didn't have to burn our stuff up and we could really just take our time and make the right changes to the car.
"Man, this thing was awesome, I'll tell you what. The only way I was going to (lose) was to screw it up myself, like I did (Thursday). I thought we might've had the 51st, and I let that slip away. And then I thought, 'Oh no!' when Bobby (Pierce) caused a caution with eight (laps) to go again. 'Son of a gun, not now.' "
But it wasn't a problem as Davenport kept Marlar in check and edged away to his $53,000 payday.
Marlar, whose heat-race run was hampered when he was caught up in a turn-two wreck with Tyler Erb, rallied from 17th in his consolation race to the third and final transfer spot, a race that gave him extra track time when he "really got my car working really good," Marlar said.
On the final restart of the 100-lapper, "I had a good shot," Marlar said. "I felt like on that restart, I said, 'Here's my shot.' I actually had the lead there a little bit, I felt like, off that straightaway, but Jonathan was just a wee bit faster. He was just the better car tonight.
"This place has been a trying deal for me up here. I ran third a couple of years ago, and sixth, and 28th about 20 times it feels like," the runner-up added. "So to get to run second and have a shot at winning, and I had my shot with (eight laps) to go or whatever that was, we had a shootout and I was just barely a little slower. Jonathan was a wee faster. But I'm happy with second. Just a great night really, considering how it started."
Overton wasn't a factor in the race's late stages in finishing third, but the Wells & Sons Motorsports driver maintained the humble philosophical approach he's kept even during his unprecedented Eldora success and a season with 24 victories overall so far.
"First off, congrats to J.D. and Mikey. They did a good job. We was all right until the brown (patches on the surface) left, then I just got way too tight. I couldn't turn. It is what it is. Hell, I can't win 'em all, you know?" Overton said. "It's an unreal feeling to be here all week knowing you've gotta chance to win both these things, and I said I'll come back and get 'em again."
Davenport had nothing but praise for Overton's accomplishments.
"He's done a helluva job, hat's off to him," Davenport said. "Once you get this place figured out, you get to start fine-tuning, and that's what he did. So we was afraid to go far out of our box because we knew we had a good piece, we just wasn't quite as good as he was. We just had to keep fine-tuning. Even when I was behind him, I couldn't get down the straightaway like he could. But then when I got in clean air I could finally start using more and more motor the more laps we put on. I was being as patient as I could in the race car and got us another globe."
And how many more globes are in Davenport's future after he tied Bloomquist and Donnie Moran with four World 100 victories and is two behind Hall of Famer Billy Moyer, whose Eldora career is complete? Davenport's not sure, but as long as car owner Lance Landers of Double L Motorsports and crew chief Jason Durham stick with him, he'll be making twice-a-year trips to Eldora, he said.
"This is so hard to do. Each and every one. And each time we come out here now, the format, the way it is, everybody gets more laps on the track as far as figuring this place out more and more and more," Davenport said. "So it just keeps getting tougher and tougher. Like I said, Brandon hit on something, and everybody was too afraid really to go and try huge leaps and bounds to try and catch him. We finally caught back up to him just a little bit, and who knows? He may have our number at the next race. We got him this time."
While Davenport and Overton were running up front at the finish, the race's other leaders had inglorious endings with Bloomquist pitting multiple times before retiring after 71 laps in 16th place. Scott, impressive in leading laps 19-41, most of them with Overton hot on his heels, faded out of the top five by halfway and saw his race end against the turn-two wall on the 61st lap.
The race was slowed by eight cautions, none for serious incidents. The first caution appeared on the 27th lap when Scott made contact with Michael Norris exiting turn two while Scott was side-by-side with Overton in a battle for the race lead. Norris slowed his damaged car and pulled pitside.
The second appeared on the 45th lap for Chad Simpson's flat right-rear tire and another yellow appeared one lap before halfway for debris. On the lap-49 restart, Devin Moran spun in turn one with Bloomquist out of shape in trying to avoid him and Bloomquist slowed for a lap-54 yellow.
Another yellow appeared on the 61st lap when Johnny Scott got into the wall between turns one and two and the another on lap 72 when Bloomquist slowed and retired. The last caution appeared for the slowing Pierce, who who ran among the top three the first half of the race, on the 92nd lap.