2021 World 100 at Eldora Speedway
Brandon Overton Wins Everything But The 50/50 At Eldora
Brandon Overton Wins Everything But The 50/50 At Eldora
Brandon Overton continued his dominance during Friday night's 50th Annual World 100 preliminary race at Eldora Speedway.
Sep 11, 2021
by FloRacing Staff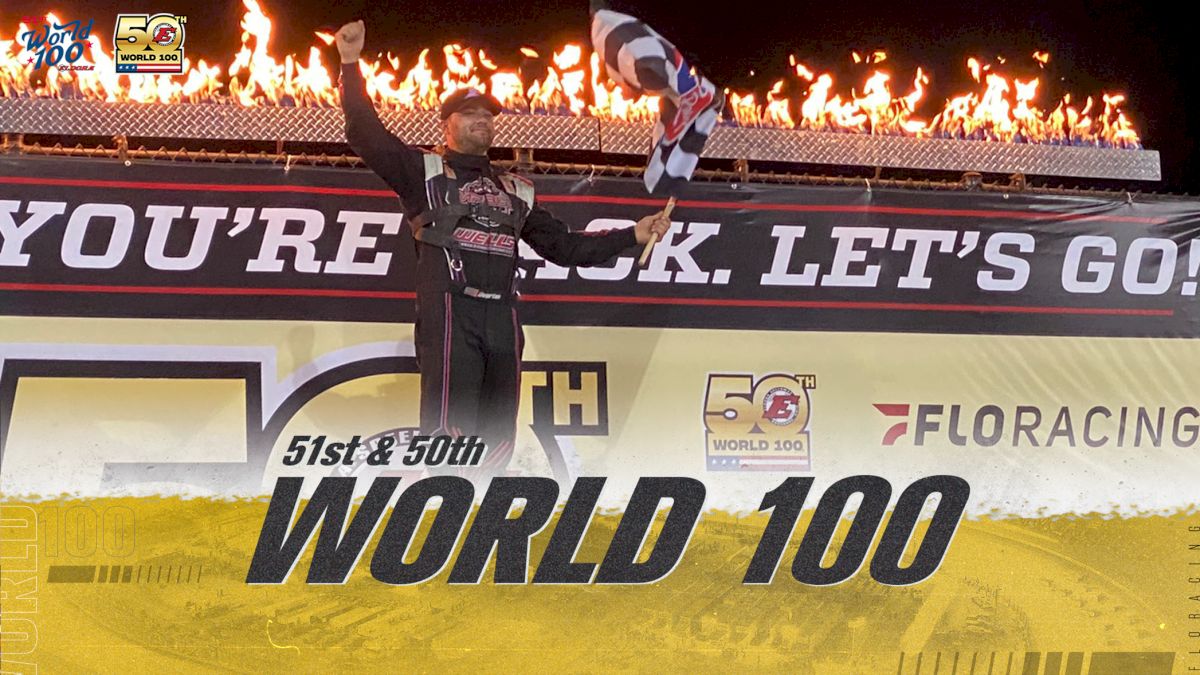 ROSSBURG, Ohio — After finishing third in Friday's first 25-lap preliminary feature for Saturday's 50th annual World 100, Brandon, Fla.'s Kyle Bronson had arguably the best question of the night.
"The first thing I want to know: Did Brandon Overton play the 50-50, 'cause if he did, he probably won that son of a bitch," quipped Bronson.
Indeed, it does seem like Overton has a Midas touch at Eldora Speedway's famed half-mile oval. While he opted not to press his luck and purchase a ticket for the night's 50/50 drawing — which was worth a record $143,258 — Overton's good fortune on the track continued Friday night as the Evans, Ga., driver turned in a dominating performance in the main event.
Racing unchallenged for 25 caution-free laps, Overton cruised to victory from the pole position, finishing 3.734 seconds ahead of fifth-starting Jimmy Owens of Newport, Tenn. Overton banked $10,000 for his sixth triumph at Eldora this season.
"I said it Thursday, I remember coming here and getting up there and getting to watch it with y'all," said Overton, pointing toward the massive crowd, "because I was too slow and didn't make (the feature). It's unbelievable, an unbelievable feeling. I've got an awesome team behind me. I get all the credit, but if it wasn't for them, I wouldn't be standing up here either."
Third-starting Ricky Thornton Jr. of Chandler, Ariz., finished behind Bronson, who started fourth, while eighth-starting Dale McDowell of Chickamauga, Ga., completed the top five.
While Overton's night didn't start out quite like many may have expected — he qualified 19th and finished second in his heat — he ended it in typical Overton fashion. He remained patient, took advantage of the inversion that put him on the front row, and then fell into Eldora's middle groove where he's been so dominant this season.
"This (car) is just awfully good right now. I'm really proud of it," Overton said. "To be able to do that, it's cool. I love this place and I love coming here. I've been saying it all week, there ain't no place like it, you know."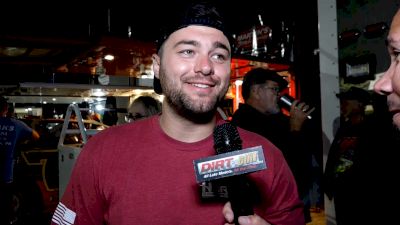 Brandon Overton discusses his World 100 Friday night prelim win.
Unlike his five previous victories at the Big E, Overton didn't have to pass a car in Friday's main event.
Though he's grown accustomed to starting near the front — his seventh-place starting position in Dream XXVI is the worst he's started in any of his now six Eldora wins — this marked the first time he's won from the front row at the Tony Stewart-owned facility.
With a clear path ahead of him, Overton's mind was already turning toward Saturday's $53,000-to-win 50th annual World 100. He certainly wasn't counting his money though. Instead, he was thinking of ways to improve his already fast Wells and Sons Motorsports-backed Longhorn Chassis.
"It felt really good. I was just getting close to cars and kinda moving around and seeing where they would get (the car) upset, just steadily thinking about Saturday. You know, you gotta be good in traffic, you said it the other night, you gotta have a balanced car so you can move around," Overton told FloRacing's Ben Shelton during his victory lane interview. "We're just gonna keep on working on it and hopefully we got enough to get it done."
Overton admitted that as good as his car has been during feature races, it has been hard to mess with the set-up during prelims, which could have played a factor in his lackluster qualifying effort.
"It's hard to mess with (the car)," he said. "When the track gets slick like that, it goes right around there. It's stuck. It does everything perfect, so I have a hard time making myself screw it up or get it to do something (else) early when I know it doesn't matter. So we're looking forward to (Saturday) and we'll see what we got."
Despite coming up one spot sport, Owens was still happy with his Ramirez Motorsports Rocket XR1.
"I was really, really pleased with the car," said the two-time World 100 winner. "We got into traffic, Brandon can get through that traffic a lot better than me. I felt like we was closing a little bit on him, but who knows. What he's doing here is awesome and congratulations to him for having such a successful season and everything.
"The car is really, really good. It was a whole lot better than we had (Thursday) night (in the 51st Dream). The team keeps digging and making small steps and we're getting a little better and it felt better. This is our car from last year and we drug it back out of the stable. We didn't qualify in as good as we wanted to, but it's run really good. Like tonight, was really, really great and I could put it wherever I wanted to on the track."
A day after completing just 27 laps in the 51st World 100, Bronson was in better spirits after winning the second heat and then improving one spot to finish third in the 25-lapper.
"We had a good car tonight. Our tires didn't fire from the get-go and they got going and the top got backed in and I worked up," Bronson said. "Our car is pretty good. We had to make a couple of adjustments from when we was really good here at the Dream (in June). The same stuff ain't really working for us right now. But we're getting her figured out and getting closer to money day (Saturday) and we got a good hot rod. I hope I can support these guys on the front of this car here well."
Notes: Dale McDowell, the high points person heading into Saturday, spun a 4 on the inversion wheel, meaning the six highest drivers in accrued Friday points will start fourth in their heat races. … Overton, who has grown quite popular with Eldora fans, had to thank his apparel provider. "Big shout out to my T-shirt guy. Ya'll have been keeping him busy," he said.