2021 World 100 at Eldora Speedway
Eldora Mastery Continues For Brandon Overton At World 100
Eldora Mastery Continues For Brandon Overton At World 100
Brandon Overton continued a dream season at Eldora Speedway by winning the 51st Annual World 100.
Sep 10, 2021
by FloRacing Staff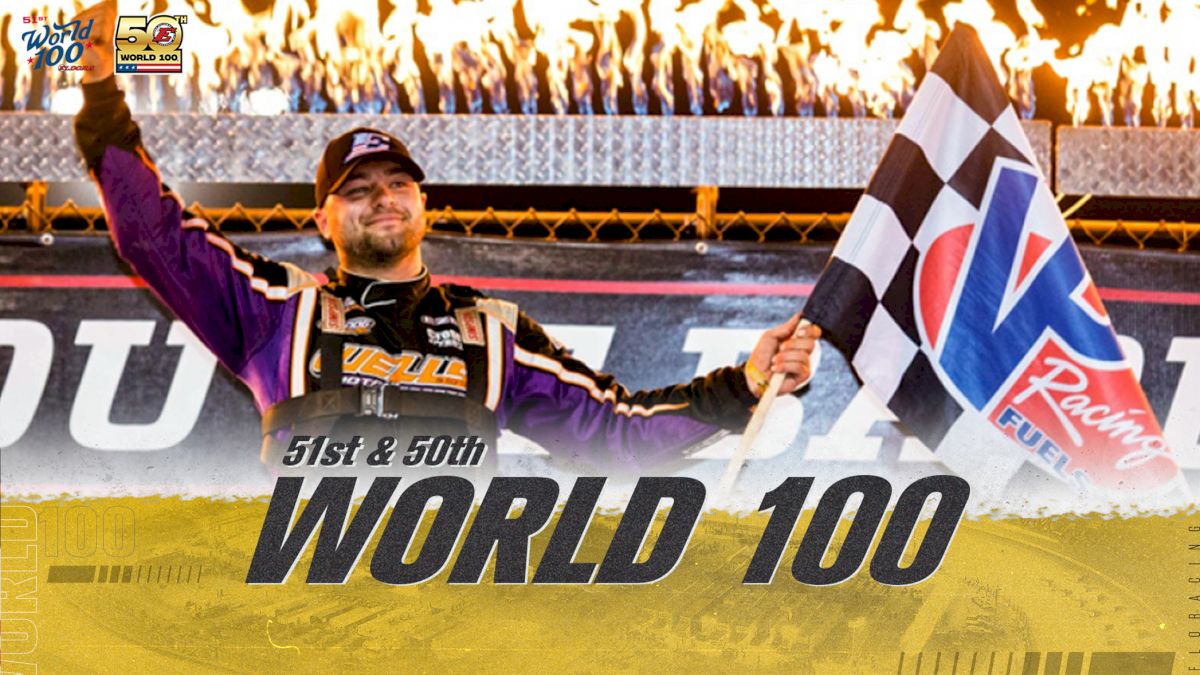 ROSSBURG, Ohio — Before he became one of Dirt Late Model racing's biggest stars, Brandon Overton remembers those struggling nights at Eldora Speedway when he was spectating instead of racing. The 30-year-old Evans, Ga., driver's now-fiancee Heather Curry offered the best encouragement she could muster.
"Me and Heather used to sit up there when, hell, I couldn't even make the race," Overton said Thursday night at Eldora, "and she used to tell me, 'Don't worry about it, we're going to get 'em one day.' "
Seems like Curry was shooting a little low.
"One day" has become "every day" at the legendary track's biggest races as Overton fought back to regain the lead from fellow Georgian Dale McDowell on the 72nd lap Thursday in the 51st annual World 100 for Overton's unprecedented third consecutive crown jewel victory at the Earl Baltes-founded oval.
Starting third in the 28-car field, Overton led twice for 64 laps Thursday in adding his $54,000 triumph to more than $273,000 he earned in June's double Dream victories.
In taking the checkers 0.819 of a second ahead of 19th-starting Tim McCreadie, Overton became just the fourth driver in Eldora history to capture a same-season Dream and World 100 sweep, joining the historic names of Billy Moyer, Donnie Moran and Jonathan Davenport. Overton's days of watching other drivers win at Eldora are in the past.
"I'm just glad it all finally paid off," Overton said, his eyes welling with tears as he emerged from his car on Eldora's victory stage to collect his first career globe trophy.
"This whole year has been unbelievable," Overton's car owner David Wells said in victory lane. "He is absolutely done things that, I mean nobody would've dreamed of. And it has absolutely been wonderful."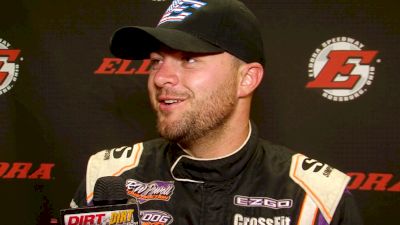 Brandon Overton discusses his World 100 victory at Eldora.
Watertown, N.Y.'s McCreadie made a stirring charge from the 10th row, but it was too late to catch Overton as he ran away in the late stages on a track that allowed little passing after Overton regained the point. McDowell, of Chickamauga, Ga., settled for third after leading laps 59-71, while McCreadie's fellow provisional starter Hudson O'Neal of Martinsville, Ind., came from 20th to fourth. The 17th-starting Davenport of Blairsville, Ga., was up to third and hounding Overton just before he made the winning pass, but slipped back to fifth at the finish while seeking his fourth World 100 in his last six starts.
Ricky Thornton Jr. of Chandler, Ariz., jumped into the lead from outside the front row and comfortably led the first 23 laps, but Overton swiftly moved in on the 24th lap to grab the point with McDowell dropping Thornton to third two laps later.
Overton and McDowell controlled the top two spots through the race's middle stages with O'Neal and Davenport running as high as third while McCreadie reached the seventh spot by halfway. The steady Overton looked like he did in winning June's Dreams — smoothly running the middle of the track, unwavered by lapped traffic as he kept McDowell in check.
But the race's third and final caution on lap 58 set up a restart that saw the Georgians swap spots. With Overton picking the inside of the double-file restart, McDowell swept around on the outside and pulled away by a three-second margin with 35 laps remaining. Overton kept his cool and began slicing the margin as action picked up behind them with Davenport, O'Neal and McCreadie getting into the mix.
"This thing is so damn good. I've got a lot of confidence in it. I can sit there and wait on 'em," Overton said. "Me and Dale both race in the rubber a lot. I wasn't worried, and then I seen J.D. and I said, 'S---, I've gotta go.' I hung wide a little bit right here and just got my right side (tires in the rubber strip) enough to cross him over.
"Dale's one of the best, you know. I've followed him many times. So to beat him here, and for this race to play out like this, man, I can't put it into words," Overton said.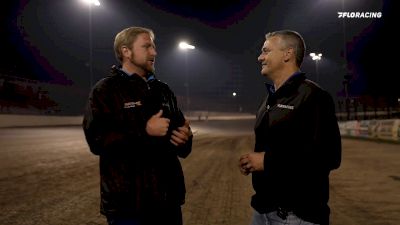 Derek Kissinger and Kevin Kovac recap the 51st Annual World 100.
Overton's backstretch pass dropped McDowell to second, then as the leaders struggled to get past Ryan King — Overton daringly dove past on lap 77 while his pursuers couldn't overtake the slower King for many more laps — McDowell's turn-three slipup allowed McCreadie to grab second.
"When Brandon picked the bottom, actually it was a little bit of a break because somebody had rolled up beside me on the outside when he and I were kind of running the bottom, and I was a little tight," McDowell said, offering congratulations to Overton for a cleanly run victory. "And so when I got in traffic, it just took that air off, and when it took the air off, it made me shove a little bit, and I shut down and kind of turned the car with the brakes.
"And so he just got a good run on me. And I got into lapped traffic and felt like we had a solid second, you know, and we got in lapped traffic, and one of the lapped cars, he was outside and he just come down to the bottom groove," added the 2005 World 100 winner. "There again it took the air off the nose and so I skated out. I was in a little hot, I was going to hit him, so I skated out and Timmy got under me. We can't complain with a top-three. I'm a little disappointed because I got up there and got in the lead and was wanting to win another one of these things before I hang the helmet up for good. Hopefully that's a couple of years out. But we'll just keep plugging at it."
McCreadie, thanking his team for the hard work of repairing his car's power steering and a oil line after he retired from his heat race, did all he could to get into contention.
"It was methodical I guess," the 2018 World 100 said. "The bottom just didn't fire very good on restarts and we just kept getting stuck down there. Every little bit of hay I would make, you'd give it all back the first few laps on restarts. I just needed a couple (of restarts) where I could roll the middle or the top."
Rallying from the 10th row was just too much to ask, he said, and it was too late to reach Overton for a late-race battle on a surface that developed a rubber strip.
"It would've been cool to race a little at the end, but it was tough. The lapped cars, once it rubbered they got in there, too. I was thinking if one of 'em could just cut me a break I'd get a chance," McCreadie said. "I could probably have never passed (Overton), but it would've been cool to take a picture of us side-by-side because he was going really easy into (turn) one.
"I surely could've got beside him, at least, to make it look good. They did a great job. Hat's off to them and we'll take second and work on (the car) ... we've got to really work hard on our invert program and get better."
The feature was slowed by three cautions, the most serious on the 15th lap when Ashton Winger and Chris Ferguson tangled exiting turn two, sending Ferguson into a 360-degree spin. Ferguson twirled without coming to a stop, allowing him to restart where he blended in (13th) and rally to finish seventh.
The only other cautions appeared for the lap-10 flat left-rear tire for Jimmy Owens and a slowing Tyler Erb on the 58th lap.
With the 51st World 100 in the books, most drivers will stay around for, paradoxically, the 50th annual World 100 for Friday prelims and Saturday's main event as Eldora makes up last year's race postponed by pandemic restrictions. The milestone event puts $53,000 up for grabs to the winner of the main event as Overton will try for his fourth crown jewel in the same season at Eldora — a feat never before possible and thought by most to be impossible when the Roger Slack-managed track announced its plans for Dream and World 100 twinbills earlier this year.
Overton will be glad to take a shot at Saturday's race to keep his Wells & Sons Motorsports team smiling.
"I always say, it makes me happy to make people happy," he said. "I just want to thank him so much for trusting me with this, him and Eric, you know? Eric's a big part of this. He works hard back at the shop making sure we've got everything we need to race. So to do it for the Wells family and for them, for them to trust me and let me take this (equipment) and hire the team and hire all the people, I can't thank them enough. It's a once in a lifetime opportunity."
An opportunity that Heather Curry knew would come some day.
"Man, she's been with me through it all. When we sucked or whatever, she's seen all the highs and all the lows, and like I said, she works a lot so she don't get to come all the time. For her to be here with me ... Like I said, I can relax tomorrow and the next day. I got me one, she was here to enjoy it with me."
Notes: Before Overton, among drivers who came closest to winning three straight crown jewels at Eldora were Jeff Purvis (three of four World 100s from 1983-'86); Billy Moyer winning his Dream-World combo in 2021 and finishing second at 2011's Dream; and Donnie Moran winning a Dream and two World 100s in 1996-97. ... Nineteen drivers completed 100 laps. ... Because Scott Bloomquist was late to the starting grid (the team feared they had a slow leak in a tire; he indeed ended up changing a tire), the Mooresburg, Tenn., driver lost the 22nd starting spot and had to drop to the tail for the start of the 100-lapper. He finished 17th, five spots behind teammate Nick Hoffman ... Kyle Bronson suffered right-rear damage early in the race and was the first retiree on lap 27 shortly after being lapped.