2021 World 100 at Eldora Speedway
Thursday's World 100 Heat Race Lineups At Eldora Speedway
Thursday's World 100 Heat Race Lineups At Eldora Speedway
How will the drivers line up for Thursday's heat races at the 51st annual World 100?
Sep 9, 2021
by FloRacing Staff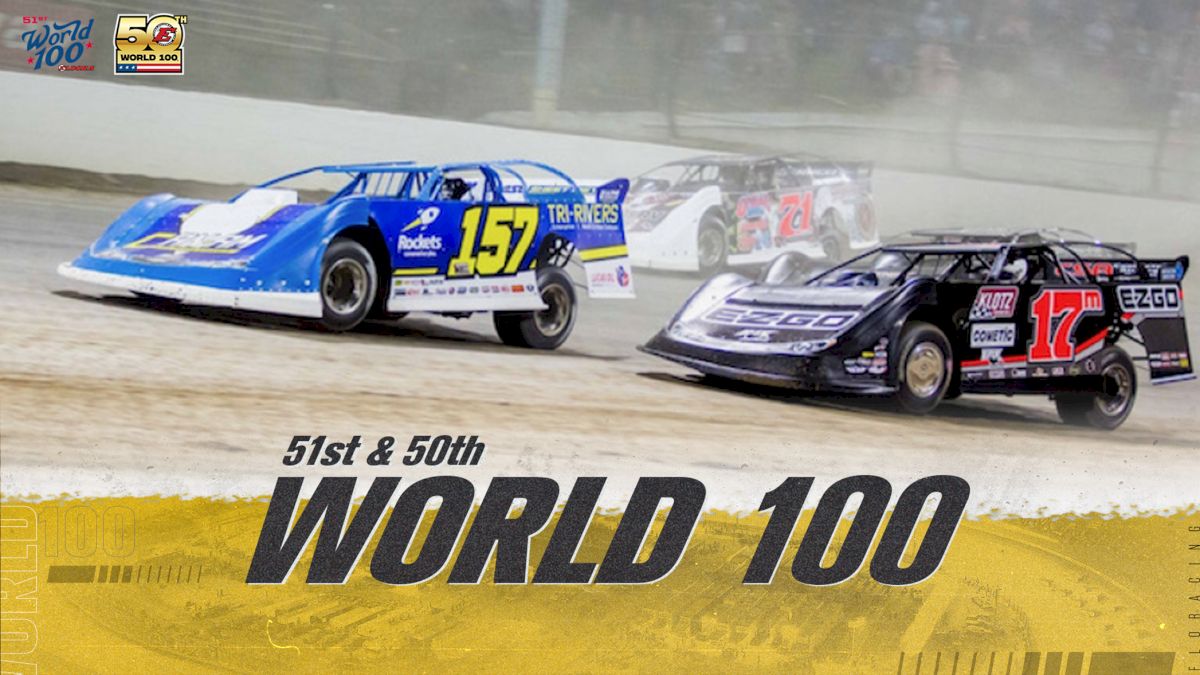 Heat race lineups
(After five-car inversion from points accrued Wednesday; 15 laps; top three transfer)
First heat
Row 1: Mark Whitener, Gregg Satterlee
Row 2: Darrell Lanigan, Chris Ferguson
Row 3: Tim McCreadie, Joseph Joiner
Row 4: Jimmy Mars, Chad Simpson
Row 5: Duane Chamberlain, Ryan King
Row 6: Dustin Nobbe, Gordy Gundaker
Row 7: Caleb Burgess, Scott James
Second heat
Row 1: Michael Chilton, Kyle Bronson
Row 2: Kyle Larson, Jimmy Owens
Row 3: Hudson O'Neal, Dennis Erb Jr.
Row 4: Jensen Ford, Mason Zeigler
Row 5: Billy Franklin, Jerry Bowersock
Row 6: Tim Lance, Kyle Lear
Row 7: Jeff Curl, Steve Casebolt
Third heat
Row 1: Dale McDowell, Ryan Gustin
Row 2: Shannon Babb, Devin Moran
Row 3: Kody Evans, Ricky Weiss
Row 4: Casey Noonan, Stormy Scott
Row 5: Jon Hodgkiss, G.R. Smith
Row 6: Mike Provenzana, Dale Markham
Fourth heat
Row 1: Brandon Overton, Scott Bloomquist
Row 2: John Blankenship, Johnny Scott
Row 3: Brandon Sheppard, Ashton Winger
Row 4: Rick Eckert, Robby Hensley
Row 5: Chris Simpson, Travis Stemler
Row 6: Jason Feger, Chris Nash
Row 7: Bryant Dickinson
Fifth heat
Row 1: Tyler Erb, Ricky Thornton Jr.
Row 2: Mike Marlar, Nick Hoffman
Row 3: Jonathan Davenport, Brian Shirley
Row 4: Jason Papich, Freddie Carpenter
Row 5: Max Blair, Josh Morton
Row 6: Jason Riggs, Kyle Hammer
Row 7: Jimmy Sharpe Jr.
Sixth heat
Row 1: Zack Dohm, Kyle Strickler
Row 2: Chris Madden, Spencer Hughes
Row 3: Shane Clanton, Josh Richards
Row 4: Frank Heckenast Jr., Austin Kirkpatrick
Row 5: Boom Briggs, Garrett Smith
Row 6: Cory Hedgecock, Steven Roberts
Row 7: Michael Page