2021 USAC Midgets BC39 at The Dirt Track at IMS
Chase Elliott Wants More Short Tracks At Big Tracks
Chase Elliott Wants More Short Tracks At Big Tracks
NASCAR Cup Series champion Chase Elliott would like to see larger race tracks host more events like the BC39.
Aug 25, 2021
by Brandon Paul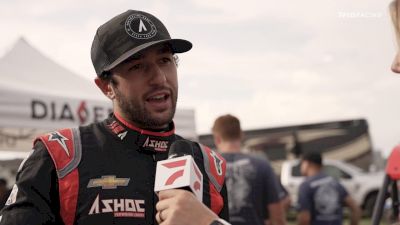 Tony Stewart received a gift from Indianapolis Motor Speedway during his final season of NASCAR competition in 2016. That gift? A 3/16-mile dirt track inside Turn 3 at the historic speedway.
That gift evolved into the creation of the BC39 -- a $15,000 Midget race that began in 2018. Since that time, the event has become one of the most anticipated grassroots racing events of the year.
How big is it? Last week, during the third running of the event, many of the biggest names in motorsports were competing or in attendance.
Current NASCAR Cup Series points leader Kyle Larson won the race in thrilling fashion. Defending Cup champion Chase Elliott competed, as did fellow NASCAR drivers Ryan Newman and Chase Briscoe. IndyCar driver Conor Daly also joined in on the fun.
Four-time NASCAR Cup Series champion Jeff Gordon was in attendance Wednesday night, turning exhibition laps in a Midget before waving the green flag for the Stoops Pursuit race. IMS track owner and Penske Racing owner Roger Penske was also on property throughout the two-day event.
All of this combined to create a huge stage for grassroots racing at one of the most well-known race tracks in the world.
Why couldn't there be similar events at other larger, well-known facilities throughout the country?
If you're wondering that, you're not alone. Chase Elliott had the same thoughts when we caught up with him at the BC39.
"I wish other race tracks around the country that are big like Indy, Daytona and some of these famous speedways would do stuff like this because obviously there's plenty of room inside of these places to do it, and we can hold a great event," Elliott said. "We could do a lot of cool stuff and have some great events across the country. I'm glad Indy took the initiative to do something like this."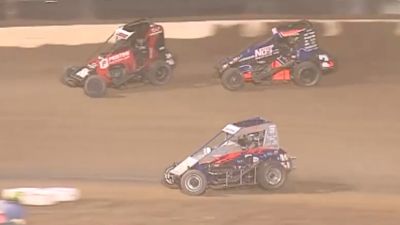 Enjoy highlights from a thrilling BC39 at The Dirt Track at IMS.
While dirt tracks and short tracks in general are not the norm at many of the larger facilities, they are not completely extinct.
Las Vegas Motor Speedway has both a paved short track and a dirt track located on the property. Charlotte Motor Speedway has "The Dirt Track" located just across the street from the big track. New Hampshire Motor Speedway also built a "Flat Track" in 2018, which hosted a U.S Legend Cars and USAC Dirt Dirt Midget Association event in 2019.
When you think of Elliott's proposition, a few facilities in particular come to mind: Daytona International Speedway, Talladega Superspeedway and Pocono Raceway. All three of those race tracks are well-known and likely have enough space to accommodate a small dirt track.
This type of event also would help to increase the crossover between dirt fans and NASCAR fans. An event held at the dirt track would bring in fans from both disciplines, which could also have a positive impact on a NASCAR race weekend.
Elliott, who has now competed in a handful of Midget events, would be up for the challenge if his wishes become a reality.
"I enjoy the challenge. This is not something that I grew up doing," he said. "This discipline and this style of racing is just so far removed from anything I've ever done. I enjoy trying to tackle something different. Not that I have everything figured out on the asphalt side, but it is fun to come do something kind of out of your comfort zone and a change of pace."
It's a change of pace for drivers and also a good change of pace for fans. Additional dirt races at larger venues like Indianapolis Motor Speedway would be a win-win for everyone involved.