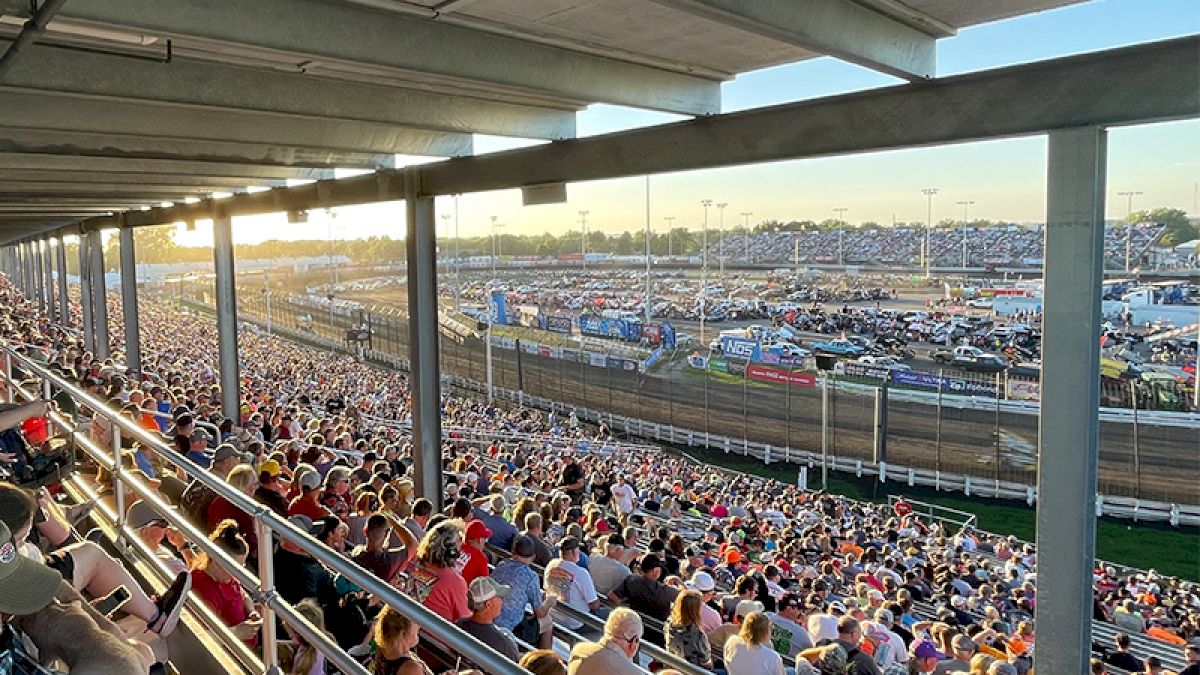 Driving through the Marion County residential area, every home is decorated in checkered flags and paraphernalia representing their favorite drivers.
'WELCOME RACE FANS,' reads every sign, on every establishment.
A little further on down the horizon, the venerable grandstands loom large over the trees, and there is a line of fans walking on the sidewalk towards them.
Race day at the Marion County Fairgrounds pic.twitter.com/CmsjyFvAYR

— Matt Weaver (@MattWeaverAW) August 14, 2021
This environment could easily be confused for race day at the Indianapolis Motor Speedway, but this is MARION COUNTY IOWA, the Sprint Car Capital of the World and Knoxville Raceway.
Today is the Greatest Spectacle in Sprint Car Racing -- the Knoxville Nationals.
That's not where the similarities end, either. Upon reaching the midway behind the frontstretch grandstands, packed with dozens of merchandise trailers, is the Avenue of Champions and pillars wrapped with banners celebrating the accomplishments of WELD, KINSER, WOLFGANG, LASOSKI, AND SCHATZ.
Standing there, one can't help but feel a similar reverence to kindred banners at Indianapolis that pay homage to Haroun, Shaw, Andretti, Foyt, Mears, Unser and Castroneves.
Racers who would otherwise go unrecognized in grocery stores across the country are given the utmost admiration. Like Indianapolis, the sheer courage of those who race at Knoxville are treated as gods amongst men.
A sold-out capacity crowd of nearly 25,000 packed the Fairgrounds for the Granddaddy of Them All. It's a far cry from 200,000 in Indianapolis every May but the atmosphere is comparable in almost every other way.
When David Gravel unveiled his victory banner on the Avenue of Champions to begin the week on Wednesday in front of at least 200 working class people who took the time out of their day to celebrate the accomplishment, it felt like something that truly mattered.
That was just the start of the week.
Two-time track champion and perennial Knoxville Nationals champion Brian Brown remarked that he had never seen the midway this busy on opening day. Maybe it was a byproduct of losing a year to COVID-19 or perhaps the Kyle Larson effect, but Sprint Car racing is on the rise these days.
It is motorsports broken down to its purest form.
The driver makes the biggest difference compared to any other discipline. Dirt is the great competitive equalizer to engineering. The roster is a big enough deal that it warrants racing for almost $200,000 in front of 25,000 fans but is not pretentious enough that its greatest stars aren't accessible or approachable.
In Knoxville, driver Larson and team owner Stenhouse Jr. aren't Cup Series superstars, but rather, our old friends Kyle and Ricky. There goes Kasey Kahne on a scooter, by the way, seemingly off to an appearance at Dingus Lounge.
Old friends are everywhere, actually.
There are families who have held the same RV spaces for decades and this week is the only time you see them, but it feels like yesterday, regardless.
It's the same place where they booed Steve Kinser for winning the race 12 times but gave him a massive applause during pre-race. They booed Donny Schatz before the race on Saturday, because that's what you do, but just as many of them secretly wanted to see him defeat Larson and win number 11 too.
Admit it.
It's Johnny Gibson saying 'Knoxville, you wanted the best, you've got them four abreast,' before the biggest four-wide salute of the year closing out a pre-race ceremony that also included the Budweiser Clydesdales and a horsewoman carrying an American flag shooting fireworks into the air.
The racing included the legendary Jac Haudenschild failing to qualify for the feature in his final appearance but receiving a send-off fit for a king just moments after his son barely raced into the show in spectacular fashion.
'WILD CHILD, WILD CHILD, WILD CHILD.'
Don't be sad that it's over, be happy that it happened.

"The Wild Child" @JacHaudRacing says farewell to the #NOSvilleNationals. pic.twitter.com/nl5ODXC8Jp

— World of Outlaws (@WorldofOutlaws) August 15, 2021
Larson dreamed of winning this race against Schatz in his prime and willed into existence in a main event that delivered as advertised.
There was even a last lap Hail Mary that Schatz nearly made stick.
Only in a place like Knoxville could Larson, for all his accomplishment and all the accomplishments yet to be written, celebrate by standing on a wooden table behind the grandstands to offer a toast to the thousands that came to cheer him on.
It was this place's version of Helio climbing the catchfence to serenade the crowd at Indianapolis.
It's Knoxville Nationals Toasting Time for Kyle Larson! #NOSvilleNationals pic.twitter.com/s20OjdQ3mw

— Knoxville Raceway (@knoxvilleraces) August 15, 2021
Like Speedway Indiana, which alongside Indianapolis becomes the 45th largest city on race day for the Indianapolis 500, Knoxville Iowa also immediately becomes a ghost town on the day afterwards. It's where everyone says 'goodbye' to their loved ones to go home.
Knoxville is where little boys and girls dream of following in the footsteps of their heroes, and often stand amongst them.
It's where a pavement writer from Alabama rediscovers what drew him to the sport in the first place.
So, when leaving that same residential area in Marion County on Saturday night, with the grandstands growing smaller in the distance and thinking back to everything that came before, it's hard not to feel a bittersweet sensation.
The Knoxville Nationals, the greatest Spectacle in Sprint Car racing, always delivers.