2021 NOS Energy Drink Knoxville Nationals
Dreams Come True For Kyle Larson In Knoxville Nationals
Dreams Come True For Kyle Larson In Knoxville Nationals
The Knoxville Nationals is Kyle Larson's biggest win and everyone knows it.
Aug 15, 2021
by Matt Weaver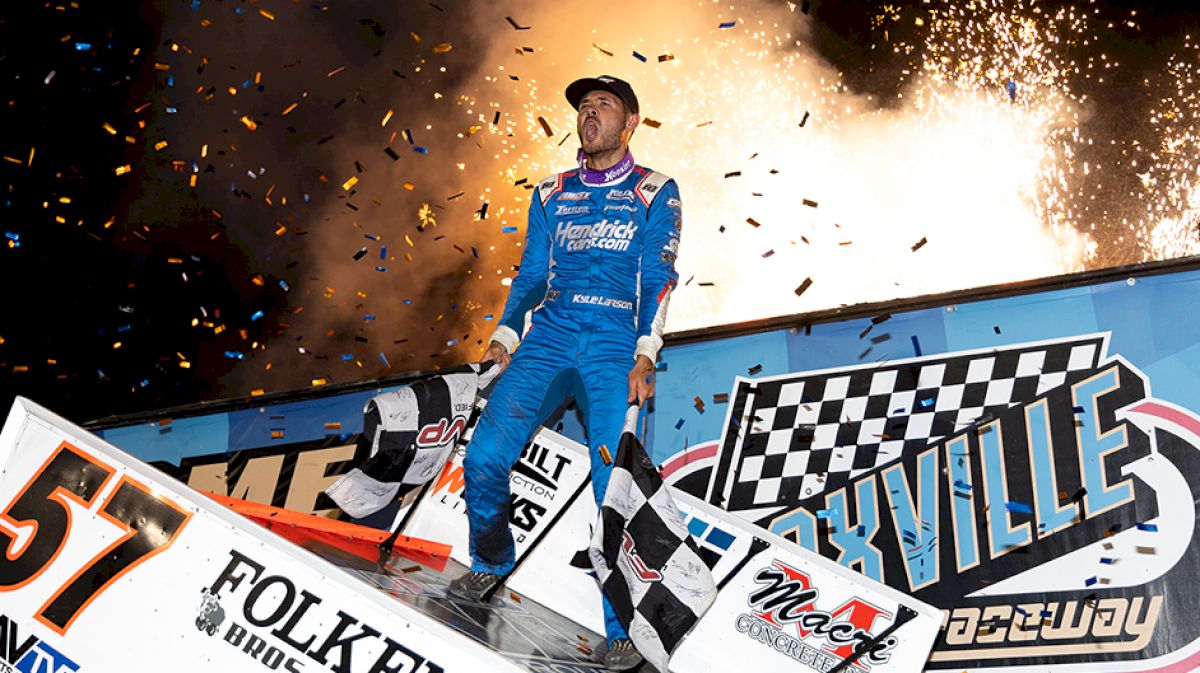 The dream season continues.
Literally.
It's been a few years, but Kyle Larson remembers a moment when he won the Knoxville Nationals, but then woke up at 3 in the morning.
"Well that was cool," he said in that moment as he rolled over and fell back asleep into a scenario surely far less rewarding.
Potentially winning the Knoxville Nationals meant that much to Larson, that he dreamed about it like we do all the things we love the most and ultimately willed it into existence. Larson says he was turning practice laps on the Indianapolis Motor Speedway Road Course nervously thinking about what he was going to do at the start of the race.
It consumed him throughout the week.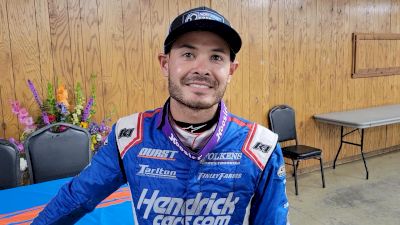 For Larson, this was the byproduct of a childhood spent at the Sprint Car Capital of the World watching the likes of Steve Kinser, Mark Kinser and Donny Schatz each claim the ultimate prize in Sprint Car competition.
You have to understand, Larson never dreamed of winning NASCAR Cup Series races because that wasn't a realistic goal. His parents, Mike and Janet will tell you they are a working-class family, and that Larson's best-case scenario would have been becoming an elite Sprint Car driver.
Best case scenario.
The most he could ever hope to accomplish under his financial upbringing would be to win the Knoxville Nationals. That was the ultimate.
And yet, Larson became a NASCAR star purely on merit, a perennial contender and one of the most successfully diverse race car drivers of all-time. He is the current Cup Series championship leader. He is the two-time reigning Chili Bowl Midget Nationals champion.
He was crowned King Kyle XXXVII at Eldora Speedway last month, and yet, Knoxville continued to elude him over the past decade.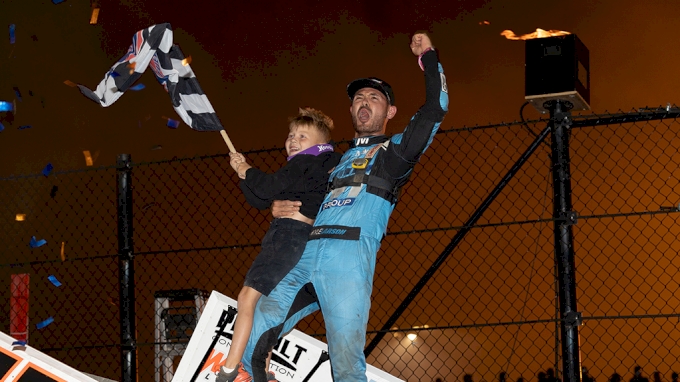 In his mind, Larson always daydreamed about how this would play out. In this hypothetical, it would come down to him versus 10-time champion Donny Schatz and defeating the modern standard head-to-head in their respective primes.
This time, on Saturday night, it wasn't a dream.
Larson isn't going to wake up, wish it were true and roll over before falling back asleep. It actually happened, just like he always imagined, and that's why Larson couldn't hold back the tears in victory lane.
Saturday night transported Larson back to when he was a 12-year-old boy who thought Schatz, Kasey Kahne, Shane Stewart, Jac Haudenschild and Paul McMahan were the coolest human beings on the face of the planet, and maybe he could be one too.
"We all say, 'we dream of winning this race,' but I legit have dreamed of winning this race," Larson said. "This race and it's atmosphere is incredible. You guys (in the media) see a lot of races, right, and there's nothing like this in the world. You tell me, but I really believe this is the most incredible atmosphere in motorsports.
"Look at Donny Schatz who has so many of them, and Brad Sweet, who has won the Nationals and the two championships. This is also the toughest race to win, and all of that is what makes it a big deal."
Knoxville Raceway veteran Brian Brown inadvertently tried to get Larson in trouble on Thursday by suggesting during a press conference that this race meant more to him than the ones he chases on Sunday.
"Don't say that," Larson whispered on the podium dais.
Brown corrected with a "… IN MY OPINION …" to laughter from the room.
All Star Circuit of Champions points leader Tyler Courtney is best friends with Larson, the two sharing the twin Kings Royals crowns last month and had no interest in sugar coating the moment.
"Winning this race, to him, probably means more than winning those races on Sunday, at least most of them anyway," Courtney said.
Oh, Sunshine, you're going to get him in trouble now, too.
"I don't care," Courtney said. "I honestly don't care, and if that gets him in trouble, that's shame on them. This is our biggest race, our Daytona 500 and Indianapolis 500. For a kid like Kyle Larson that grew up watching the heroes of this discipline race here, and to beat Donny Schatz, the king of this era, is really cool, man."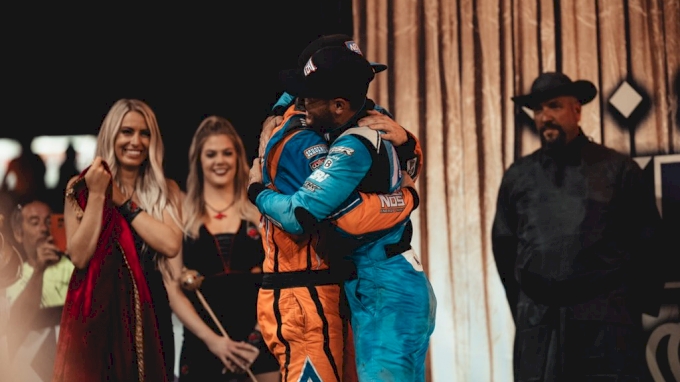 Fellow Cup Series contender, and World of Outlaws team owner Ricky Stenhouse Jr., was in attendance on Saturday night. He was there to watch driver Sheldon Haudenschild but was one of the first to congratulate Larson in victory lane.
"Kyle Larson is one of my best friends," Stenhouse said. "I wish that was us in Victory Lane and we're working really hard to get there with Sheldon, but I am so excited for Kyle. He makes us strive to be better.
"He makes me want to race Sprint Cars and Midgets more, because he says the more you race the better you are, and he's one of the best race car drivers in the world right now."
Rico Abreu has known Larson for most of their lives and caked on the praise too.
"He sets the bar for every discipline he races in," Abreu said. "He is the best NASCAR driver right now, the best Sprint Car driver, the best Midget driver. I'd want to see him in a car at Monaco because he would win a Formula 1 Grand Prix right now."
That's really high praise from peers, even if it's two of his best friends. Suddenly, Larson is the standard bearer that he wanted to be watching the legends of his childhood.
For an independent, objective voice on the matter, look to Sprint Car Hall of Famer and television analyst Brad Doty. With Larson winning in Cup, Sprint Cars, Midgets and Late Models, Doty likened the experience to watching a modern-day AJ Foyt and Parnelli Jones.
"I'm not sure Parnelli or AJ ever won at a place like Watkins Glen in a Stock Car on a Sunday and was in a Sprint Car on Monday at Oskaloosa, won there, and then won the biggest race of the year the next three days, before running a race at Indianapolis," Doty said.
"He makes everything look easy, but for him to get out of the race and show all of us how important this is to him, it makes this old Sprint Car driver really appreciate what he does even more."
Larson said he was literally nervous all day, realizing the opportunity in front of him, and wasn't sure if the nerves were entirely welcome.
On one hand, the nerves made it feel real. In a season in which everything has seemingly come so easy, this was a reminder of the weight of the moment. On the other hand, nerves can also make you sloppy.
"It was cool to feel that feeling again" Larson said. "I haven't been nervous before a race in a couple of years and I actually embraced feeling that way.
"But then I wondered if I needed to chill out a little bit, because when your nerves were up, that's when you make mistakes."
But Larson managed the nerves, even with Schatz behind him, just long enough to close out. But upon climbing out, all bets were off, and there were indeed tears. The dam burst.
"That's just how much this race means to me."