2021 NOS Energy Drink Knoxville Nationals
Rico Abreu Takes Hard Knox Win At Knoxville Nationals
Rico Abreu Takes Hard Knox Win At Knoxville Nationals
Hard Knox Friday presented an opportunity to reset and take another swing at getting into the big show at Knoxville Nationals.
Aug 14, 2021
by Andy Hamilton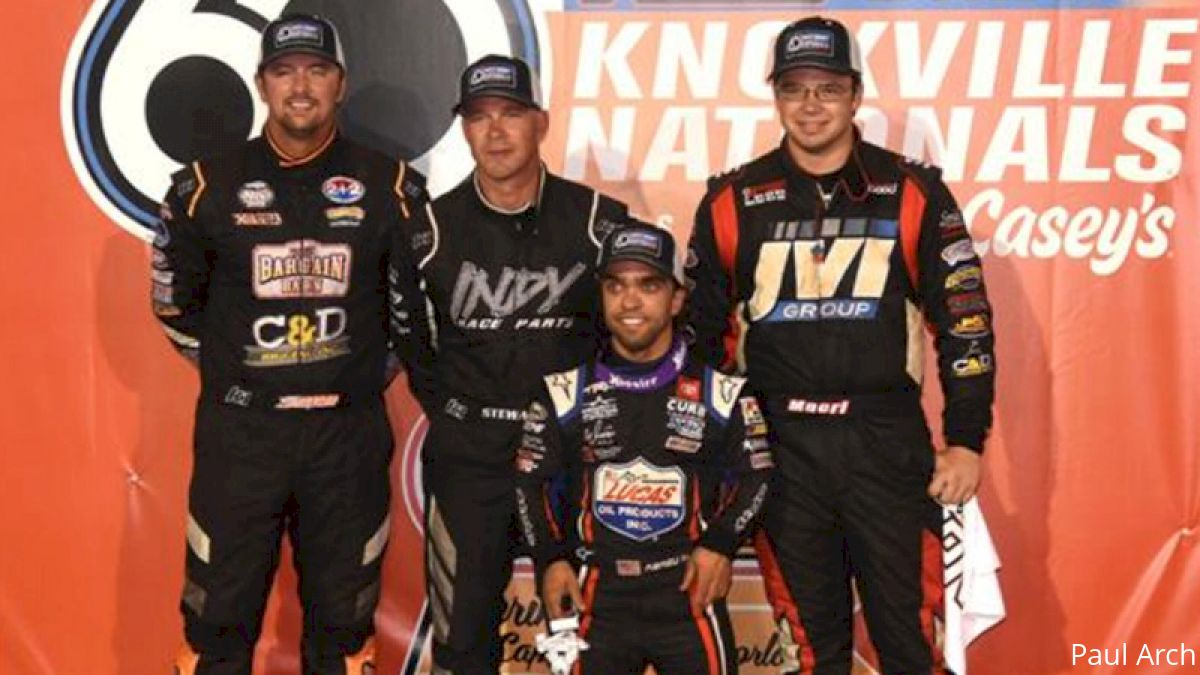 Anthony Macri stopped mid-sentence and pushed his glasses up toward his forehead as he gathered his thoughts and tried to stop the moisture from escaping his eyes and streaming down his face.
For the 22-year-old driver from Pennsylvania, there was one goal that stood above all others for the 2021 season — to be there on Saturday night alongside sprint car racing's top stars in the big show at the Knoxville Nationals.
And Macri checked that box Friday night.
"I'm still kinda speechless, honestly," he said as he sat next to Friday night feature winner Rico Abreu, veteran Shane Stewart and fellow Pennsylvanian Brock Zearfoss, the quartet that raced their way through Hard Knox Friday and into Saturday night's $150,000-to-win crown jewel event. "To be able to put it in the (show at the) Knoxville Nationals is unreal to me and honestly a dream come true. I'm honestly struggling for words right now."
"You're in the feature, bud," Abreu said.
"I am in the feature," Macri said. "It's pretty badass."
Sixteen drivers navigated their way through Wednesday and Thursday's prelim nights, accumulating enough points through qualifying, heats and features to book spots in Saturday night's 50-lap A-Main and be able to kick back and relax Friday night.
For others, like Macri, who was 25th in points after Night 1, Hard Knox Friday presented an opportunity to reset and take another swing at getting into the show.
In Abreu's case, one slip in qualifying — he posted the 29th-fastest time — put him in a Thursday night hole he could never fully escape. Even though he finished fifth in Thursday night's feature, he was still 27th in overall points at the end of the night.
So Abreu went back to work Friday and leaned on the turn-the-page mentality that he's developed in recent years.
"I really worked on myself and my mindset, my emotions as a driver to not beat myself up over a poor finish," he said. "As I've gotten older in life and matured, I've really come to understand sprint car racing and how difficult it is. Racing with the Outlaws, you notice guys can get off (track) really easily and you watch them and they can get back on where they need to be.
"In the last few years, we've had crew chief changes and chemistry throughout the team changes and it's just really important that I've focused as a driver to work with different people and you learn from each person you work with and you're able to take little bits and pieces and put it all in the bag and move on to the next race."
Abreu registered the fastest time of his qualifying group Friday night, which paved a path to a Row 1 feature start. He led the final 19 laps as he cruised to victory.
Behind Abreu, Stewart charged through the pack after starting 11th and secured his Saturday night spot for the 20th time in his career. Stewart has finished fifth or better seven times in the A-Main, including a runner-up showing in 2011. This voyage into the show has been unique and in some ways a little more rewarding than previous trips for the 45-year-old from Oklahoma.
Stewart's primary racing focus this year has been devoted to Port City Raceway, the track he owns in Tulsa. But the opportunity to pilot the #71 car with Bernie Stuebgen as his crew chief gave him reason to believe he could make another run at Knoxville.
"My goal is always to make this race and when I was in the mix, my goal was to win this race, and obviously not racing full-time, your goals change and your perspective has to change a little bit," Stewart said. "Bernie races part-time and you can't even say I race part-time. I've had four nights behind the wheel of the 71. I raced with Bernie enough last year that I felt like we were going to have a pretty decent package here and Bernie's pretty savvy behind the wrenches and he's done really well with (Saturday night pole sitter) Gio (Scelzi) and his cars have always been really fast here. I wouldn't come here and race for just anybody. I knew I had a good shot at making the race with Bernie."
Zearfoss is back in the show for the second time after finishing 19th in 2018. He went around Jac Haudenschild for the all-important fourth position with two laps to go. The difference between fourth to claim the 24th and final spot in Saturday night's feature.
"Last or not, it doesn't matter, you're in the show," he said. "The only way to go is forward now."
Saturday Night's A-Main Starting order
1. Gio Scelzi
2. Brad Sweet
3. Kyle Larson
4. Brent Marks
5. Donny Schatz
6. David Gravel
7. Kasey Kahne
8. Logan Schuchart
9. Brian Brown
10. Ian Madsen
11. Brooke Tatnell
12. Tyler Courtney
13. James McFadden
14. Justin Henderson
15. Justin Peck
16. Danny Dietrich
17. Saturday night B-Main winner
18. Saturday night B-Main second
19. Saturday night B-Main third
20. Saturday night B-Main fourth
21. Rico Abreu
22. Anthony Macri
23. Shane Stewart
24. Brock Zearfoss