2021 NOS Energy Drink Knoxville Nationals
Brown Prevails, Larson Rallies On Night 2 Of Knoxville Nationals
Brown Prevails, Larson Rallies On Night 2 Of Knoxville Nationals
Brian Brown captured his third career prelim night win at Knoxville while Kyle Larson dodged trouble to finish second after starting 21st.
Aug 13, 2021
by Andy Hamilton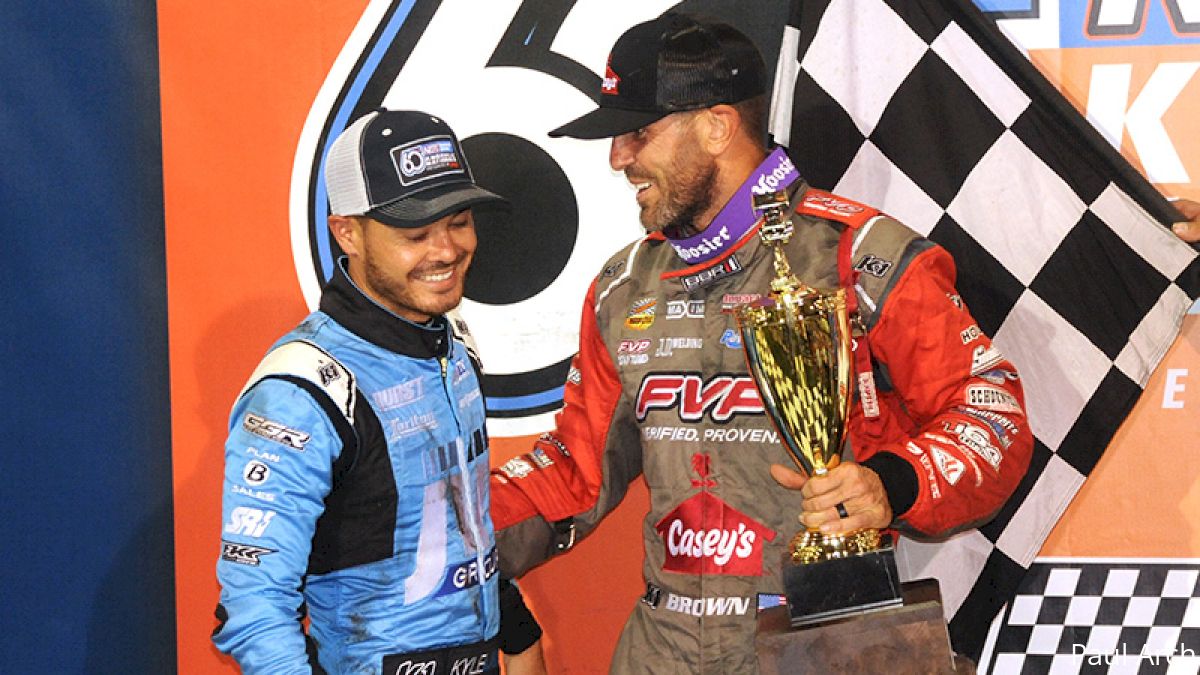 When the literal and figurative smoke cleared early Friday morning after Day 2 of the Knoxville Nationals spilled into Day 3, Brian Brown and Kyle Larson sat down beside each other, kicked back and exhaled.
For Brown, there was comfort, of course, from being back in victory lane on prelim night for the third time in his career. Maybe more important, though, he put himself back into contention to win Saturday night's big prize after finishing at the back of the pack in 2018 and missing the show in 2019.
"For me and my team, it's just a sense of relief," Brown said a few minutes before the clock struck 2 early Friday morning. "In '12, '13 and '14, I ran second to (10-time Knoxville Nationals champion) Donny (Schatz) and you get to thinking, 'It'll be like that every year and I'll beat him next year.' Well, '15, '16, '17, '18 and really '19 I've had some bad luck — tire vibrating and driver driving like an idiot — and I've never been back (in contention to win), hardly even in the show."
For Larson, who's been winning virtually everything under the sun during the past year, there was satisfaction in finishing second after what it took to get there.
A late afternoon shower soaked the black dirt on the famed half-mile, prompting a two-hour delay to the start of Thursday night's program while track officials scrambled to prepare the racing surface.
"They did a phenomenal job with the track, I feel like, for the hand that was dealt," Brown said. "You can't just pull out your phone and create sunlight."
The conditions made passing difficult during the heat races as drivers hugged the bottom. Larson started eighth in his heat and could only work his way up to fifth, missing a transfer spot by one position.
A victory in the B-Main set him up to start 21st in the feature. But it didn't take him long to move forward as early-race wrecks decimated the field.
Parker Price-Miller caught T.J. Stutts' right rear tire and careened into the fence on the first lap. Minutes later, Carson Macedo tried squeezing underneath Paul McMahan and clipped the inside berm and washed up the track, collecting McMahan and creating a six-car melee. McMahan's car went up in flames while Kerry Madsen, Sawyer Phillips, Sammy Swindell and Marcus Dumesny also got caught up in the mess.
. @dirtvision REPLAY: Thankfullly, everyone involved in this one is okay after @carson_macedo, @RealPaulMcMahan, @1sam91, @kmr29 and @DumesnyMarcus all crashed wildly on Lap Two. #NOSvilleNationals pic.twitter.com/Ak4i2H3Rzb

— World of Outlaws (@WorldofOutlaws) August 13, 2021
Somehow Larson found a path through the carnage and came out of it unscathed.
"It was wild," he said. "I was close to the 47 (Dumesny). We went into (Turn) 3 and I heard Mike Hess yelling, 'Yellow' and then I see two cars flipping in front of me, so I had to bend it sideways and I got my pace checked up and I was thankfully high enough, and then a few more came blasting in in front of me and it felt like a long crash. They were able to get a little hole made and I kind of zig-zagged through there and didn't hit anything. It was nerve wracking for sure, but thankfully the seas parted."
When they did, suddenly Larson was already up to 10th with 24 laps remaining.
From there, Brown cruised around in clean air while Larson gradually moved his way up. He picked up two spots on the first lap after the restart and two more with one move when he sliced past fellow Californians Brad Sweet and Rico Abreu.
Larson got to second with 10 laps to go and looked as if he might have a shot at running Brown down once again after outdueling him Monday to win the Front Row Challenge in Oskaloosa. But Larson lost momentum when he hit the berm in Turn 4 and Brown pulled away to finish ahead of Larson, Brent Marks, Sweet and Abreu.
"I was just trying way too hard there," Larson said. "It was a solid race. I got extremely lucky missing that big wreck that wiped out a lot of good cars in front of me and really only had to come from 10th there. It couldn't have worked out much better for me. I was a little nervous there starting 21st. It was tough for Logan (Schuchart) to get to seventh (Wednesday) night and I thought it would be even tougher for me tonight. But things were able to work out to wind up second and do pretty good in points, so I'm pretty happy about that."
Larson accumulated 480 points on the night, which will put him inside Row 2 for Saturday night's main event.
Nineteen-year-old Gio Scelzi, who posted the second-fastest qualifying time Wednesday and finished second to David Gravel in the opening-night feature, will start on the pole Saturday night with Sweet outside Row 1.
Brown will start ninth on Saturday.
"I'm just proud of my whole team and proud to be able to relax and breathe here the next two days," he said. "I feel like the team we have, we're building every day, our confidence is getting more and more and more and I feel like we have a good chance to win Saturday night. And I'm very excited about that."