2021 NOS Energy Drink Knoxville Nationals
Gravel Claims Knoxville Nationals Opening-Night Feature Win
Gravel Claims Knoxville Nationals Opening-Night Feature Win
David Gravel took home a feature win on opening night of the Knoxville Nationals, while Gio Scelzi posted the highest point total of the night.
Aug 12, 2021
by Andy Hamilton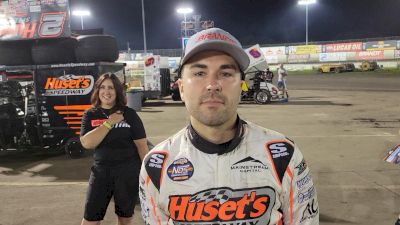 David Gravel's evening began Wednesday with the unveiling of his image on one of the hallowed pillars inside Knoxville Raceway's Avenue of Champions.
His night ended back in victory lane again — with the very real possibility that Saturday night he could join the esteemed list of drivers who have won sprint car racing's crown jewel event more than once.
Gravel overcame a sub-optimal qualifying draw, raced his way into Wednesday night's A-Main and then took home the $12,000 prize for winning the 25-lap feature on the opening night of the Knoxville Nationals.
Perhaps more importantly, the 29-year-old Connecticut native set himself up for another run at a championship Saturday night. The 2019 Knoxville Nationals winner racked up 475 points Wednesday — the third-highest total — which will likely put him in the first four rows for Saturday night's 50-lap, $150,000-to-win showcase event.
"Knoxville's been a good place to me," said Gravel, who jumpstarted his week by winning Sunday night's Capitani Classic at Knoxville. "I just feel like I've always been pretty competitive here, but obviously when you win on Sunday it gives you confidence moving forward.
"But tracks could change, pill draws, if you struggle qualifying it changes your whole night."
Gravel dodged those potholes. He posted the ninth-fastest qualifying time, despite going out 47th among 49 cars. He followed that up by finishing fourth in his heat to transfer into the A-Main.
"Making it through that heat race makes your life so much easier," Gravel said. "Really, the (prelim night) A-Main is kind of a relief if you qualify pretty good and make it through the heat race. I feel like the pressure's kind of off going into the A-Main."
Gravel started sixth in Wednesday night's feature and raced his way to the front, diving to the bottom of the track in Turn 1 and sliding in front of Justin Henderson for the lead with three laps remaining.
The first step to winning the Knoxville Nationals is not losing it on prelim night and Gravel took care of that order of business Wednesday.
"I get to relax and enjoy the week," he said. "When you suck on your prelim night the rest of the week is miserable, so just the relief of running well, we're set up in a good position and that's what we were here to do — give ourselves a chance to win the Knoxville Nationals and it worked out really good."
Fresh off winning last week's 360 Knoxville Nationals, Gio Scelzi positioned himself to take a shot at the 410 crown. The 19-year-old from California posted the highest point total on opening night, scoring 487 points, making him a strong contender to start Saturday night's feature on the front row.
"My car was unbelievable in the 360 and it was really, really good tonight," said Scelzi, who posted the second-fastest qualifying time and finished second in Wednesday night's feature. "I think that shows we can be a factor on Saturday."
In 2018, Scelzi became the youngest driver to ever qualify for the A-Main at Knoxville when he made the show at the age of 16. He started 10th and finished 14th that year.
"I remember I sucked in the Main," he said. "The track Wednesday was fast, so it was very forgiving and I didn't really know how to run the bottom and just kind of held her wide open and just held on. … I think now I've figured this place out a little bit more."
Nobody in the field has mastered Knoxville quite the way Donny Schatz has. Like Gravel, the 10-time Knoxville Nationals champion went out late in qualifying Wednesday but checked in with the sixth-fastest time. He finished fourth in his heat to transfer into the feature and then raced his way up to third after starting seventh. Schatz finished the night with 477 points — the second-highest opening-night total.
"We have speed," Schatz said. "We have to make some changes, obviously, if we're going to win on Saturday. But I've been coming here a long time and I think we know a few things we need to do, and we're in a lot better spot than we've been the last 12 months, so I'm looking forward to Saturday and hopefully we can be in a position where we're racing for a win."