2021 Bill Holland Classic at Selinsgrove Speedway
75 Laps Await USAC Silver Crown At Selinsgrove
75 Laps Await USAC Silver Crown At Selinsgrove
The USAC Silver Crown cars will take on the big half-mile oval at Selinsgrove Speedway on Sunday night.
Aug 8, 2021
by FloRacing Staff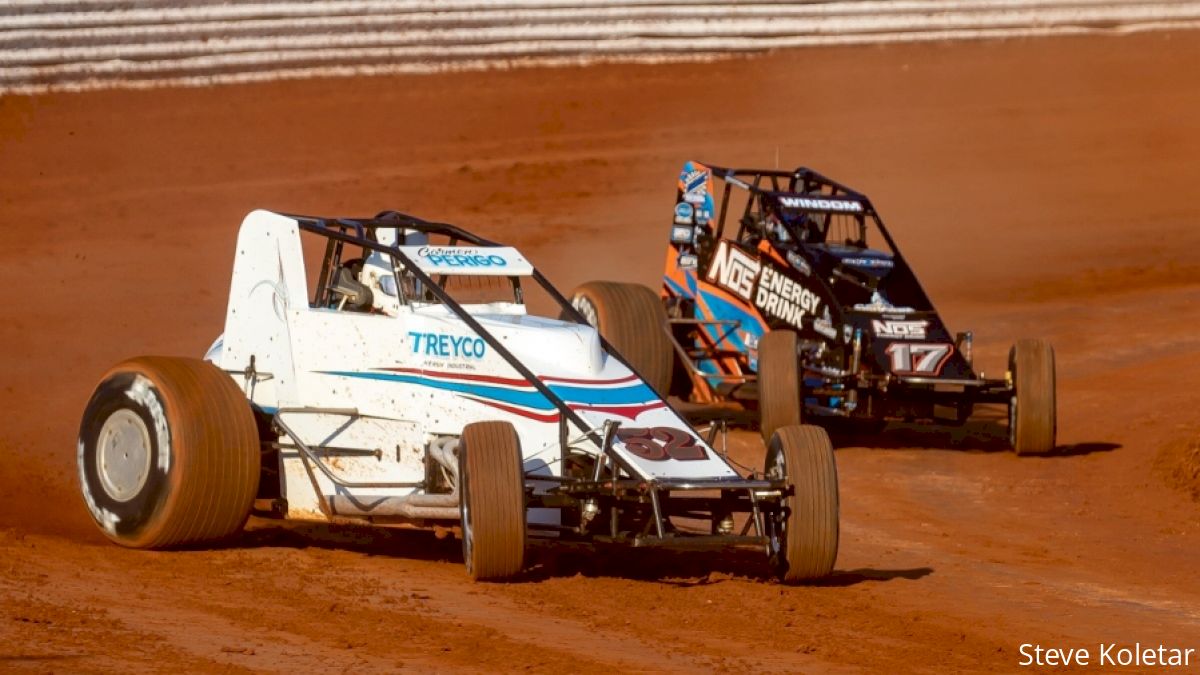 Selinsgrove, Pennsylvania (August 6, 2021)………A stumbling engine in qualifying, a last row starting spot and an accident with 43 laps remaining that resulted with him backwards against the guardrail with a flat tire – those were just a few of the mountains Shane Cottle overcame to reach victory lane in last year's inaugural Bill Holland Classic at Pennsylvania's Selinsgrove Speedway.
This Sunday night, August 8, Cottle and a field of 23 champ cars take on the big half-mile once again for 75 laps, honoring the 75th anniversary of the first racing event held at Selinsgrove Speedway on July 20, 1946, won by 1949 Indianapolis 500 winner and National Sprint Car Hall of Fame inductee, Bill Holland.
Last August, it took Cottle every bit of the distance to reach the pinnacle of the night as he worked his way around race-long leader C.J. Leary on the white flag lap to conquer his second career USAC Silver Crown victory, and his first in nearly 13 years.
By doing so, Cottle became the newest record holder of the longest duration between USAC Silver Crown victories. It had been 12 years, 11 months and 8 days since the Kansas, Ill. driver raced to victory at the Du Quoin (Ill.) State Fairgrounds in 2007.
Not only that, on the 31st of 74 laps, major trouble ensued for the then 11th running Cottle who had a left rear tire go down on the front straightaway. In the ensuing melee, Cottle spun backwards into the inside front straightaway guardrail. Cottle exited the car and stood on the front straightaway mulling over the situation which provided him nary a shred of confidence to continue in the race.
"I was really upset," Cottle recalled at the time. "I actually wasn't even going to change the tire. I told the crew, 'you know what, heck with it. We're going to the back and it's kind of hard to pass.' They said 'nope, we're changing it, get back in there.'
Cottle, sporting a right rear tire with which he estimated as maybe having 'just a couple more laps left' at the end, took the show into his own hands, squaring up Leary through turns three and four coming to the white flag, then swung to the outside to rip around him and lead at the stripe by a car length before making a beeline to the bottom of turn one to take away the low line from Leary.
Cottle's victory last year at Selinsgrove from the 23rd spot ranks as the 8th furthest back any driver has started to win a Silver Crown race, the most positions overcome to win since Rich Tobias Jr.'s Du Quoin triumph from 25th in 2003. Kenny Irwin Jr. owns the top-two ultimate hard-charging performances in Silver Crown history, coming from the 28th position to win at both the Illinois State Fairgrounds in 1995 and Indianapolis Raceway Park in 1997.
Reigning Silver Crown champ Justin Grant (Ione, Calif.) was running second with four laps remaining in last year's Bill Holland Classic when a flat right rear tire knocked him out of contention. He came back strong by scoring a USAC National Sprint Car feature at Selinsgrove in June of 2021 during Eastern Storm.
Shane Cockrum (Benton, Ill.) collected a Silver Crown victory at another "Grove" back in June down the road in Mechanicsburg, Pa. at Williams Grove Speedway. Last year at Selinsgrove, Cockrum earned a solid 8th place result.
C.J. Leary (Greenfield, Ind.) nearly won last year's Silver Crown main at Selinsgrove, leading the first 72 laps before finishing 2nd after earlier establishing the one-lap track record for the series with a time of 21.676. In June of 2021, Leary finished 3rd in the USAC National Sprint Car feature there.
Chris Windom (Canton, Ill.), the 2016 USAC Silver Crown driving champion, was in contention to win both of his Selinsgrove starts in a Silver Crown car and Sprint Car before trouble befell him late, forcing him to settle for 15th place finishes in both events. He does hold the one-lap USAC National Sprint Car track record at Selinsgrove, set in June of 2021.
Kyle Robbins (New Castle, Ind.) finished a career-best 3rd in his Selinsgrove run in 2020 while Carmen Perigo (Stoystown, Pa.) collected his best career Silver Crown result of 5th in the same event, which was his first career series start. He followed it up with a career-best 8th place finish in the USAC Sprint show there in June of 2021.
Brady Bacon (Broken Arrow, Okla.) was running 3rd coming off the final corner on the final lap in the 2020 Selinsgrove Silver Crown go but experienced a flat right rear tire just short of the line, dropping him back to 7th in the final running order. On the same evening, however, he found victory lane with the USAC East Coast Sprint Cars at the track.
Leading series Rookie Logan Seavey (Sutter, Calif.) fell to the same fate as Bacon in the Silver Crown race, dropping from 4th all the way back to 10th in the final tally due to a flat right rear tire on the last lap in what was the 2018 USAC National Midget champion's first career series start.
Mark Smith (Sunbury, Pa.), Jake Swanson (Anaheim, Calif.) and Matt Goodnight (Winchester, Ind.) have all been top-ten USAC National feature finishers at Selinsgrove in their careers. Swanson was 17th in the 2020 Silver Crown race but 7th in June's USAC Sprint Car feature. Goodnight took 9th in the Silver Crown car in 2020.
Smith, however, has an extensive and impressive Selinsgrove pedigree as a three-time track champion in the 360 Sprint Car division, including his most recent in 2020. He will make his first Silver Crown appearance in four seasons this Sunday at Selinsgrove.
Among the drivers aiming to "up" their finish after debuting at Selinsgrove in 2020 are series point leader and five-time Silver Crown champ, Kingsburg, California's Kody Swanson (11th in 2020); Levittown, Pennsylvania's Mike Haggenbottom (12th); Pendleton, Indiana's Travis Welpott (14th); Pleasant Hill, Ohio's Matt Westfall (20th); Mechanicsburg, Pennsylvania's Dave Berkheimer (21st) and Shullsburg, Wisconsin's David Byrne (23rd), the latter two of which got upside down in last year's event.
Jason McDougal (Broken Arrow, Okla.) won the pole and set a new track record at Williams Grove in June. He'll be making his first Selinsgrove appearance this Sunday as will past Silver Crown winner and championship runner-up Eric Gordon (Greenfield, Ind.) and series veteran Austin Nemire (Sylvania, Ohio).
Two drivers, Nick Bilbee and Erik Karlsen, will be making their first-ever USAC Silver Crown appearances. Bilbee (Indianapolis, Ind.) is the 2020 Lawrenceburg Speedway Sprint Car track champion while Karlsen is a CRSA 305 Sprint Car champion at New York's Canandaigua Speedway and a veteran of Empire Super Sprints competition.
Sunday night's Bill Holland Classic USAC Silver Crown event features USAC Silver Crown and USAC Rapid Tire East Coast Sprint Cars.
Gates open at 4pm Eastern, drivers meeting at 5:30pm and cars on track at 6pm.
Adult general admission tickets are $25 with students ages 12-17 priced at $15. Kids ages 11 and under are free. Pit passes are $35 for members & $40 for non-members.
Every lap of will be aired live on FloRacing at https://bit.ly/2ZpafUr.