2021 USAC Midgets at Lanco's Clyde Martin Memorial Speedway
USAC Midgets Ready For Small Track, Big Thrills At Lanco
USAC Midgets Ready For Small Track, Big Thrills At Lanco
The USAC National Midget Series will race around the small 1/8-mile oval at Lanco's Clyde Martin Memorial Speedway on Saturday.
Aug 7, 2021
by FloRacing Staff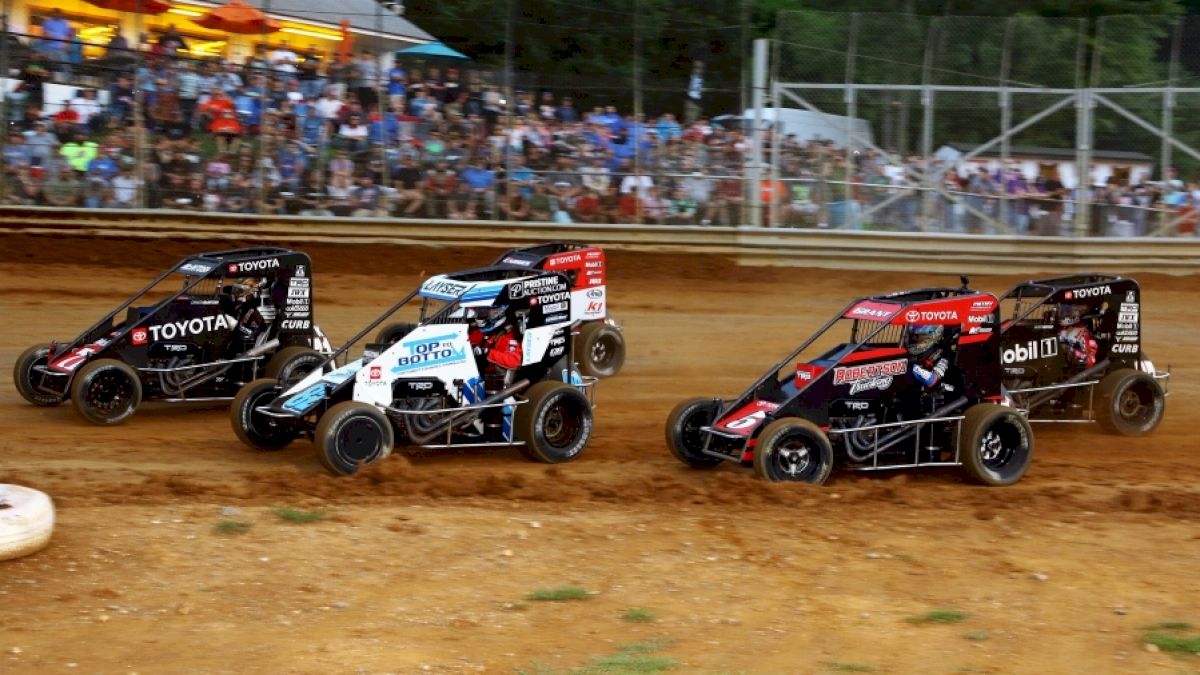 Newmanstown, PA -- Sometimes, the biggest dynamite comes in the smallest of packages.
That's what Lanco's Clyde Martin Memorial Speedway provides with the USAC NOS Energy Drink National Midgets, which arrive at the 1/8-mile, high-banked dirt oval for the sixth consecutive year on Saturday night, August 7, for the fifth and final installment of 2021 USAC Eastern Midget Week.
Two drivers in this Saturday night's field have tamed the wickedly fast beast that gives you little time to think, blink or even wink. An annual slider-fest, a three-and-four-wide delight, both Tanner Thorson and Logan Seavey have each claimed their throne here at the Newmanstown, Pennsylvania super-bullring.
Thorson needed all the heroics he could muster to pull off a last-lap, last corner pass to take the victory in the inaugural Lanco race during his championship season of 2016. In 2017, the Minden, Nev. native repeated the feat as a Lanco victor once again in relative comfort this time, leading all 40 laps. A four-time 40-lap USAC National Midget winner, Thorson also took fifth at Lanco in 2020.
Seavey (Sutter, Calif.), meanwhile, has finished inside the top-three in both of his Lanco starts. He went viral with a four-wheel, fence-riding measure to avoid a stopped car between turns three and four before going on to finish 3rd during his championship season of 2018. The next year, in 2019, he one-upped himself by winning the main event.
A pair of champions and current USAC point leaders in Buddy Kofoid and Alex Bright have finished in the runner-up spot at Lanco. Kofoid (Penngrove, Calif.), the current USAC NOS Energy Drink National Midget point leader, was 2nd in 2020 while Bright (Collegeville, Pa.), the 2016 ARDC champ, 2018 USAC Eastern Midget titlist and current USAC East Coast Sprint Car point leader, was 2nd in 2018.
Previous top-ten Lanco runners include Bixby, Oklahoma's Cannon McIntosh (3rd in 2020); Cullman, Alabama's Kevin Thomas Jr. (4th in 2019); Canton, Illinois' Chris Windom (6th in 2019); Locust Grove, Oklahoma's Daison Pursley (6th in 2020) and Ione, California's Justin Grant (7th in both 2018 & 2020). Windom is the defending USAC National Midget champion while Grant is the reigning USAC Silver Crown titlist. Pursley, meanwhile, recently won Wednesday's Eastern Midget Week round at Action Track USA in Kutztown, Pa.
Lanco USAC Midget veterans returning to the lineup include Franklin, Indiana's Emerson Axsom (14th in 2020), who is the only driver to win a 40-lap USAC National Midget feature thus far in 2021 at Nebraska's Jefferson County Speedway in July. Furthermore, joining the event are Mooresville, North Carolina's Ethan Mitchell (13th in 2020); Bloomsburg, Pennsylvania's Eric Heydenreich (14th in 2017); Bethlehem, Pennsylvania's Tommy Kunsman (15th in 2018); Bear, Delaware's Shawn Jackson (16th in 2018); Bethany, Connecticut's Kenney Johnson (17th in 2016); and Victor, New York's Kevin Woody Jr. (20th in 2018).
Two-time 2021 USAC National Midget feature winner Thomas Meseraull (San Jose, Calif.) will be among those making his Lanco debut as will New Zealanders Hayden Williams (Auckland), Travis Buckley (Auckland) and Glenn Waterland (Christchurch).
First-time Lanco USAC Midget visitor Max McLaughlin (Mooresville, N.C.), a K & N East & Super DIRTcar Series Big Block Modified winner, will drive a second Bundy Built Motorsports Midget alongside teammate Ethan Mitchell. Max is the son of past NASCAR Busch Series standout Mike McLaughlin.
USAC Rookies Chase Randall (Waco, Texas), Hayden Reinbold (Gilbert, Ariz.), Taylor Reimer (Bixby, Okla.), Michael Markey (Hanover, Pa.) and Dan Bennett (Akron, N.Y.) will be on hand at Lanco for the first time in USAC National Midget competition.
Saturday's $4,000-to-win Eastern Midget Week round number five at Lanco will feature the USAC NOS Energy Drink Midget National Championship and Wingless 600 Mini Sprints.
On Saturday race day, pits open for trailer parking at 1pm ET. Pit admission sales begin at 4pm. Gates open for general admission ticket holders at 5pm. The USAC drivers meeting takes place at 6pm. USAC hot laps begin at 6:30pm with qualifying and racing immediately following.
Advanced tickets are $25 for adults (ages 13 and up) and $7.00 for youth (ages 6 - 12). Adult general admission tickets will cost $20 with youth tickets (ages 6 - 12) priced at $5. Children under the age of six will be admitted free Pit admission will be $35. USAC and Lanco members will get pit admission for $30.
Every lap of all five Eastern Midget Week event will be aired live on FloRacing at https://bit.ly/2ZpafUr.