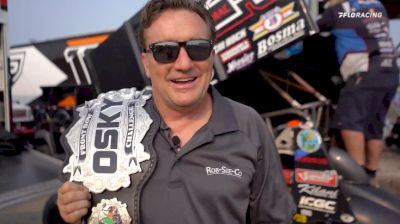 Dates: Monday, August 9th, 2021 (Rain date: August 10th)
Track: Southern Oskaloosa Speedway (615 North I Street, Oskaloosa, IA 52577)
Sanction: Non-sanctioned 410 Outlaw Sprint Cars, RaceSaver 305 Sprint Cars
Purse: $21,000-to-win 410s, $1,000-to-win 305s
Tickets: Adults $30, kids 12 & under $15, pit passes $40. Click here to purchase.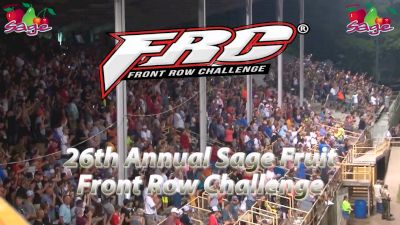 How To Watch: Watch the 2021 Sage Fruit Front Row Challenge on FloRacing. SIGN UP HERE.
On Your TV: Now Available on Roku, Fire TV, Chromecast & Apple TV.
Cast: Cast to your smart TV including Vizio, Samsung and LG TVs.
On The Go: Download the FloSports app on iOS or Android.
The Winners
1996 (Night #1) Travis Cram, Snohomish, WA
1996 (Night #2) Terry McCarl, Pleasant Hill, IA
1997 [RAINOUT]
1998 Tyler Walker, Los Angeles, CA
1999 Jac Haudenschild, Wooster, OH
2000 Jeff Shepard, Upperco, MD
2001 Lance Dewease, Fayetteville, PA
2002 Tyler Walker, Los Angeles, CA (2)
2003 Lance Dewease, Fayetteville, PA (2)
2004 Jeff Shepard, Upperco, MD (2)
2005 Danny Lasoski, Dover, MO
2006 Kenny Jacobs, Holmesville, OH
2007 Rob Chaney, Wooster, OH
2008 Daryn Pittman, Owasso, OK
2009 Sammy Swindell, Germantown, TN
2010 Sammy Swindell, Germantown, TN (2)
2011 Sammy Swindell, Germantown, TN (3)
2012 Daryn Pittman, Owasso, OK (2)
2013 Brian Brown, Grain Valley, MO
2014 Brian Brown, Grain Valley, MO (2)
2015 Brad Sweet, Grass Valley, CA
2016 Daryn Pittman, Owasso, OK (3)
2017 Shane Stewart, Bixby, OK
2018 Kyle Larson, Elk Grove, CA
2019 Daryn Pittman, Owasso, OK (4)
2020 [RAINOUT]
The Front Row Challenges
1996 Leonard Lee ($1,500, 13th)
1999 Jac Haudenschild ($50,000, 1)
2000 Danny Lasoski ($50,000, 2)
2001 Don Droud Jr. ($50,000, 6)
2002 Daryn Pittman (Second Row) ($15,000, 3)
2003 Kasey Kahne ($50,000, 10)
2004 Danny Lasoski ($50,000, 4)
2005 Jeremy Campbell ($50,000, 15)
2006 Daryn Pittman ($50,000, 7)
2007 Donny Schatz ($50,000, 16)
2008 Joey Saldana ($50,000, 21)
2010 Joey Saldana ($50,000 + $5,000 for top 3, 14)
2013 Tony Bruce Jr. ($30,000, 5)
2014 Brad Loyet ($30,000, 9)
Front Row Challenge Competitions
13, Daryn Pittman
12, Brian Brown
11, Skip Jackson
10, Lance Dewease
9, Jeff Mitrisin
9, Jason Johnson
9, Danny Lasoski
9, Tim Kaeding
8, Jonathan Allard
8, Joey Saldana
8, Shane Stewart
7, Tyler Walker
7, Mark Dobmeier
7, Paul McMahan
7, Sammy Swindell
7, Brad Sweet
6, Sam Hafertepe Jr.
6, Dennis Moore Jr.
6, Don Droud Jr.
6, Kasey Kahne
6, Kerry Madsen
5, Jesse Hockett
5, Wayne Johnson
5, Johnny Herrera
5, Toni Lutar
5, Fred Rahmer
5, David Gravel
5, Jac Haudenschild
Front Row Challenge Top-Five Finishes
7, Danny Lasoski
7, Daryn Pittman
6, Lance Dewease
6, Brad Sweet
5, Brian Brown
5, Shane Stewart
4, Tyler Walker
4, Kyle Larson
3, Sammy Swindell
3, Sam Hafertepe Jr.
3, Tim Kaeding
3, Jac Haudenschild
3, Brad Furr
3, Jeff Mitrisin
3, Craig Dollansky
3, Kerry Madsen
Front Row Challenge Top-Ten Finishes
9, Danny Lasoski
8, Daryn Pittman
7, Lance Dewease
7, Brian Brown
7, Tim Kaeding
6, Kerry Madsen
6, Brad Sweet
5, Jeff Mitrisin
5, Tyler Walker
5, Sammy Swindell
5, Shane Stewart
4, Sam Hafertepe Jr.
4, Kasey Kahne
4, Brad Furr
4, Skip Jackson
4, Paul McMahan
4, Jac Haudenschild
4, Kyle Larson
4, Joey Saldana
"King of the Hill" Match Race Winners
2004 Jeff Shepard, Upperco, MD
2005 Jeremy Campbell, Monroe, MI
2006 Kenny Jacobs, Holmesville, OH
2008 Mark Dobmeier, Grand Forks, ND
2010 Joey Saldana, Brownsburg, IN
2011 Sammy Swindell, Germantown, TN
2012 Daryn Pittman, Owasso, OK
2013 Tasker Phillips, Pleasantville, IA
2015 Brad Sweet, Grass Valley, CA
2016 Daryn Pittman, Owasso, OK
2017 Brad Sweet, Grass Valley, CA
2018 Kyle Larson, Elk Grove, CA
Front Row Challenge "Foot Race" Winners
1999 Jeff Mitrisin, Oskaloosa, IA
2000 Brian Hetrick, Gladstone, IL
2008 Tyler Walker, Los Angeles, CA
2009 Bronson Maeschen, Pleasantville, IA
2011 David Gravel, Watertown, CT
Front Row Challenge Car Counts
1996 (Night #1) 22
1996 (Night #2) 25
1998 32
1999 32
2000 56
2001 41
2002 45
2003 56
2004 45
2005 48
2006 33
2007 27
2008 30
2009 45
2010 31
2011 39
2012 26
2013 51
2014 41
2015 37
2016 27
2017 36
2018 35
2016 27
2017 36
2018 35