2021 Southern Nationals at Tazewell Speedway
Donald McIntosh's Unorthodox Path to Southern Nationals Title
Donald McIntosh's Unorthodox Path to Southern Nationals Title
Donald McIntosh captured the 2021 Southern Nationals title despite not winning a race.
Aug 2, 2021
by Robert Holman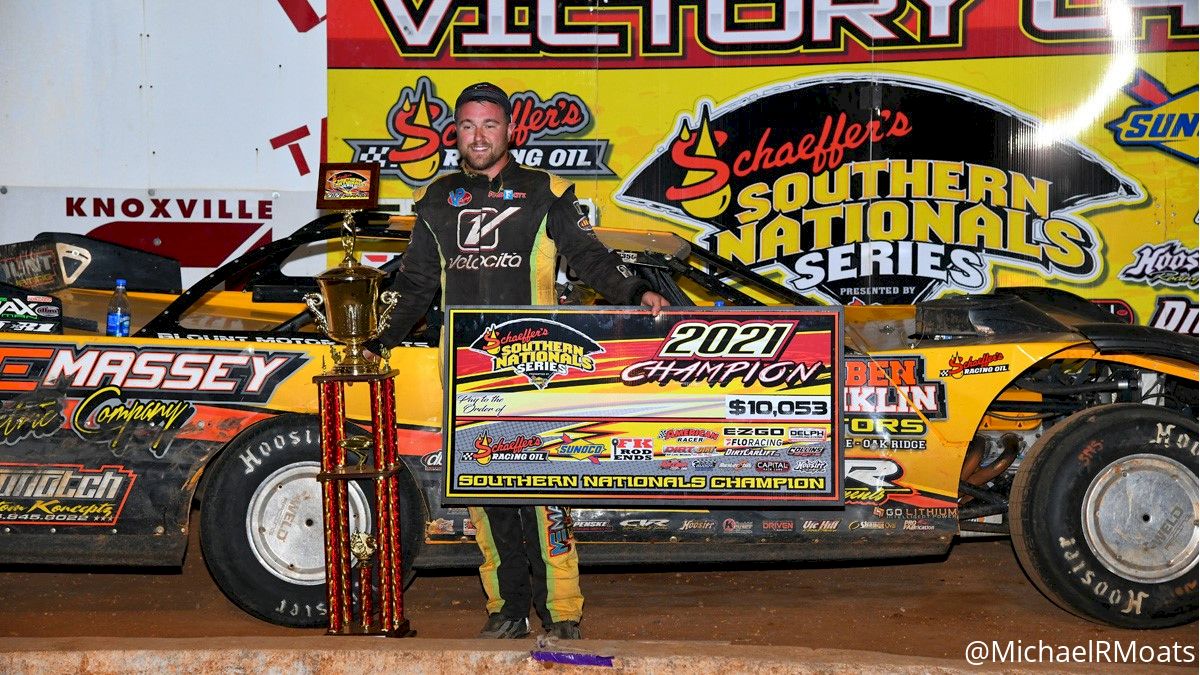 TAZEWELL, Tenn. — Donald McIntosh's path to his first career Schaeffer's Southern Nationals championship was a bit unorthodox. On a regional series where, historically, winning races has been paramount to winning the championship, the Dawsonville, Ga., driver became the fourth driver in the tour's 17-year history to capture the title without winning a race.
McIntosh was a model of consistency over the final five points races, recording three runner-up finishes, a fourth and a fifth, to secure the championship. He joined Casey Roberts of Toccoa, Ga. (2018), Devin Gilpin of Columbus, Ind. (2016) and inaugural series champion Jeff Cooke of Spartanburg, S.C. (2005) as the only drivers to capture titles without a series win.
"It's pretty wild man. I never would've guessed that if we would win one of these deals, that we'd win it like we did," McIntosh said after his 16th-to-fifth run in Saturday's points finale at Tazewell Speedway. "From the start of this, I would've told you we would've been lucky to run top-five in these points. We could Hail Mary to a decent run, but we didn't have speed really anywhere we went. We were struggling to make the car do what we wanted. Finally, we changed to this car and it's just like a light switch hit."
Indeed, the Blount Motorsports team's switch from McIntosh's primary Rocket XR1 to his backup — an older XR1 usually piloted by teammate Tommy Kerr — seemed to be the winning move for the Maryville, Tenn.-based team's third championship on the Ray Cook-promoted miniseries.
Before making the switch following an 11th-place finish at Screven Motor Speedway on July 24, McIntosh had a single top-five finish in four starts. After three straight mediocre runs — 10th at I-75, eighth at West Georgia and then Screven — he and crew chief David Bryant realized change was needed.
"As bad as we've run this year and the changes we were making to the car wasn't making any difference, it was just something we needed to try," McIntosh said. "I felt pretty confident that (Kerr's) car would be OK. We'll try it and if not, we can get back in that other car. When we got in it — I believe Rome was the first night we got in it — it was just better. I'm like, 'Dave, I feel better in this car. I feel more comfortable, I can feel the changes we're making, I want to stay with it,' and we did. We finished second twice more in a row there and I was like okay, this car is better."
McIntosh said the biggest difference between the two machines is that he's been able to notice the changes the team has made when trying to fine-tune.
"We had some speed (finally) and we were able to make changes, just change the car some, where the other one, it didn't seem to matter what we did to the car, it just wasn't any good," McIntosh said. "That really felt good. It's been a tough year. Until, Boyd's (on July 29) we had not even led the first lap this year. It's been a long year and to finally get some momentum, to run some seconds, to be able to rally from 16th to fifth tonight (at Tazewell), that felt pretty good. Leading on into the rest of the year, I'm pretty excited. To be able to finally get one of these (championships) when Dale (McDowell) run the whole deal and (Cody) Overton was competitive the whole time, it means a lot, really it does."
For McIntosh, Saturday's points finale at Tazewell was a microcosm of this year's entire Southern Nationals effort. He fell behind early, stayed patient and then rallied when he most needed to.
"I haven't been able to qualify good here (at Tazewell) in quite a while," he said. "I don't really know what it is, whether it's just me or something we're doing on setup. I feel like we've missed out on half a year on setup changes because we've been fighting a car that wouldn't work. It's between getting me comfortable and making the right changes to qualify I think was a lot of it. We were able to rally back and then make the right changes for the race and kinda be patient there through traffic. I felt like our car was really good there at the end."
Entering the race McIntosh had a 16-point advantage over Evans, Ga.'s Cody Overton and was 22 ahead of McDowell, the Hall of Famer from Chickamauga, Ga. It was a big enough cushion that — because the series drops each driver's worst finish — had he finished 11th or worse considering where Overton and McDowell finished — he still would have won the title by four points over McDowell.
With McDowell 13 positions ahead in third and Overton starting four spots behind him, McIntosh wanted to make sure he was around at the finish. The high-speed and tight confines at Tazewell don't alway lends itself to a conservative approach, but McIntosh said that was his plan.
"Most places that might be the case, but I felt like tonight here for the first 30 or 35 (laps) anyway, I feel like you can't worry about where you're at on the track," McIntosh said. "Just staying out of trouble (is important) and if there's an opportunity take it, but don't push anything. I feel like if you push anything here, you stand a good chance to tear your car up or tear somebody else up. I was patient and on one of them restarts, I feel like we were maybe in eighth or ninth, and I felt pretty good. We went from there and we were a little bit snug before (the track) started to latch up in the center and once it started to latch up, I felt really good."
McIntosh joins Blount Motorsports drivers Kerr (2009) and Roberts ('18) as series champions. Roberts' title — his second overall but first with Blount — came without a victory as well. But McIntosh isn't too concerned about going winless on a series that didn't produce a repeat winner in nine points races.
"You can look at that a few different ways," he said. "You always want to win races, but to come from where we came from starting these points to where we ended them, I don't feel all too bad. If I felt like we started these points running really well and it felt like we had a good car the whole time and we didn't win one, I'd be a bit disappointed. But I feel like we made so many changes on that other car and we were just all frustrated and not making any ground anywhere. I really feel like once we switched, we started points racing, we started racing when we got this (backup) car.
"We didn't learn anything with that other car I guess is more what I'm trying to say. We started learning there and immediately threw the (second-place finishes) out there. This deal is super competitive. The same guy didn't win every night. It's tough. To run three seconds in a row is big. No, it's not a win. I want to win. I'm not trying to say I don't, but coming from where we came from, this feels like a win. I'm tickled. It's July and the first laps we've led all year were at Boyd's. In that aspect, I'm disappointed in our year, but happy with where it's gone in these last five or six races. You want to be disappointed, but excited at the same time."