2021 Southern Nationals at Tazewell Speedway
Chilton Captures Southern Nationals Finale; McIntosh Claims Title
Chilton Captures Southern Nationals Finale; McIntosh Claims Title
Michael Chilton visited Southern Nationals victory lane Saturday at Tazewell Speedway, while Donald McIntosh secured the $10,053 championship.
Aug 1, 2021
by FloRacing Staff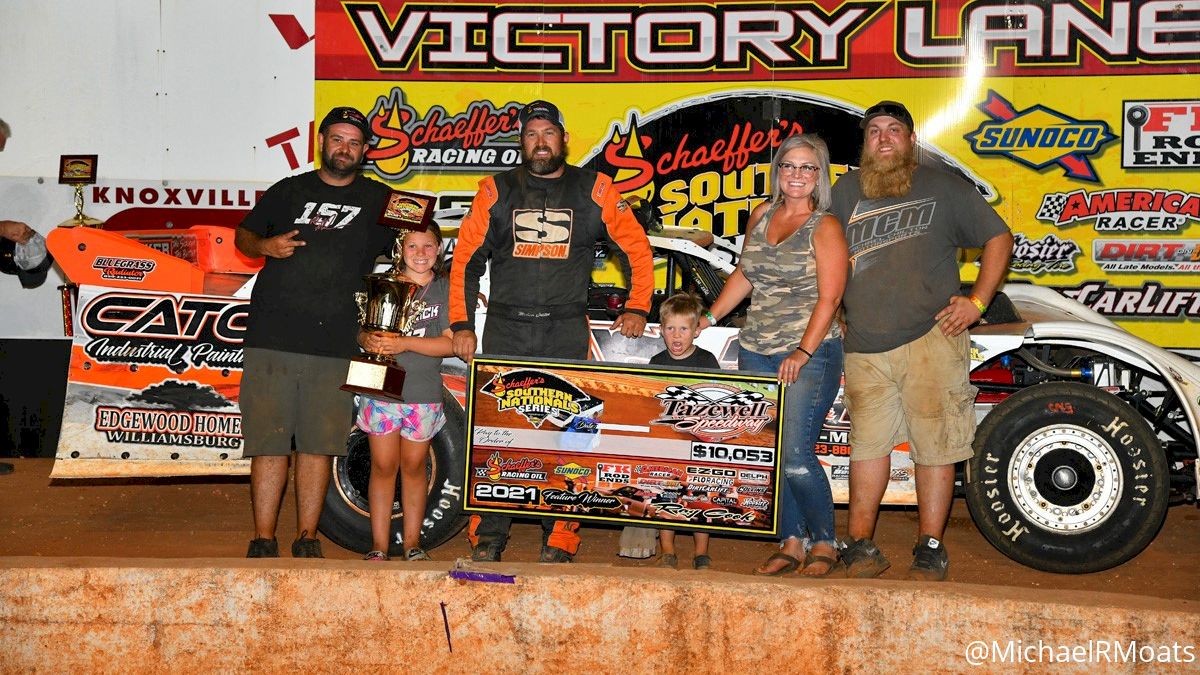 TAZEWELL, Tenn. — Capping a Schaeffer's Southern Nationals title chase with plenty of fresh faces, its fitting that the final points event ended with a first-time series winner and a first-time series champion.
Michael Chilton of Salvisa, Ky, led all the way from outside the front row Saturday at Tazewell Speedway for a $10,053 victory while longtime tour regular Donald McIntosh overcame preliminary struggles with a 16th-to-fifth run that secure the $10,053 championship.
Chilton took the checkers 0.502 seconds ahead of Hall of Famer Dale McDowell of Chickamauga, Ga., at the high-banked oval while ninth-starting Zack Mitchell of Enoree, S.C., was third. Pole-starting Ross Bailes of Clover, S.C., settled for fourth and McIntosh rallied from his eighth-row starting spot to round out the top five.
Crediting a heat race victory he called a "gift" after Vic Hill and Cody Overton were penalized for jumping two starts that put him in position to win, Chilton still had to contend with McDowell, who was lurking in third early and took second from Bailes on the 28th of 53 laps.
"I was watching that scoreboard and I knew that Dale was probably going to be the guy to beat when he got to running that bottom there," said Chilton, who earned his third five-figure payday over the last 10 months. "I just knew I needed to try to protect the bottom and save some tire. Dale, he's the master of saving for the end. I got pretty worried there when I got to a couple of them lapped cars and I felt like they were pulling away from me. I was just trying not to make not mistakes and slip. And we got it done."
Chilton struggled with lapped cars late in the race but kept McDowell in check at a track where he's left on a wrecker more than once.
"It was tough. This place owes me a few. We've had a couple of good runs — and we tore a lot of race cars over silly stuff," he said. "We was gone on vacation last week and the guys worked on this car all week and got together for this weekend. And I appreciate them and my wife for putting up with all this."
McDowell crept closer to Chilton but couldn't make a serious stab at the lead.
"This place always provides excitement for us and the race fans, especially. I was just trying to go where (the opposing cars) weren't, so I was able to manage my tires there pretty good, which we can do pretty good in those cars. (Amid) lapped traffic (other frontrunners) got to working their tires, and I just tried to maintain," McDowell said. "So I think that's what happened there at the end. But, congratulations to Michael for the win and congratulations to Donald for the championship. ... we kept that E-Z-Go hot rod in the hunt, anyway, that's all we can ask for."
McIntosh, who spent most of the series driving his Blount Motorsports teammate Tommy Kerr's No. 4T after struggling in his regular No. 7m, said the car switch suggested by crew chief David Bryant made all the difference.
"We've felt changes and didn't get a win, but we got close three or four times there," McIntosh said. "I got behind qualifying tonight and put us behind, but we was able to pass some cars. Man, I tell you what, when I first started racing here, I didn't really like this racetrack too much. But, boy, it's gotten to be a lot of fun to race on. You can pass on it and run side-by-side.
"What a great night. I can't thank these guys enough for standing behind me. It's been a long road to finally get one of these (Southern Nationals) championships. It means a lot. We've been doing it a while and it's a pretty cool deal."
The 53-lapper had three incidents, including a lap-19 red flag when seventh-running Pierce McCarter's machine rode the backstretch wall and ended up upside down at the turn-three entrance. He climbed out unhurt. McCarter had been battling Kyle Strickler for the sixth spot.
A caution appeared on lap 21 when third-running Dakotah Knuckles got into turn-four wall and the race's start was delayed when, during warmup laps before the race, there was a pileup entering turn three involving Matthew Holt, Ahnna Parkhurst, Kenny Collins and Austin Neely.
RESULTS
Michael Chilton
Dale McDowell
Zack Mitchell
Ross Bailes
Donald McIntosh
Ryan King
Austin Neely
Vic Hill
Jason Trammell
Jensen Ford
Kyle Strickler
Cody Overton
Dakotah Knuckles
Garrett Smith
Ahnna Parkhurst
Benjamin Cranford
Kenny Collins
Jeff Neubert
Pierce McCarter
Matthew Holt
Brian Shockley
Jeff Wolfenbarger
John Llewellyn