2021 Southern Nationals at Boyd's Speedway
Sam Seawright Scores First Southern Nationals Victory
Sam Seawright Scores First Southern Nationals Victory
17-year-old Sam Seawright collected his first Southern Nationals victory Thursday night at Boyd's Speedway.
Jul 30, 2021
by FloRacing Staff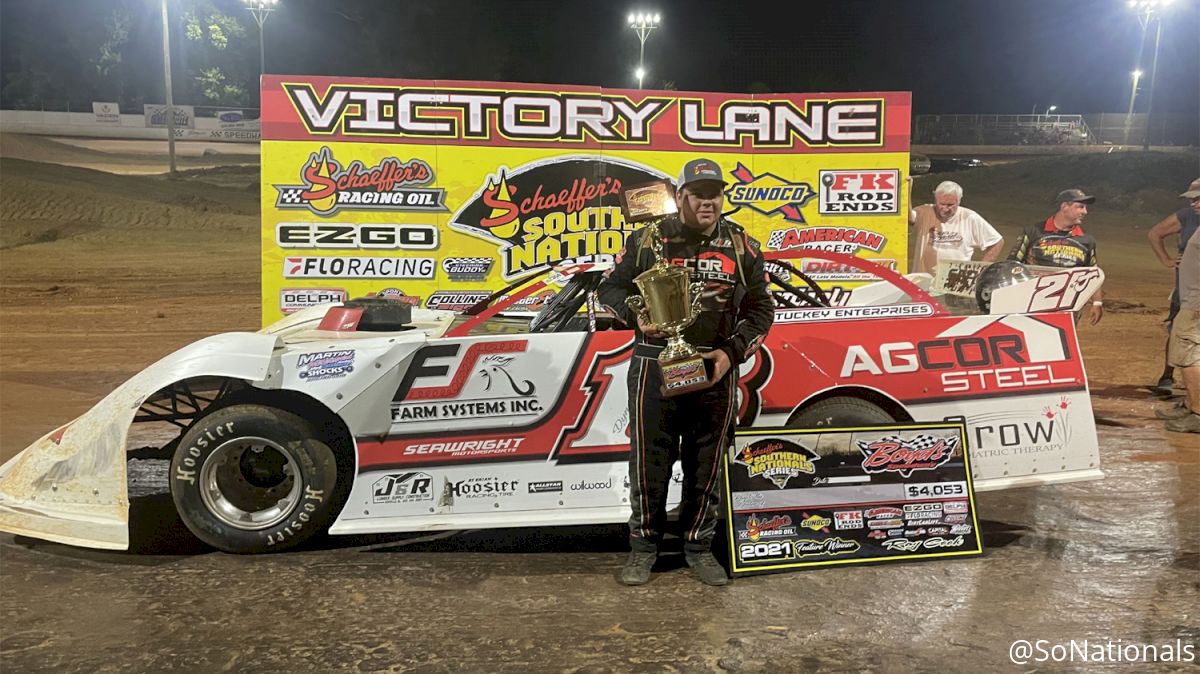 RINGGOLD, Ga. — The inside groove was the smoother way around Boyd's Speedway on Thursday evening. The middle and outside grooves were, well, quite a bit rougher.
But riding around during a lap-13 caution period in third place, Sam Seawright figured he might as well give the outside lane a shot in trying to overtake Schaeffer's Southern Nationals points leader Donald McIntosh and Hall of Famer Dale McDowell.
It couldn't have worked out any better.
The 17-year-old Rainsville, Ala., driver went around outside front-row starter McDowell on the backstretch on the 14th lap, then overtook the polesitter and race-long leader McIntosh exiting turn four on the 15th lap to grab a lead he'd never give up.
"The car was great," said Seawright, who earned $4,053 for his first career Southern Nationals victory. "I could see in those ruts, there was so much grip through 'em. Trust me, I didn't want to run through 'em, but I knew that was probably the best way around."
Seawright became the seventh winner in seven series races in 2021 in taking the checkers a half-second ahead of Dawsonville, Ga.'s McIntosh, who recorded his third consecutive runner-up finish in bolstering his points lead on the Ray Cook-promoted tour. McDowell settled for third with 10th-starting Jadon Frame of Decherd, Tenn., and Cody Overton of Evans, Ga., rounding out the top five.
Seawright wasn't seriously challenged after grabbing the lead, building his margin over McIntosh to nearly three seconds with 10 laps remaining before a couple of late cautions bunched the field.
"It feels amazing," Seawright said. "I got by McIntosh there, he was really good in the bottom. I just got that top blowed off over there in (turns) one and two. I knew I could probably make it stick for one lap up there. That was an awesome race. I can't thank all these guys enough."
McIntosh wasn't very tempted to move out of his low groove after leading the first 14 laps relatively comfortably.
When he heard Seawright's challenge from the outside, McIntosh had one thought: "Damn, I waited too late."
"I kinda knew there'd be speed (outside). It's just a little treacherous. (Crew members) were telling me (to stay on the) bottom. Whew, what do you do? I'm worn out," McIntosh said. "Definitely a physical race, to say the least, but hat's off to him, working it through traffic and keeping it in a straight line. There's some fun in that every now and again.
"Sam, I'm proud of him. He did good. He told me he was going to load up earlier — I'm a little disappointed he didn't. But hat's off to him, glad they had a good run."
McDowell was worn out, too, after the rugged 40-lapper.
"That was a young man's racetrack. I thought I was going to have stop for oxygen halfway through," McDowell said. "We've kept this E-Z-Go hot rod at least in contention ... we haven't had consistency in this series like we did this (winning the Schaeffer's Spring Nationals), so we're a little bit behind. That's just the way it is. So we'll keep digging and see what we can pull out of it."
Three cautions slowed the race, two of them on lap 38.
The first yellow flew on the 13th lap when Josh Walker's car went up in smoke and came to a stop while the lap-38 yellows were for Jeff Neubert's turn-two spin and when Benjamin Cranford got into the turn-three wall."
Notes: Seawright was the third first-time winner on the tour in 2021. ... Josh Rice and Kenny Collins, who finished seventh at Boyd's, were the others. ... Eight of 22 starters finished on the lead lap at Boyd's.
RESULTS
Sam Seawright
Donald McIntosh
Dale McDowell
Jadon Frame
Cody Overton
Garrett Smith
Kenny Collins
Jensen Ford
Stacy Boles
Dusty Carver
Tod Hernandez
Corey Roulette
Benjamin Cranford
Jeff Neubert
Dalton Polston
Cory Hedgecock
David Payne
Scott Cook
Josh Walker
Heath Hindman
Chase Oliver
Ahnna Parkhurst