2021 Southern Nationals at I-75 Raceway
McDowell Comes Alive For Southern Nationals Victory At I-75
McDowell Comes Alive For Southern Nationals Victory At I-75
McDowell came alive before the halfway point and tracked down Overton on the 18th lap to take a lead he'd never give up at I-75 Raceway.
Jul 21, 2021
by Robert Holman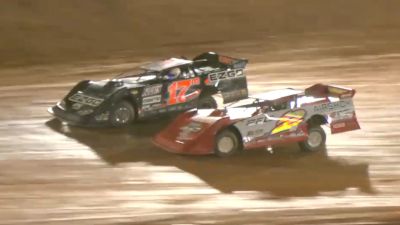 SWEETWATER, Tenn. — Dale McDowell remembers leading early in an I-75 Raceway event in April, only to slip back to a third-place finish behind a driver named Overton. He reversed that this time around.
Watching polesitter Cody Overton pull away to lead comfortably Tuesday in Schaeffer's Southern Nationals while running third early, McDowell came alive before the halfway point, tracked down Overton and made an outside pass exiting turn two on the 18th lap to take a lead he'd never give up.
The 55-year-old Chickamauga, Ga., driver cruised the rest of the way for a $4,053 payday in taking the checkers 1.881 seconds ahead of 10th-starting Ryan King of Seymour, Tenn.
"It feels awfully good," McDowell said after his second overall victory in 2021 and first on the Southern Nationals. "It was a good night, a good night for the E-Z-Go hot rod. We were here (in the spring) and led for a little bit — then that guy by the name of Brandon Overton got by us, and we fell back a little bit, fell to third."
Cody Overton, the younger brother of the top-ranked Brandon Overton (who spent his Tuesday night winning on the Lucas Oil Late Model Dirt Series at I-80 Speedway in Greenwood, Neb.), slipped back to finish sixth after leading the first 17 laps.
Behind McDowell and King was ninth-starting Jensen Ford of Johnson City, Tenn., with 12th-starting Cory Hedgecock of Loudon, Tenn., in fourth. John Ownbey of Cleveland, Tenn., rounded out the top five with Overton sixth.
Overton was cruising out front early in the race ahead of Ownbey and McDowell, holding a 3.151-second lead when the first of two cautions fell on the 10th lap. McDowell took second from Ownbey on the restart and drew within striking distance of Overton on the 18th lap when he went around him at the top of the backstretch.
"I didn't know how we were going to be at the start," McDowell said. "Then I moved around the racetrack, and it was awfully good. Hat's off to everybody that prepped (the surface) ... a good night for us."
King, who started outside the fifth row but cracked the top five by the 11th lap, chased McDowell in second in the last 15 laps but never got close enough for a serious challenge.
"When he got to lapped traffic, I could pull in on him a little bit," said King, driver of the Warrior Race Cars house car. "When he had open racetrack, I probably couldn't have gotten to him and done anything with him. I was hoping for (a few) more laps and didn't like to see that caution come out. But real happy with the car tonight and we're happy with the finish. I'll take a second place to Dale McDowell."
Ford had a steady run up to third, reaching that position by the 32nd lap.
"We were pretty good. It took me about six or seven laps to really get going. During green-flag runs we were really good, but we weren't as good after a restart," Ford said. "I think we (started) ninth, ninth to third, hell, that ain't bad. I think we should be in the points lead. We'll keep going and keep getting consistent finishes and we'll see if maybe we can pull out a win maybe not here in too long."
The event was slowed by two cautions, the first on the 10th lap when Andy Standridge blew a motor and again on lap 31 when Stacy Boles spun into the infield. Chase Oliver spun in turn four as the checkers flew, too late to draw a yellow.