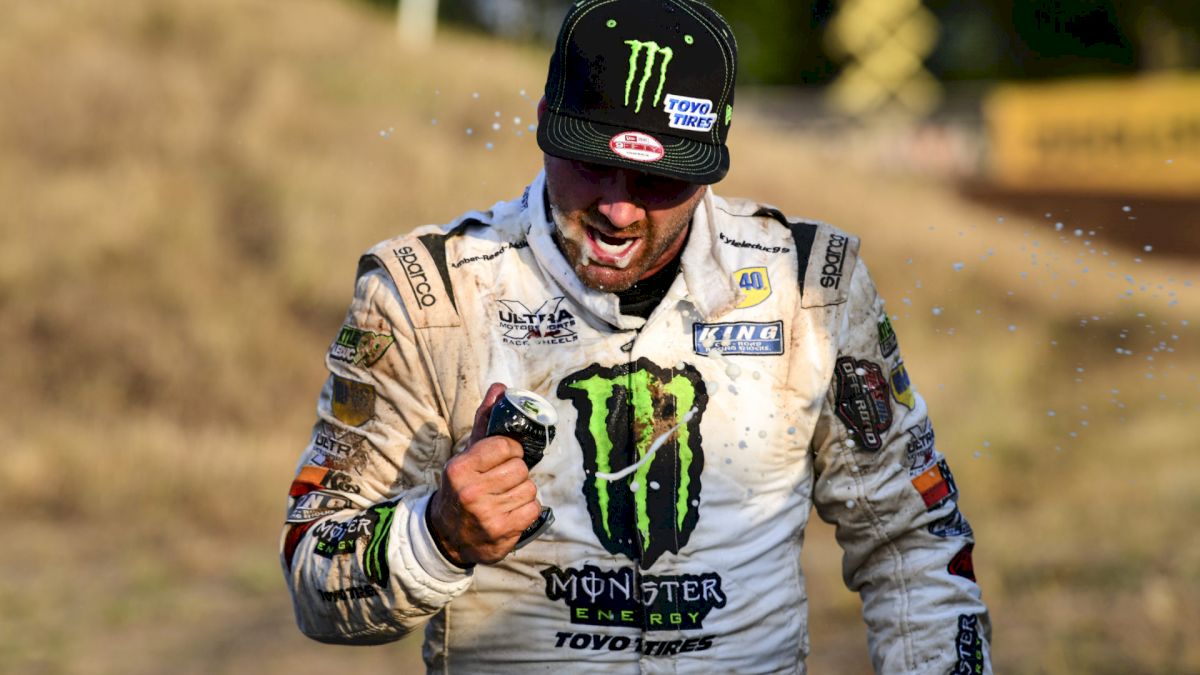 Elk River, Minn. ~ ERX Motor Park continued its tradition of flying fenders, hard-nosed racing and extraordinarily tight finishes as round five of AMSOIL Championship Off-Road roared into Elk River, Minn. on Friday.
With another record number of entries, the competition was intense and a majority of races on Friday came down to the final turn, with the race winner being determined by less than a second.
Pro 4's Prove 'Passable' as LeDuc Wins
Everyone got passed. Everyone got passed back.
It was a wild ride of 900 horsepower as off-road racings Pro 4's used every inch, bump and hole to get around the one-mile obstacle course called ERX.
Kyle LeDuc had his work cut-out for him as he was looking for his third straight win. The defending champion had to claw his way through the field after starting ninth, and still ran into a crowded field that saw five to six trucks nose-to-tail for the entire race. As soon as someone got out front, there were several trucks trying to move up and take the spot.
LeDuc and CJ Greaves went bar-to-bar over the last few laps, each trying to find a faster line to get around the track. Greaves, who had made the inside line work on the big sweeper, decided to look to the outside lane, leaving just enough room for LeDuc to even up. After that, LeDuc found some sense of control over the race, holding on for win number three.
"It always feel amazing to stand up here whenever you win, never mind a pro four race," said LeDuc. "We had a couple of minor issues after Crandon and it bit us. We haven't got a full race lap until this race, so hats off to the whole squad. They just put their heads down, and it's never over until the end. I started ninth and came out with the win, so, super pumped."
Greaves worked the racetrack beautifully throughout the race, coming from back in the field to take the lead on lap 12. After LeDuc made the winning pass, Greaves reeled him back in, but was unable to get past the 99.
Andrew Carlson also had to put in a lot of work to get back on the Pro 4 podium. He started seventh and was sitting in fifth with three to go. But he found another gear and made a last turn pass on Jimmy Henderson to finish third.
Wild Finish Follows a Wild Pro 2 Race
You have to put yourself in a position to win, especially late in a race, and especially late in a Pro 2 race. On Friday, the ERX track had a bit of a bite to it as the mile-long track fought back against the powerful Pro 2 class.
Mickey Thomas was the first one out of the shoot, with Jerett Brooks stalking him in second. On lap two, Brooks took over the lead and went to work trying to distance himself from the field. But his first class win of the year wasn't to be after he stalled out on lap 11 and was unable to finish.
That put Ryan Beat in the lead and he was hitting all of his marks, with the exception of a slight over rotation in the 180 hairpin turn that saw incidental contact with Thomas. Two laps later, that contact would prove the difference when Beat turned towards the finish line and the checkered flag his truck locked up and forced him towards the wall. That opened the door for Thomas to fly past and take his first win of the season.
It wasn't an easy day at the office for Thomas, who found steering issues early and spun out. But he regrouped and put together a charge, putting himself in position for the win.
"That was a bit of a scrappy win there and for Jerry to add you big mistakes in this bullet lane and just trying to gather it up through their time in power steering issues through there just trying to kind of put erase that first half so we can race the second and yeah we were just there to capitalize, so a little bit of redemption definitely feels good to be up here."
Beat was able to regroup after slamming into the wall and crawled his way towards the finish line with a locked-up right front tire.
"That was crazy," said Beat. "You know, unfortunate circumstances for Brooks. He was gone. And then to strike the wall in the last corner coming to the finish line, what can I say."
Ricky Gutierrez kept moving through the field, looking for redemption after an early exit in round four. He started in seventh and was able to navigate through the carnage for his podium in the past three races.
Heger Holds of Bailey for Fourth Win in Pro Lite
Brock Heger continues to show off his top speed in the deep and talented Pro Lite class. Heger entered the weekend with a 12-point lead on the heels of three wins in the first four rounds. He would improve his standing with a dominant win on the opening night at ERX.
Heger took over the lead four laps in when he was able to get around Mason Prater. From there, he was smooth, keeping his lead for the remaining nine laps and not allowing a hard-charging Madix Bailey from getting his first win of the year.
"We've been having a rough go here to the beginning parts of the week," said Heger. "After qualifying seventh, I got lucky with the eight invert, so it put me up in the front. We've just been throwing set-ups at this truck, just trying to try to figure it out. But you know, I'm happy with it. I think we'll go back and try to get a little bit more speed, so Maddox doesn't get me, but you know this Maxxis Tires Pro Lite was hooked up."
Bailey ran the race's fastest lap and held extreme pressure on Heger through the second half of the race until he bicycled his MAVTv truck on the last lap. His second place finish was third podium of the season.
Mason Pointer led early and was able to keep pace through the checkered flag, finishing third and marking his first podium of the 2021 season.
Homegrown win For Carlson in Pro Mod SXS
Andrew Carlson has won in three separate classes at his hometown track, and he has found great comfort, and success racing his Pro Mod SXS. On Friday, he went wire-to-wire for the win, but it was the last fifty feet that made the race interesting.
Carlson found his way up front early and was in control. But the last lap saw Rodney VanEperen looking for a faster line and he was able to close the gap with just a few turns left. As Carlson and VanEperen made a mad dash towards the finish line, Carlson seemed too slightly slow. Just after Carlson crossed the finish line, with his second win in hand, he came to an abrupt halt as the race car stalled out. But he had just enough forward momentum left to notch his second win in 2021.
"I feel like we've got a lot of speed this year," said Carlson, "and we've only missed the box one time, so you know from here on out we're going for wins. I feel really fast in the car. We had a little power loss at the end there, but we still got it done. Sometimes you have to have luck at your side for sure, but the car felt so awesome."
VanEperen continues to lead the class points, thanks to his fourth podium finish of the year. Robert Loire put in a great race, finishing third.
Greaves Gets the Win, Points Lead in Pro Stock SXS
The season-long Pro Stock SXS battle between Brock Heger and CJ Greaves spilled over to ERX on Friday, but it was Greaves who flipped the script at ERX.
Heger the lead from Dallas Nord on the fourth lap. He would hold the point for the next eight laps before a rear tire started to soften. That allowed Greaves, who had moved into second on lap seven, to overtake the race leader. From there, Heger's flat pushed him farther back into the field as Greaves held off Owen VanEperen for his second win of the season and fifth straight podium and take the points lead back from Heger.
"I didn't know they were going to Delaware starts out really happy for that being able to start side-by-side at least an outside shot," said Greaves. "I know Brock had gotten a flat earlier in trying to double out of the bottom line and if we could get some pressure on him and maybe get him to make a mistake right there, and he made one little mistake then and we were able to capitalize."
VanEperen, who has found success in 2021 in the Pro Mod SXS class, notched his first Pro Stock SXS podium of the season. Early race leader Dallas Nord never let the leaders get away and finished 0.109 of a second behind VanEperen.
PRO BUGGY: Mike Kirkman was in the driver's seat on his way to his first Pro Buggy win this season, but points leader Michael Meister used some late race magic to notch his third win of the year.
Kirkman led from the start, but couldn't shake Meister, and on the second to last turn, Meister found enough space to sneak past Kirkman for the win. It was an important win, as Meister entered the weekend with only a two point lead over Mark Steinhardt. With Kirkman in second, Steinhardt found his way onto his fifth straight podium by finishing in third.
PRO AM SXS: It was a spirited battle for Pro AM SXS supremacy at ERX Motor Park on Friday, as Jake Kosmecki and Dylan Marquardt went bar-to-bar for the race win. When the dust settled, Kosmecki had the edge, picking up his first win of the season. Marquardt made it five straight podium finishes in second. Chase Kleist worked his way up through the crowd to finish third, his first trip to the box in 2021.
SHORT COURSE KARTS: Triston Hinton has won two of the last three Short Course Kart races, including a tight race with Gavin Plummer on Friday at ERX. Plummer was close to picking up his first win, instead settling for his first podium of the season. Ava Lawrence now has three podiums in a row after finishing third.
MOD KARTS: Antonio Inglese now has three straight podiums and wins in two of his last three Mod Kart races after a strong run on Friday. Easton Sleaper kept him more than honest, just missing the top spot by .241 of a second. Michael Funk finished third.
1600 LIGHT BUGGY: The Schulz family continued their unbeaten streak, with Connor Schulz making it three straight wins in 1600 Light Buggy.
Billy Buth held the lead for the first six laps before Connor Schulz snuck past. Colin Schulz moved into second on the same lap, getting past Buth and turning his sights on his brother. When the dust settled, Connor Schulz wouldn't let his sibling slip past, taking the win by just .605 of a second. Buth regrouped and finished third, the defending champions first podium in 2021.
STOCK TRUCK: After winning the opening two rounds of Stock Truck, Scott Boulanger returned to victory lane with a round five win on Friday. Boulanger took the lead on lap three and had his hands full with Cory Holtger over the last five laps. Boulanger held Holtger off, finishing just 0.831 of a second ahead of Holtger at the line. Eric Senkowski finished third.
1600 SINGLE BUGGY: John Fitzgerald put immense pressure on Tony Keepers over the last lap, but Keepers had enough speed and positioning to hold off the round four winner. Keepers and Fitzgerald were tied in points heading into the weekend, and the win on Saturday was Keepers first of the year.
Dylan Parsons, a two-time race winner in 2021, finished third.
SUPER STOCK TRUCK: Nick Visser got out in front and ran a clean race for his first win of the season in Super Stock Truck. Points leader Joey Maciosek made it five straight podiums by finishing in second. Ben Holtger nabbed his third podium of the season in third.
570 SXS: Connor LaCasse turned up the heat on the 570 SXS class on Friday. LaCasse held point from start-to-finish for his first win, and first podium of the 2021 season. Points leader Chase Braun couldn't make it three straight wins, but did finish second, keeping Ellah Holtger at bay in third
SPORTSMAN SXS: For the second straight race, Jake Jorgenson got the edge on Colin Kernz of the start, but unlike round four, Jorgenson was able to be out front when the checkered flag dropped.
Kernz made it interesting by taking the lead from Jorgenson with two laps to go. But Jorgenson regained the lead by making an inside pass on the last lap stick, motoring through the final ¾ of a lap for his first win of the season.
Kernz was right there at the line with Jorgenson, finishing .030 of a second behind the race winner. Rounds one and two winner Derek Tilkens caught the leaders late in the race, finishing third.
170 SXS: Kody Krantz and Wyatt Olson put on a show in the 170 SXS race on Saturday. Krantz was able to hold off Olson as he picked up his first win of the season. Olson finished second, his first podium in 2021. Grant Dresel picked up his first podium of the season by finishing third.
570 SXS: Connor LaCasse turned up the heat on the 570 SXS class on Friday. LaCasse held point from start-to-finish for his first win, and first podium of the 2021 season. Points leader Chase Braun couldn't make it three straight wins, but did finish second, keeping Ellah Holtger at bay in third.
AMSOIL Championship Off-Road returns to ERX Motor Park on Saturday, July. Each Championship Off-Road event will be live-streamed at Champoffroad.com or on Flo Sports.