The World Of Outlaws
What Does It Take To Become An Outlaws Legend?
What Does It Take To Become An Outlaws Legend?
It takes great deal of commitment and work to become an Outlaws champion.
Jul 13, 2021
by Matt Weaver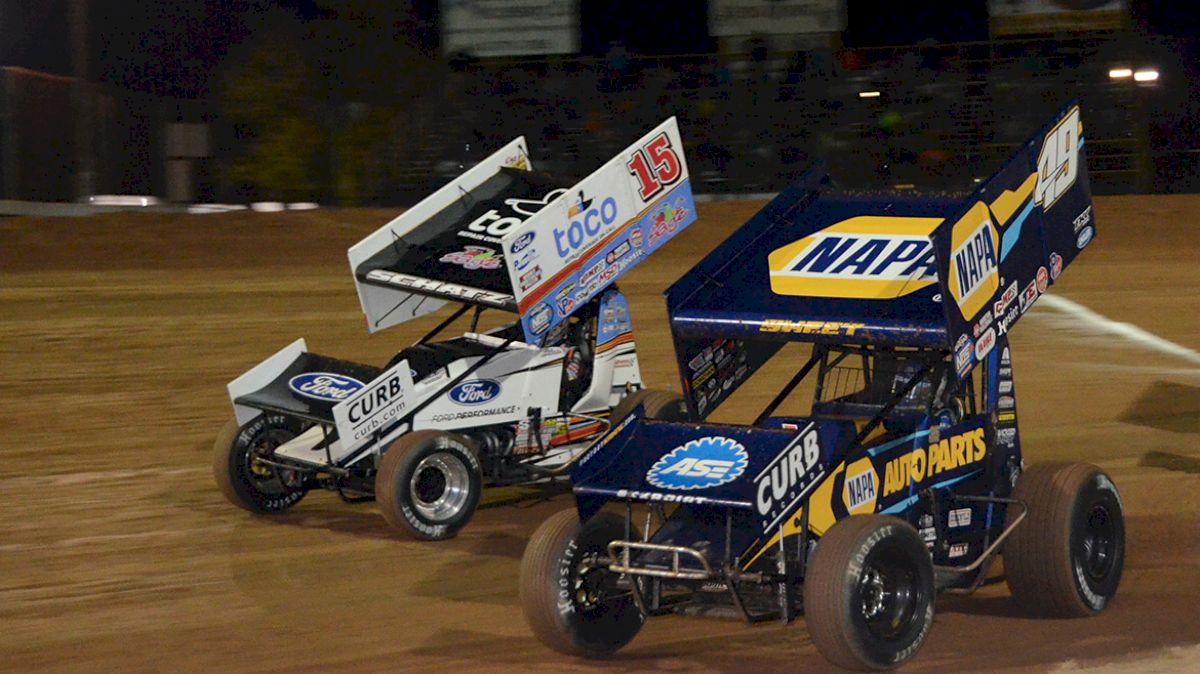 Brad Sweet is king of the jungle in the World of Outlaws right now, but its how Big Cat got there that warrants the admiration and respect of everyone working to dethrone him.
The two-time and defending champion is in the midst of his best season, emerging to the height of his craft, and is still easily the most accessible and visible personality in the pit area on any given night.
Specifically, 90 nights a year, Sweet can be found at the back of his hauler signing every tee-shirt, hero card and diecast presented to him, regardless of how his race went.
Sweet is the model champion.
That's not why he is the champion, of course, but it is a reflection of the patience, diligence and savviness needed to ascend from perennial Sprint Car winner to World of Outlaws champion.
"I haven't been extremely close with Brad," says Carson Macedo, "but because of Kyle (Larson) and driving for Kyle Larson Racing, I've heard a lot of the things he does, working with Josh Wise a little bit.
"You hear the extra miles and little things he does to be where he is today and that motivates me to do the same and more to get where he and Donny (Schatz) are."
This begs the question, what does it take to reach the level Sweet and Schatz have achieved; how do you become elite in the World of Outlaws?
"We're driven by the competition and what the World of Outlaws is," Schatz said. "When I came into this sport, all I ever wanted to do was race Sprint Cars and be those legends that I watched race when I was a kid. I wanted to reach the pinnacle that was racing with the Outlaws.
"So, once you live it, the 85-100 races a year, there's no time to slow down and hit the reset button."
Sweet didn't just become the king of the mountain overnight either.
"I was definitely not ready those first two, three, four years with the World of Outlaws," Sweet said. "I had to go through those experiences, gain the knowledge of the different tracks, understand the ups and the downs, and the flow of the Outlaws season.
"It's so much different than showing up to 40-60 Outlaws races a year and not having points on your mind.
"You could wreck out of a race and it's not the biggest deal in the world, or you could take a weekend off to hang out on a boat and you can't do that when you go full-time. There are a lot of sacrifices, a lot of grind. You have to be very mentally tough to get through the whole season. I worked on mental strength, and you get to the point where you hope all those investments pay off."
The past three years with Sweet on top followed a decade-plus of dominance from Schatz, which followed two decades of dominance from Steve Kinser. That's to say Sprint Car racing runs in cycles.
Schatz said his formative years was shaped racing under the watchful eyes of series founder Ted Johnson, who expected nothing less than elite. Schatz concluded from an early age that he couldn't afford to be anything less than what the series promoter expected him to be.
"When I first came into Ted Johnson's World of Outlaws, and you weren't good enough to be an outlaw, he was the type of promoter who would tell you that," Schatz said. "He would say you didn't belong here. He'd run you off and that's the way it was back then.
"He wanted the best of the best, and when you look at today's series, it kind of caters to anyone who wants to run. But back then, it really was the best of the best. Don't get me wrong, we're still an elite group, but it's because of that culture Ted created."
It's a culture that forged Schatz, that influenced Sweet, and now entices the likes of Macedo, Logan Schuchart, David Gravel and Sheldon Haudenschild.
"There isn't a single thing I want more in life than to be a World of Outlaws champion," Macedo said. "And trust me, I've thought about how to reach that level a lot and I don't think there's a single thing.
"I don't think there's a magic formula you pour over you and now you're Donny Schatz or Brad Sweet."
Macedo says it takes having good equipment and staying together with the same crew for decades like Schatz had with Ricky Warner or what Sweet is building with Eric Prutzman.
"They've fine-tuned their package to get exactly what Brad needs," Macedo said. "He's stuck with the same guys over there with Eric, Joe (Mooney) and Andrew (Bowman) and they're clicking on every cylinder every night."
Haudenschild agreed with the tenure theory, but also embodies Schatz' motivations watching the legends of a sport at an early age, because his father is one of them -- the iconic Jac Haudenschild.
The younger Haudenschild has seen what it takes to reach the level his dad did and works to match that legacy every night.
"My life is a commitment to this sport, and I think in the long run that'll show," Haudenschild said. "It's keeping focused and putting the work in.
"It's not getting down on yourself when you have bad nights. You have to keep that longevity with your crew. Not a lot of people out here, teams, are able to stay together. You know, Don has been at it probably 20 years with the same core group of guys and I think his results show that."
Schuchart says there's something to be said about keeping the mental strength up, like Sweet said, or not getting down on yourself, like Haudenschild said.
"I think you have to have a lot of confidence, because at their best, Brad and Donny have a lot of confidence, and they feel very strongly about what they have going on," Schuchart said. "You can see when they struggle a little bit and they don't do a lot of second guessing. They always have confidence in what they have going on."
Sweet himself says he learned from Schatz, meticulously watching tapes of their battles where he came out on the losing end to the 10-time champion. Schatz isn't the only high-level performer Sweet watches though.
"You know, I've studied other athletes at a high level to borrow things I think they've done to get to the top," Sweet said. "Once you get there, and it's been really hard to get there, you don't want to be anywhere other than here."
Here, being top of the mountain.
"We'll keep putting the work because we know people are chasing us and we love that."