2021 USAC Midgets BC39 at The Dirt Track at IMS
Jeff Gordon Turns Back The Clock In A Midget
Jeff Gordon Turns Back The Clock In A Midget
Jeff Gordon returned to a USAC Midget for the first time in over 25 years to promote the BC39 at the Indianapolis Motor Speedway Dirt Track.
Jun 17, 2021
by Matt Weaver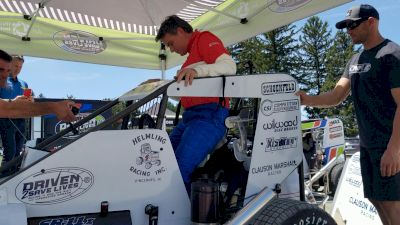 Five laps was never going to be enough and it was obvious from the moment Jeff Gordon first pulled onto the infield grass.
"THAT WAS BADASS!"
"OHMYGOD!"
"THIS WAS SO COOL!
That was the genuine immediate reaction from the four-time NASCAR Cup Series champion after turning his first laps in a USAC Midget since 1993. The session took place at the Indianapolis Motor Speedway, on the infield quarter mile, in promotion of the upcoming BC39 USAC National Midget Championship event on August 18-19.
Gordon drove a car prepared by Clauson Marshall Racing but painted in the throwback Diet Pepsi colors he sported while driving for Rollie Helmling.
The afternoon began with pictures, but then came the first challenge of the day, with Gordon trying to remember the optimal way to slide into a Midget. Then came the immediate threat of muscle cramps from a body that hasn't been subjected to a Midget in over a quarter of a century.
Don't forget to lock the gear, Jeff.
Through every step of the process was Tim Clauson, honoring a friendship with Gordon that runs decades through their quarter midget tenure, with the championship team owner making sure the Hall of Famer was secure but also in a position to have fun.
And make no mistake, there was fun.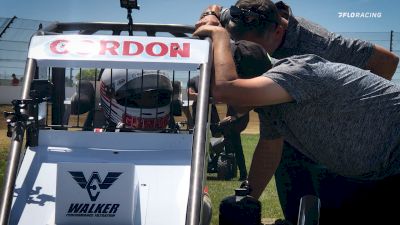 Watch Jeff turns some laps at the IMS Dirt Track.
Once Gordon safely strapped in, Clauson asked if he wanted to get out for a couple of minutes as Indianapolis Motor Speedway officials prepped the track and staged the camera crews in advance of his first hot laps in 28 years.
"I'm too old to get in and out," said Old Man Gordon with a hearty laugh, juxtaposed against that never-ending boyish grin that hasn't changed much since his USAC championship days.
He didn't push the Midget too hard for his first three laps, but started to rip for the final two, but the track was just too dry.
But the muscle memory kicked in and the switch came on for the former dirt star.
Within minutes of climbing out and conducting a couple of interviews, similar to his days winning heat races, he walked his way over to the water truck driver and made a couple of requests of where to direct the moisture.
The 1990 USAC National Midget and 1991 Silver Crown champion knew what he needed.
Upon getting the track to his liking, he pushed the car much harder, no longer sticking to the bottom. He broke traction and flirted with the top side of the racing surface. The Indianapolis Motor Speedway Dirt Track hadn't been utilized in almost two years thanks to COVID-19, and there was nothing resembling a cushion, but Gordon leaned on the weeds and grass instead.
For a moment, time rolled back and Gordon felt like a teenaged hot shoe USAC prospect turning laps in central Indiana under the watchful eyes of his mom and stepdad -- both in attendance on Thursday afternoon.
Of course, the only thing missing was the shadow of a pencil thin mustache and mullet, the only throwback regalia that didn't make its way to the Racing Capital of the World.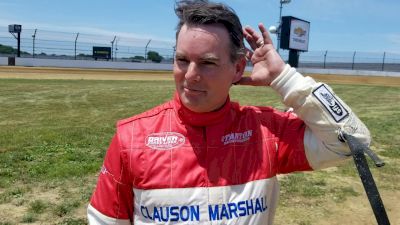 Hear from Jeff after his rip around the IMS Dirt Track.
"Listen, I need to lose about 50 pounds too, if you want to go there," Gordon said. "I'll tell you what: When I was behind the wheel, it all came back just how much fun dirt track racing is and how much fun Midgets are to drive.
"They've evolved, and I can't believe the power these things have, but that's the most fun I've had in a long time."
The late Bryan Clauson, Tim's championship winning son, routinely pushed for Gordon to drive a Clauson Marshall Midget in the Chili Bowl Midget Nationals over the years but the circumstances never aligned.
In the years since his passing, the elder Clauson continued to lobby the Hall of Famer to drive one of their cars in some capacity, and he finally came up with the winning idea. With the urging of IMS communications PR manager Suzi Elliott, what if Gordon were to turn exhibition laps at the Speedway in advance of the BC39?
Gordon got to dip his toes in the water, it's a dream realized for the Clausons and Indianapolis Motor Speedway received a huge promotional boost from one of the biggest stars in sports and pop culture.
It was a win for everyone.
"Having Jeff involved with anything we do in racing, with the team or the track or the BC39 and Driven2SaveLives and organ donation and getting that message out is huge for us," Clauson said.
The younger Clauson was a registered organ donor, which contributed to five lives being saved when he lost his life during a crash in the 2016 Belleville Midget Nationals.
"It goes a lot deeper than that though," Clauson added. "Jeff and I grew up racing Quarter Midgets together and have been friends for 35-40 years -- probably way more than either of us want to admit.
"To get this piece put together and to see the smile on his face when he climbed out of the car is really what this day was about. When you add everything he's doing to promote the race, it just made for a very special day."
Naturally, the image of Gordon climbing out of a race car evoked fan fare and excitement from legions of loyal 24 fans eager to see one more race
That sentiment is also shared by his drivers at Hendrick Motorsports, with Kyle Larson, Alex Bowman and Chase Elliott each entering the event and lobbying Gordon to enter over the winter.
Listen, he isn't saying 'yes,' but he isn't saying 'no,' either.
"When you're double the age of those guys, I'm thinking it's probably not a good idea," Gordon said. "But you know what, I'm so appreciative of Clauson Marshall Racing. They've been friends of mine for quite a while.
"Hey, if there's something fun that we can do that makes sense, why wouldn't I jump back into one of those things? But I'm probably not going to go race the Chili Bowl.
"I'll tell you what: I'm going to follow these guys with a completely different perspective now that I know what they're doing again."
All told, Gordon at 49 is keenly aware of his mortality and the number of chances he has to turn laps, much less race in an open-wheel dirt car. He's no longer the four-time NASCAR champion or 13 race winner. He's no longer in the conversation of best race car driver in the world.
But for an hour back home again in Indiana, sweating in a way he hasn't in several years, Gordon channeled those memories into something tangible.