2021 Dirt Late Model Dream at Eldora Speedway
Column: Brandon Overton's Hard Knocks Lead To Success
Column: Brandon Overton's Hard Knocks Lead To Success
Brandon Overton didn't end up on top of the Dirt Late Model world without taking his share of hard knocks.
Jun 16, 2021
by Kevin Kovac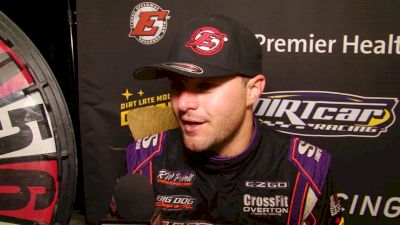 Brandon Overton didn't end up on top of the Dirt Late Model world without taking his share of hard knocks. The 30-year-old star from Evans, Ga., experienced plenty of trials and tribulations on his way to a historic $273,000 sweep of the double Dreams week at Eldora Speedway in Rossburg, Ohio.
In fact, there was one particular low point for Overton that came right at Eldora. Just three years ago Overton's Dream weekend ended before he completed a single competitive lap due to an accident in a heat race during the afternoon portion of a weather-induced preliminary program doubleheader. With Randy Weaver, the manager of the Dream Racing team fielded by Chip Stone that Overton had joined in November 2016 and enjoyed a breakout, 22-win season in '17, opting not to run a backup car, Overton became a spectator for the next day's finale — and, just a couple days later, ride-less after splitting with the Crossville, Tenn.-based operation.
Overton went from winning preliminary features at both the Dream and World 100 in 2017 to standing in Eldora's pit area in street clothes one year later, thinking about his money-draining trip (over $500 in hotel rooms plus the cost of the plane ticket he purchased for his fiancee, Heather Curry, to join him for the weekend) after what ultimately became the final act of his frustrating, two-win '18 campaign with Dream Racing.
So on Saturday night, as Overton relaxed in his trademark flip-flops and shorts inside Eldora's all-purpose building while DIRTcar officials conducted the post-race inspection of the top-three finishing cars in the 100-lap Dream XXVI, he couldn't help reflecting on how his fortunes had so dramatically changed.
"It's crazy, honestly," said Overton, whose per-hour earnings for the 100 hours from Wednesday's first hot-lap session to Saturday's final checkered flag — a staggering $2,730 — exceeded the amount of his 2018 Dream expenses. "Everybody, I'm sure, goes through all these stepping stones, building, tough times.
"Honestly, I always say this too, everything happens for a reason. Everything you go through makes you appreciate stuff like this way more. If everything's just handed to you, you don't really care about anything. That's the kind of thing that makes this so special and so rewarding.
"What's different with this (year) than (2018) is, then, I'm at somebody else's mercy, you know what I mean?" he added. "I've always been at somebody else's mercy. Well, now, I ain't at nobody's mercy."
Yes, Overton still drives for a car owner, but that man, David Wells, has put so much trust in Overton that it's almost as if the young Georgian is operating his own team. Since Overton first hooked up with Wells in the fall of 2019, all of the former coal company owner's equipment has been housed in the Peach State shop that Benji Cranford lets Overton use.
"I mean, he don't see none of this stuff (except at the track) — none of it," Overton said. "It all stays down there in Georgia."
It's an absolute dream arrangement for Overton, who has come to realize that he's at his best when he's calling his own shots. He sensed that during the second half of 2018 when he drove and maintained equipment provided to him by Alabama racer and sponsor Billy Franklin; among Overton's successes with Franklin was a $50,000 Hillbilly 100 victory. Overton decided to accept a ride offer for 2019 with the Coulter family's well-financed Rum Runner Racing because he felt he couldn't rightfully expect Franklin to provide him unlimited resources with Franklin operating his own racing effort and backing other drivers, but, despite logging a respectable 11 victories with Rum Runner, he never quite felt comfortable with the team that was based in Troutman, N.C., and overseen by crew chief Harold Holly.
"I did the other deal with Harold and (Rum Runner) because we've always been buddies," Overton said. "I told myself when I got done driving for Coulter's deal, 'Obviously, I am not very good taking orders, listening. I'm better off doing it myself. I just need somebody to back me. Like, I just need an investor.'"
Wells effectively became Overton's salvation. Overton first reached out to Wells's son Eric, who became friendly with Overton while both were World of Outlaws Morton Buildings Late Model Series regulars during the 2015-16 seasons, in the fall of 2019. When Eric mentioned to his father that Overton was looking for a new opportunity, David didn't hesitate to strike a deal.
The elder Wells, a 64-year-old native of Hazard, Ky., who is now retired after selling his surface mining coal company, B&W Resources, in 2008 and spends the majority of his time at his home outside Sarasota, Fla., was in dire need of a pick-me-up at the time of Overton's inquiry. His wife, Connie, passed away on Aug. 21, 2019, after a battle with cancer, and he was unsure if he even wanted to continue racing.
"I was ready to shut the whole thing down. I was ready to quit," Wells said while sitting on a golf cart in Eldora's all-purpose building during Saturday's post-race technical inspection. "After the World 100 weekend (in 2019), we had been planning to go on to Knoxville with (driver Kyle) Strickler, but we canceled all that because there were just issues there (resulting in the end of Wells's five-month stint fielding cars for Strickler). Then Eric calls me up and says, 'Brandon's not happy where he's at.' I said, 'Well, have him come get this stuff if he wants.'
"I met with Brandon, we talked, and I said, 'Take the stuff and see what you can do with it.'"
Setting Overton off on his own to handle the team's operation has gone better than Wells could have ever imagined. Overton clicked for 26 wins in 2020 and is well on his way to surpassing that total this year with 15 victories — including five straight and seven in his last 10 starts — following his mind-blowing sweep of Eldora's week (Thursday's $127,000 Dream XXVII, Saturday's $126,000 Dream XXVII and $10,000 preliminary features on Wednesday and Friday).
Wells considers himself lucky to be in a position where he can enjoy his retirement by fielding a team for a supremely talented driver who can make every trip to the racetrack a potentially winning one.
"It don't matter what you do (as a hobby), if you enjoy it, that's what it's all about," said Wells, who is building a new shop for Overton in an industrial park in Thomson, Ga. "You work your whole life away to try and get something that you enjoy doing. I've flown airplanes. I've had boats. Hunting. I've never golfed — I've paid for a lot of it for coal brokers and stuff, but I've never played.
"I've just been attracted to racing, and in my elder years year I've been able to financially afford to do it. And I'm so proud to have gotten hooked up with Brandon and support what he's doing.
"Brandon is such a grateful person. It's unbelievable the gratitude and appreciation he's got for what I've done for him. And that makes you feel really good."
Wells paused, and then continued with a comment on the essence of his laid-back but fiercely competitive driver: "He's had a wonderful weekend here, and Brandon Overton will not change. This won't change Brandon Overton, because he's worked so hard to be where he's at and he's so appreciative to have what he's got. And I'm so proud to be a part of what he's doing, and I hope to continue doing this with him for a long, long time."
Winning a crown jewel event at Eldora wasn't an entirely new experience for Wells; his older brother, Paul, owned the car that Scott Bloomquist drove to his famous 1988 World 100 triumph and David worked on the machine's engine. (Wells's brother wasn't at Eldora last weekend but he called David on Friday to congratulate his "baby brother" for winning Thursday's Dream nearly 33 years after their World 100 checkered flag.) But Wells admitted that Saturday's sweep-clinching victory left him emotionally drained and a bit teary-eyed as well.
"That was the most nerve-racking race that I've ever been associated with, and I've been to a lot of races," said Wells, who watched from Eldora's VIP tower outside turns three and four. "I got pretty emotional when Eric won his first World of Outlaws race (in 2013 at Duck River Raceway Park in Wheels, Tenn.), and I'll tell you what, this was equally as emotional as that was.
"I got a little bit concerned when (Chris) Madden got by him (for the lead late in the distance), but I said, 'Just be calm,' and I think that's what he done. He kept his composure. He's just an amazing kid and he's a helluva wheelman.
"Just look at that car," he added, gazing at the No. 76 that was brand-new for the Dreams. "The car's run four heat races, four features and won one fast time for this whole weekend, and look at it. It's just amazing. It has a little (rubber) mark there on the right-rear, but the other side, it doesn't have a scratch."
Overton's patience and silky-smooth driving style was on full display after he was upended for the top spot in Saturday's 100-lapper by Madden. He didn't overreact, didn't over-drive his Longhorn car in an attempt to regain the lead from Madden. He just stayed the course, eschewing any high-side antics in favor of continuing the steady, conservative approach he knows is the key to winning big at Eldora.
"Listen, I told every one of them, I said, 'Y'all, I can get up there and knock the wall down,' but honestly, if you're gonna go up there and knock the wall down, you can not have a car that's gonna run in the middle of the racetrack. It's not gonna happen," Overton said. "So if you don't have it right, you're definitely gonna lose, because then it's way wrong for the cushion because you're trying to get it tight enough and stuck enough to run in the worst part of the track.
"You gotta think, Scott (Bloomquist) and Billy (Moyer) and them guys, they've won so much money, and where at? In the middle. Just a couple years somebody sneaks in there on the top and wins, but …
"At the end of the day, I'd rather have a good car and drive it smart and not tear it up, because a lot of these things are won just being there. Like that Ricky Weiss … obviously he's a contender, wouldn't you think? But his stuff's all wadded up on lap-whatever (after the Canadian was involved in a restart scrape with Bobby Pierce). You gotta let that s— go. Don't worry about it … if Bobby's gonna chop you off, just stay away from him. Think about the big picture or whatever."
And Overton has come to understand that survival isn't the only reason for maintaining a cool demeanor behind the wheel.
"What I'm trying to get at is, I'm no damn Kevin Rumley," Overton said, referring to the engineering guru who fielded the K&L Rumley No. 6 driven in the Dreams by NASCAR and open-wheel star Kyle Larson. "All I do is tune that thing up to fit me, and then I got to do a better job than (Jonathan) Davenport, then Scott (Bloomquist), then Chris Madden. I gotta drive it smarter than them, because I'm not smart enough to make them, like, haul ass. Like, I'm no crew chief. I have a hard enough time helping my little brother (Crate racer Cody Overton).
"I can do what I know to do to make me good, but it just fits me. I've said this, I can get in other people's cars and drive it and they're like, 'Man, that's terrible (after Overton makes his own changes).' But it's just what fits me. That's all them years of beating up-and-down the road. You get all these different chassis manufacturers and they're telling you, 'Hey, if it gets slick, do this.' I do it and I'm like, 'This is s—. I suck.' They're like, 'Well, this is what everybody's doing.'
"Once you get to the point where you're like, 'Well, OK, I've done everything they've said to do. I've got to figure it out on my own.' Once you get that mentality, you set the bar and how you want to do it.
"That what tickles the s— out of me about this whole deal, is that a lot of these (rival) guys are, like, worried about me," he added. "But we bust our ass. We work hard. I've got my ass kicked a million times. You just keep working and keep working and keep working, and then you finally hit it. I can't explain it. I don't why it's as fast as it is. I just got it where I could drive it, and I just did my job. I was smart … I didn't mess up. "
Overton was simply perfect all week at Eldora. Even down the stretch, after he wrestled the lead back from Madden on lap 86, he still demonstrated a knack for avoiding trouble.
"Tonight, I don't know if ya all seen this, I was on Devin's ass (to lap Devin Moran), and then when we finished, Devin was a whole straightaway around," Overton said. "I never got close to Devin. I said, 'I'm not gonna lose this race messing with them lapped cars.'"
A slower car did come precariously close to wiping out Overton with nine laps remaining, but again, his sixth sense kept him alive when Mason Zeigler shot across the frontstretch directly in front of the leader while battling with Bobby Pierce.
"That was a close call too, but that's what I'm saying — you gotta be ready for that stuff," Overton related. "When I got to him — and he didn't know I was there — I seen Mason Zeigler and Bobby Pierce. Where do you think they're gonna go? I know where they're going. And when I seen Bobby slide up and I seen Mason coming, I went ahead and started turning left, and sure as s—, here he come … whoom! He come a lot faster, but I was already waiting for it."
Overton admitted that Saturday presented him the biggest, most pressure-packed challenge of his career as his desire to complete the sweep was heightened by the money on the line plus the accusations circulating through the pit area that a traction control system was the source of his speed. Leading up to Saturday's headliner, his stress level was pushed to its limit.
"You think about it," Overton described, "I'm over there signing all these T-shirts, I'm stopping and taking pictures, I'm going in there (to the trailer) and setting my right-front shock and coming back, I'm signing a couple more autographs, my parents are there and they're talking to me, I go back in there and set the right-rear. Then Big Dave comes down and I'm talking to him, I go in there again and check on my tires and say, 'We're gonna run these tires' … and then I'm going, 'Am I gonna mess it up? Am I gonna make the right decisions?'
"There's a lot to this, and I don't think everybody understands. I have plenty of help, but I'm saying, at the end of the day, it's way more pressure on me, because I want to do good for them. They all come help me, they do everything I want them to do, but if I mess it up, I've messed it up for them. If I make the wrong adjustments on this thing, they don't get rewarded.
"I think that's what makes me the way I am," he added, "because I don't wanna lose."
And make no mistake — the sense of satisfaction Overton and Wells experienced after DIRTcar officials found no untoward parts on it during the post-race impound was real.
"That's the reason I'm wanting them to look at this thing," Wells said as the inspection process was still underway. "I'm wanting them to dissect it, and hopefully this put an end to all that (speculation)."
When told that Rocket Chassis house car owner Mark Richards had said after Saturday's 100-lapper that he would "bet 10-grand" that Overton's car was legal and would pass tech, Wells smiled.
"Well, that's what I'm telling you — Mark Richards should know me well enough to know that I would never be associated with anything like that, nor would Brandon Overton," Wells said. "It's a reputation thing for us. I don't need to have him cheat to go out here and do this. That kid can do it on his own.
"The traction control is right there in Brandon Overton," he added. "It may be in his big toe, because he does where flip-flops and I think he trains that big toe to do the work."
Overton offered similar thoughts.
"Any real racer is gonna appreciate what we done," Overton remarked. "Just like Mark (Richards) … how long has Mark been doing this? He knows what it takes, and he appreciates, 'Hey, Brandon and his boys here, they built a bad-ass car.' You gotta appreciate it. The racers will appreciate.
"Like (Kevin) Rumley, he just stopped by and he's all proud of us. He's one of the smartest guys in the damn pits, and he appreciates it. He knows it's not illegal.
"Honestly, what I just did has probably fueled (Rumley) up," he continued. "He's probably about to go back to work. And Mark too. That's what makes this so damn competitive. Rumley don't want to lose, I don't want to lose, Mark Richards don't want to lose, Madden don't want to lose. So we all work, work, work, work, and somebody's gonna come out on top."
Not surprisingly, after an otherworldly four days dominating on Dirt Late Model racing's biggest stage, Overton was ready for at least a short respite.
"I need a break, man," Overton said during a post-race session with the press in Eldora's media center. "I'm telling you, my heart and s— is, like, pounding. I need some time not to think about the race car for a little bit and relax, because I'm knotted up. I don't know what to say, I don't know what to do, I can't think.
"When you get paid to drive a race car, that's pretty damn good money. And as hard as it is to win out there, this is what this stuff should pay, you know what I mean? You race for 5,000 (dollars) and you're like, 'Damn, that was a hard $5,000 to earn!'
"So I'm happy … the money's great, but the prestige is probably a little cooler to me. I'm still young and don't have any children to take care of yet, so it's just me, Heather and a dog. But I am building a house, so for me to win this, it couldn't have happened to me at a better time."
And Overton can see even more crown-jewel glory in his future
"I just don't want this deal with me and David to ever end," he said. "It's probably the best fit that I could ever have."
Ten things worth mentioning
1. I've never seen the Eldora Speedway pit area empty out at the conclusion of a crown jewel weekend as quickly as it did Saturday night. Certainly many teams were anxious to hit the road after being parked in the infield for four days, but a storm on the facility's doorstep prompted an especially hasty exit for competitors. Lightening was dancing across the sky when the checkered flag fell in the 100-lapper and Eldora officials warned attendees that severe weather might imminently hit, so crews scrambled to load up and the usual post-race influx of fans to the pit area didn't happen. Alas, the storm skirted by without dropping anything more than a few raindrops, but the wind did kick up noticeably at one point and blew dust and garbage through the pits. I went inside a hauler to conduct an interview right as the wind increased and thought a downpour was about to begin, but when I emerged a few minutes later there was no rain. A long line of haulers, though, was already formed and rigs were virtually racing out of the pits in turn three.
2. Once the rush to leave was done, I headed out of the pit area around midnight and found a bit of irony in the last race car hauler still parked in the infield. Sitting there on the inside of turns one and two was Scott Bloomquist's black rig, which happened to be the last transporter to pull into the pits last Wednesday when the Hall of Fame arrived after the drivers' meeting.
3. Gregg Satterlee of Indiana, Pa., credited his Friday-night Dream XXVI preliminary feature win — his long-awaited first-ever triumph at Eldora — to a change in setup strategy. Specifically, the 36-year-old and his crew chief, Robby Allen, decided to try what had brought them success at the high-mile several years ago. "We've been so bad here. I haven't made a (crown jewel) feature here in like three years — no lie," said Satterlee, whose last appearance in the finale of a major weekend at the track — before snapping the skid with a ninth-place run in Saturday's 100-lapper — was his runner-up World 100 performance in 2017. "We were pretty much the worst car here Wednesday night (when he didn't qualify for a preliminary feature on opening night of the double Dreams) and we missed (Thursday's Dream headliner), so as crazy as this is, we went back to our notes from three or four years ago. We finished second (in '17) and the next year we were pretty good but had some bad luck, and then we kind of bailed on what we have been doing here. People can be like, 'Well, you ran second here. Why don't you just put the same setup on?' Well, things change in our suspension and shocks mounts, and our load numbers and this and that, and you kind of try to do what you've been doing because you know what balances your car. We kind of got away from that and it just doesn't work at racetracks like this, so we just sort of reverted and got pretty deep in the notebook and made it way better." Added Satterlee, "At least we can say we won here. You get a hundred different guys who race here every year, and three or four of 'em get to pull there car up there (on the stage)."
4. Satterlee was joined for photos on Eldora's winner's stage by his wife, Kelsey, and their daughter, Prudence, but the 2-year-old wasn't exactly ready for the post-race celebration. "I had to wake her up (in the hauler) for the last lap," Kelsey said with a smile.
5. Upon initial examination in Eldora's pit area, Jason Feger of Bloomington, Ill., thought the new MB Customs Race Car he flipped wildly during last Thursday night's B-main scramble — a ride he called "hands-down the craziest thing I've ever done" — might have been fixable. He said it appeared the heaviest damage to its frame was on its right-rear corner where he slammed into Kyle Strickler of Mooresville, N.C., who hit the turn-one wall and then came down into Feger's path. But Feger reported Tuesday that the chassis was deemed unrepairable after its builder, Jimmy Mars, and his staff put it on a jig at their shop in Menomonie, Wis. The loss of the machine couldn't have come at a worse time for Feger, who was hoping to run it on the DIRTcar Summer Nationals that kicked off its seemingly-endless schedule on Tuesday at Brownstown (Ind.) Speedway. "It's frustrating," said Feger, who entered his older MB Customs vehicle in Brownstown's program. "We got a brand-new car, and you figure you'll have a brand-new piece to go to a bunch of tracks that you're really good at."
6. Feger's wife, Abby, didn't witness the accident because she was standing on the inside of turn three to signal Feger, continuing her trend of not viewing her husband's worst crashes in real time. "I haven't seen Jason's three worst flips," Abby said. "I've only seen his slow rollover." After she rushed to the crash scene and eyeballed the wrecked car, she was certainly thankful that Jason had been inside a safe machine. "About 45 minutes later, after I kind of calmed down, I hugged Jimmy Mars," Abby said of Jason's chassis builder.
7. Last Wednesday's opening night of the double Dreams was exactly 20 years to the day since the running of the Eldora Million, so it naturally put the race's historic winner, Hall of Famer Donnie Moran of Dresden, Ohio, in a nostalgic frame of mind. While discussing the event, the 58-year-old recalled one under-the-radar moment from the night that sticks with him today. "A lot of people don't know to this day," Moran began. "It was almost 4 in the morning, everybody else had left (the pits) and we were just getting to shut the lift gate, and Scott (Bloomquist) come down when nobody else was around and shook my hand and congratulated me and told me to make (the money) go as far as I could. I still remember him doing that. Some people like Scott, some don't … I thought that was pretty cool."
8. Four days after his Eldora Million victory, Moran's wife, Brenda, delivered the couple's fifth child (after first daughter), Savanna, who celebrated her 20th birthday on Sunday after spending the previous four days working as one of Eldora's two race hostesses. Moran recalled that Savanna's birth was just part of a hectic week following his triumph; he remembered "doing an ESPN interview with my hospital bracelet still on my wrist" and coming home with Savanna to an avalanche of people wishing him well for his two memorable events just days apart. Moran said "so much was going on that we didn't have time to work on the race car and I didn't even race the next weekend," which was a bit surprising since the show he would have targeted was a $7,500-to-win STARS-sanctioned event at nearby Atomic Speedway (then K-C Raceway) in Alma, Ohio.
9. Eldora Speedway officials announced on Tuesday that they decided to award additional money to the top-performing rookies during the double Dreams week due to the "unexpected anomaly" of the highly-decorated Kyle Larson legitimately qualifying for rookie status in the event. After Larson swept the high-finishing rookie bonuses awarded each day ($500 for prelim nights, $2,000 for the Dream finales), Eldora declared that, "in the interest of fairness to the rookie drivers and teams whose entry into the event was influenced by the Specialty Awards posted," the rookies finishing behind Larson would have their bonus pay increased. With the adjustments, drivers who saw their earnings jump up from the rookie program included Max Blair (an additional $2,700), Spencer Hughes ($2,000), Jenson Ford ($700), Austin Kirkpatrick ($200), Logan Roberson ($100) and Travis Stemler ($100).
10. Eldora's post-race notes also revealed that, of the 77 competitors who took a green flag during the double Dreams, 20 drivers earned at least $10,000 for the week and eight surpassed $20,000, including, of course, Brandon Overton.