2021 Dirt Late Model Dream at Eldora Speedway
Cleared After Inspection, Overton Gets High Praise For Dream Sweep
Cleared After Inspection, Overton Gets High Praise For Dream Sweep
Eldora Speedway's pit area exploded into a cauldron of accusation and innuendo as soon as Brandon Overton swept the first half of the double Dreams week.
Jun 14, 2021
by Kevin Kovac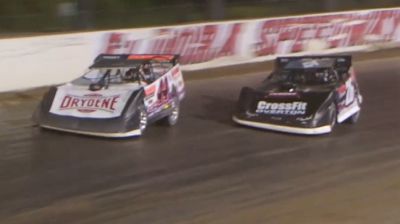 ROSSBURG, Ohio (June 12) — Eldora Speedway's pit area exploded into a cauldron of accusation and innuendo as soon as Brandon Overton swept the first half of the double Dreams week on Wednesday and Thursday. It didn't let up when the Evans, Ga., standout continued his assault on the racing extravaganza with a victory in Friday's 25-lap preliminary feature.
Sitting one more 100-lap triumph way from a perfect four-for-four performance at the half-mile oval, Overton found himself in the crosshairs of rival competitors who were looking to find answers for his unbeatable speed. They settled on the idea that his David Wells-owned Longhorn Race Car was laced with some sort of traction control system.
Big Sexy was just too good, too smooth, right?
The speculation — as well as the Friday announcement by Eldora and DIRTcar officials that the top three finishing cars in Saturday's Dream XXVI finale would be impounded after the race in the facility's all-purpose building to undergo an extensive technical inspection — served only to fuel the 30-year-old driver's desire to complete an unthinkable, a $273,000 sweep of the week.
"When I seen all that it just kind of fired me up," Overton said in a pre-race interview with DirtonDirt.com's Derek Kessinger. "I was like, 'God, I hope more than anything I can win (so) they can tear this damn thing all apart.'"
So after Overton finished off arguably the most amazing stretch in Eldora, and Dirt Late Model racing, history with a hard-fought $126,000 triumph in Saturday's Dream XXVI (on top of his Thursday Dream XXVII win worth $127,000 and pair of $10,000 preliminary scores), he happily took his No. 76 up to the barn for further examination. After showering in his team's hauler, he strolled into the building wearing his trademark flip-flops and shorts and sipping a can of beer and spent the next hour-or-so calmly chatting with team members and rival racers who stopped by the congratulate him as World of Outlaws Morton Buildings Late Model Series technical director Kenny Kenneda, who oversaw Dream tech for DIRTcar and Eldora, went about his business.
Around 1 a.m., Kenneda pronounced the inspection done. He said Overton's car, as well as those driven by runner-up Chris Madden of Gray Court, S.C., and third-place Chris Ferguson of Mount Holly, N.C., had passed. Nothing untoward had been discovered, most notably on Overton's machine that had been so scrutinized from afar by pit-area railbirds all weekend.
Kenneda said he took the ignition boxes from the Overton and Ferguson cars so they could be sent off for deeper analysis (he had just done the same to Madden at a WoO show a week earlier and the series regular was using that same one), and lab results from tire samples obtained from all three drivers post-race would be determined in a couple days. But he discovered no other discrepancies, refuting the conspiracy theories involving GPS-connected traction control tied into the braking system that some thought might be the secret to Overton's success.
"I have not seen any of that," Kenneda said. "I have not checked anybody's shoes, but I think we've put that to bed and I think the competitors can sleep a little better tonight or something.
"We took four-bar rods off. We took shocks and had them tore apart on all the cars. I've been up underneath them and went from one end to the other on the concrete floor chasing brake lines, chasing electric lines … it ain't there.
"All the teams seem happy," he added. "This is what they wanted, and at the end of the day we're all gonna go out the gate and everybody feels like everything's fair and we'll move on to the next one."
Overton, of course, never had a doubt about the inspection's outcome. He had remarked during a post-race interview in the infield media center that he welcomed officials checking his car from front-to-back and everywhere in between.
"I'm gonna soak it all in," Overton said when asked what he would do during the inspection process. "Kenny Kenneda and all the tech guys, I ain't gonna give 'em a hard time. I want 'em to look, and I have no problem … if they're gonna check mine, that's cool, that's what it should be. I don't know if I started (the impound mandate) or whatever, but I do think it's pretty cool that they're gonna do this (after) the two times that I win.
"Most of the real racers, they know. Like I said, people can whine and bitch, and I mean, you gotta do something. And there's always a doubt … how far will people push it? So I want them to do (a thorough inspection)."
He paused, then added with a sly smile: "But next year if they don't do it, I'm gonna be pissed."
For Overton, the speculation that his string of checkered flags triggered among his competition was, in a way, a badge of honor.
"You work your ass off and you turn it into something," Overton said. "I guess some people take it like they're doubting me, but I don't. I just think it's awesome that me and my boys can build a race car to come out here and kick their ass and they think it's cheating, so that's cool."
Hall of Famer Scott Bloomquist of Mooresburg, Tenn., was one Eldora stalwart who would agree with Overton's comment. A 12-time crown jewel winner at the Big E, the 57-year-old superstar noted after Saturday's headliner that he's faced similar rumblings about his performance through the years and Overton being subjected to it signals the Georgian's arrival as a top dog.
"He should just take it as a compliment," said Bloomquist, who finished 18th in Saturday's 100-lapper after retiring with a broken rear end. "If they do dig through and over and up and down, it just makes (Overton's win) that much more solid. If they didn't do it, then there's always that question mark.
"It's really just to give the competitors peace of mind. If someone is getting away with some things like that — because obviously that (traction control) stuff makes a difference — I think it should be easy to find because I don't know if you can hide it. I think they should be able to find it within an hour.
"But it's definitely worth looking for, and we want to make sure the drivers stay in control of driving these cars, and the engines do their job and don't blow the tires off and the cars do their job," he continued. "It's the things that have always been what it takes to win, and you're still doing it and not bringing in something that deflates your accomplishments or takes away from them."
There's no doubt that Overton's impeccable strength became a huge topic of conversation in Eldora's pit area midway through the double Dream week. Mark Richards, the owner of the Rocket Chassis house car owner driven by 2019 Dream champion Brandon Sheppard of New Berlin, Ill., heard the scuttlebutt from more people than most; as a senior, respected statesman of the Dirt Late Model division, racers from all corners of the pits sought him out to offer their theories on Overton's performance and seek Richards's opinion.
"Everybody's been coming up to me all weekend, saying this and that (about Overton)," Richards admitted. "There's all kinds of rumors (of traction control use) out there. There's a lot of people who have been over here yakking about what's going on. They had me believing it."
But come Friday night, after Richards was among the competitors whose queries to Kenneda and other event officials contributed to the announcement of Saturday's post-race impound for the top-three finishers, his opinion changed. Upon closer examination of Overton on the track — first during his Friday preliminary-feature victory and then his Saturday Dream XXVI triumph — Richards became so convinced of Overton's innocence in the traction-control matter that after Saturday's 100-lapper he stood in the pit area and assertively said, "I'll bet 10-grand that his car's legal and will pass tech."
"I'm telling you, it's more about what's going on with that guy's driving than it is anything on that car," Richards said. "Even setup … you can have the best setup, and if you don't drive it right it doesn't do you any good.
"I watched (Overton) last night and I said, 'He ain't got nothing. That's patience, is what that is.' They can say it's car, they can say whatever they want to say … his car's good, nobody's saying his car's not good, but he's doing an incredible job behind the wheel."
By Saturday night, Richards was unabashedly praising Overton's talent and his unprecedented accomplishment.
"I've known it for a long time how good Brandon Overton was, so this is no surprise to me," Richards said. "There's no doubt in my mind he's one of the best in this sport, and right now he's the best in this sport.
"I think it's incredible that we get to do this (race for big money) in this sport, and it's incredible what Brandon did."
Richards boiled down Overton's success to his "knack for driving this place."
"I do believe that Scott (Bloomquist) had it for a long time — he's always in the middle of the track riding just like Brandon did all week," said Richards, who has been attending Eldora's crown jewel events as a crew member and later a car owner since the mid-1970s. "There's a few guys who don't over-run their tires, and then, late in the race, they have tires left to race. That's what you have to do here.
"Chris (Madden) is another guy that has that patience to take care of the tires. Dale McDowell does the same thing. Billy Moyer's another one who could do it.
"Look at where the top four cars (Jonathan Davenport of Blairsville, Ga., finished fourth) were from. What area are they from? The Southeast, where the rubber is. Really, the first four cars were guys from the area where they're used to taking care of their tires.
"Those guys that race in the rubber … you gotta realize, Scott Bloomquist raced a bunch of his life in it. Brandon Overton's raced a bunch in the rubber at Gaffney (South Carolina's Cherokee Speedway) and those places. Chris (Madden) has raced in the rubber and so has Ferguson. Those guys know how to take care of tires to finish a race."
Bloomquist is well aware of how Overton has developed into a driver cut from his same cloth, a heady, steady-as-she-goes racer who doesn't overdrive his car or run the ragged edge with regularity. Those qualities are the reason Overton is now in Eldora's history books.
"Heck, I'll tell you what he's learned," Bloomquist said. "When he drove a car of ours a few years ago — I think it was out at I-80 (Speedway in Greenwood, Neb.) — my biggest comments to him were, 'You just need to settle down a little.' That's the key, because he's matured enough that he's not knocking the damn body off. He's maintaining and keeping his equipment under him, and you can always come back and work with that. And then if you do get beat, you can build on that.
"If you're just running into s--- and bouncing off the fence and you gotta have a new car every other month, it's just kind of hard to get excited about building a program around that."
Bloomquist paused. He considered Overton's style and, despite experiencing a bad night himself, found solace in Overton sweeping the double Dream week without even approaching the track's cushion.
"I know as well as anyone that how he looks right now, you can still get it done and race on the racetrack," Bloomquist said with a smile.
Other all-time Eldora greats echoed Bloomquist's assessment of Overton's driving ability.
Billy Moyer of Batesville, Ark., for instance, took notice of Overton's cool approach to negotiating the Eldora high banks. The eight-time Eldora crown jewel winner, who scratched from Saturday's action after failing to earn a strong heat-race starting spot due to a rough Friday outing, even drew a parallel between himself and Overton.
"I was down there talking to him last night and told him he's stealing my (nick) name," said Moyer, who is known as Mr. Smooth. "He's silky-smooth, doesn't get excited."
Donnie Moran of Dresen, Ohio, whose five Eldora crown jewel victories include 2001's Eldora Million, saw Overton in the same light.
"That's unbelievable what he did. He drove excellent," said Moran, who recalled that he experienced a similar back-to-back weekend sweep of big-money events in October 1988 when in less than 24 hours he won the World Race of Champions at West Virginia Motor Speedway in Mineral Wells ($30,000) and the Dirt Track World Championship at Pennsboro (W.Va.) Speedway ($60,000). "Even when he had to race with (Darrell) Lanigan (for the lead during the race's first half) and then Madden got by him (for the top spot late in the distance), he worked his way by them. He just drove patiently … give him a ton of credit.
"He stayed calm, cool and collected. When I won out here, Charlie Fisher, who ran sprint cars out here and built my engines, he always told me, like the old movie with Steve McQueen, 'Be Cool Hand Luke — don't ever let anything fluster you when you drive a race car.' I'd say Brandon was that today.
"This will go down in the history books as a sweep weekend," he added. "It's awesome. I was glad I was here and got to see it."
The confident but humble Overton smiled when told of the praise he received from some of the sport's biggest names and expressed satisfaction in reaching the pinnacle of Dirt Late Model racing.
"I know the people who know us and race with us, the hard-core racers, they know what's going on," Overton said. "We've been busting our ass. It ain't like we just started winning, you know what I mean? I feel like I should be winning now. I've paid my dues, I've won a crown jewel. I feel like it's my turn. Everybody else around me has had their turn, so I feel like now it's mine."