2021 Dirt Late Model Dream at Eldora Speedway
Can Anyone Beat Brandon Overton Saturday At Eldora?
Can Anyone Beat Brandon Overton Saturday At Eldora?
Can anyone stop Brandon Overton from sweeping the 2021 Dirt Late Model Dreams at Eldora?
Jun 12, 2021
by Joshua Joiner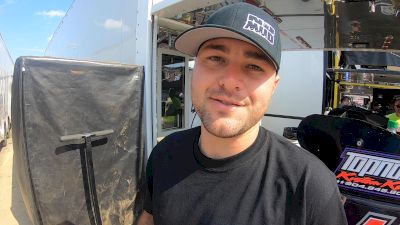 ROSSBURG, Ohio (June 11) — After hearing that Brandon Overton had spun a zero on Eldora Speedway's casino-style inversion wheel at the conclusion of Friday's Dream XXVI preliminary night program, Jonathan Davenport summed up Overton's trip to Eldora's double Dirt Late Model Dreams quite succinctly.
"He really spun a zero?" Davenport asked in near disbelief. "Man, it's just his week."
It has indeed been Overton's week thus far during Eldora's historic back-to-back Dirt Late Model Dreams. The Evans, Ga., driver has already earned a total of $147,000 for his three feature victories in three nights since Wednesday and shapes up to be the heavy favorite Saturday night to win bring in another $126,000 during the conclusion to Eldora's 26th Dream.
Thanks to his lucky spin on the inversion wheel Friday night, Overton is set to start from the pole of one Saturday's six Dream heat races. Like Davenport, many if not all of the event's 70-plus other competitors have realized the it will be hard to stop Overton from completing an astounding $273,000 sweep by winning Saturday's 100-lap feature.
"It's obvious Overton's the class of the field," Ryan Gustin of Marshalltown, Iowa, said shortly after setting for second behind Overton in the first of Friday's two 25-lap prelim features at Eldora. "Anything can happen, but if I was gonna put money on anybody, I think it would be foolish to bet against him."
Gustin experienced Overton's dominance firsthand in his prelim feature on Friday. After staring from the pole and leading the race's opening nine laps, he was no match for Overton through the race's second half, fading to more than a straightaway behind at the finish.
"We've got a couple of things we could've done to get quite a bit better," Gustin said. "I don't know if we could've been that good (as good as Overton), but I don't think we were quite as good as we could've been. We've got room to improve, but it would be a lot better to already feel like we were already there instead of chasing it."
After finishing third behind Overton and Gustin, former Dream winner Darrell Lanigan of Union, Ky., echoed Gustin's thoughts in citing a drastic need for improvement in order to keep pace with Overton.
"I think we're a top-five car right now, but we can't run with Overton, so we've gotta do a little work. I think everyone's gotta do a little work to run with him," Lanigan said. "We haven't given up yet. We're still looking at things we can do and thinking about how can get better. So I'm not saying he's won the race yet. He's definitely on his game right now, but we're still digging."
Another driver having a good week at Eldora, although not nearly as profitable as Overton's, is Kyle Bronson. With his third-place finish in Friday's second 25-lap prelim feature, Bronson of Brandon, Fla., has three podium finish this week at Eldora including his career best performance in a crown jewel event with his third-place finish behind Overton and runner-up Tim McCreadie of Watertown, N.Y., in Thursday's Dream XXVII feature.
While Overton has mostly ran Eldora's middle to low grooves on his way to each of his three victories this week, Bronson has been fastest running against the outside cushion. Track conditions haven't produced a cushion strong enough for Bronson to beat Overton yet this week, but he hopes that changes Saturday.
"He's really, really good and I think I'm gonna need a little something to lean on to out run him," Bronson said of Overton. "He's definitely better than anybody right now more down on the racetrack. But I feel like my car's the best on the top. I feel like our car's extremely balanced and I could kind of move around, but he's definitely better than me on the bottom. But if they give us something to race with on the top, I think I can be there with him at the end."
Rather than hoping track conditions play in his favor, Davenport, the Blairsville, Ga., driver that entered Eldora's double Dreams as a heavy favorite with 15 victories on the season and five career major event victories at Eldora, plans to try to adjust his car in attempt to find the right setup to help him overcome Overton.
"We just got to get our car better if we're going to run with him," said Davenport, who won a prelim feature on Wednesday, finished seventh in Thursday's Dream main event and finished fourth in Friday's second prelim. "We got it a lot better today. We didn't show it in the feature (Friday night) because we went one more step than we needed to just trying one more (adjustment) there, and it didn't like that.
"You just gotta hit it right. (Overton) was really good when he got here and now he's that much further ahead after three days of tuning on it. We've still got to tune a couple more things, but I definitely think we're getting closer."
If anyone knows anything about dominating at Eldora Speedway, it's Scott Bloomquist. The Hall of Famer from Mooresburg, Tenn., has won the Dream a record eight times and has four victories in Eldora's World 100. While Bloomquist acknowledged Overton was much better than the rest of the field in Thursday's 100-lap feature, he wasn't quite as impressed with Overton's performance on Friday.
"I watched that race last night, and as I was watching it, I could see that he was just better than everyone," said Bloomquist, who failed to qualify for Thursday's Dream main event but is looking much for Saturday's race after finishing fourth in Friday's first prelim. "But tonight, I saw somebody that could be beat. It's going to take not having any mistakes and having a car that's geared up for a long race, but it can definitely be done.
"It'd be impressive if he did pull it off, but we're here to be the spoiler and keep him from doing it."