2021 Dirt Late Model Dream at Eldora Speedway
Eldora's Tech Wrinkle: Dream Podium Cars Impounded
Eldora's Tech Wrinkle: Dream Podium Cars Impounded
The results of Saturday night's Dirt Late Model Dream XXVI at Eldora Speedway will take a bit longer than usual to be finalized.
Jun 12, 2021
by Kevin Kovac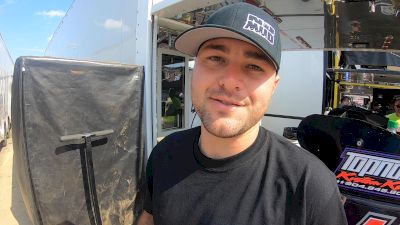 ROSSBURG, Ohio (June 11) — The results of Saturday night's Dirt Late Model Dream XXVI at Eldora Speedway will take a bit longer than usual to be finalized.
During the drivers' meeting before Friday evening's preliminary program, DIRTcar officials announced that the top three finishing cars in the 100-lap feature will be impounded — perhaps as long as noon on Sunday — in the facility's all-purpose building outside turn three for a more involved postrace technical inspection than was conducted following Thursday's Dream XXVII.
Seeking to go an extra mile in order to "keep them honest," World of Outlaws Morton Buildings Late Model Series technical director Kenny Kenneda, who is overseeing Dream tech for DIRTcar, agreed with Eldora general manager Roger Slack's idea to replace the traditional postrace inspection in the infield pit area with an impound process that is rarely seen in Dirt Late Model racing.
"I have not done an overnight impound," said Kenneda, a former racer whose service with the WoO was preceded by a stint as a Lucas Oil Late Model Dirt Series official. "Roger reached out to me to see if I'd be willing to do it, and I said, 'Sure, it would probably be good.'
"It's just to check the cars and give them one last visual inspection at the end of the night, because a lot of times when you go through a (pre-race) tech line they ain't gonna present you what they're gonna race so the best time to do it is when the race is over. Just give it a good look-through and look for things that you think might be there at night (for the main event)."
Kenneda paused, and then added with a sly smile: "A lot of the crazy stuff comes out at night."
According to Kenneda, immediately after victory lane ceremonies are completed the top-three finishers' vehicles will be moved under the watchful eye of officials from the pit area to the all-purpose building.
"We're not gonna do anything down here," Kenneda said while standing outside the WoO operations trailer in the pit area following Friday night's action. "We're gonna take 'em all upstairs and put 'em in a barn up there. I don't know if we'll lock the door, but I'll go in and pretty much eyeball X-ray everything and look at everything (on the cars).
"We'll take some parts off and inspect some heim joints; there's some stuff in the heim-joint area out there (that officials are watching). And there's some electronic stuff out there — it's out there and I'm gonna try to stay on top of it, at least let 'em know that I am looking for it and I am up to speed on what's there."
When asked if that "electronic stuff" includes traction control, Kenneda nodded affirmatively. Pit-area scuttlebutt concerning the possible use of traction control systems on at least some cars competing in the Dream has gained steam throughout the week, and Kenneda acknowledged that he's been hearing from entrants on the subject. He said he even received a text message from a competitor about the topic at around 3:30 a.m. on Friday — an inquiry that prompted Kenneda to wryly note that his "office hours don't start until 9."
"It's out there," Kenneda said of traction control, "and it's been out there."
While the popular image of traction control revolves around a system linked to the ignition that effectively retards the engine to help produce a smoother-operating car especially in slick track conditions, discussion at Eldora has pointed to a newer, different version that is more related to the car's braking system and uses GPS mapping. Kenneda called the GPS model "pretty trick" but noted that he's cognizant of it and a thorough postrace teardown would allow him a better opportunity to discover if it was on a car.
"You just gotta chase the brake lines — start at one wheel and just take the brake line and chase it all the way to the master cylinder," Kenneda said. "You have to just make sure that brake line goes to the master cylinder and doesn't go anywhere else."
A simple Google search for the phrase "auto racing gps braking control" quickly turns up some links to information about the specific form of traction control making the rounds of the pit area. One website, for a Nazareth, Pa.-based business called Racetronics, includes a generic picture of a Dirt Late Model and features information about "GPS traction control" that is built in a piece of tube so the unit "can be concealed completely." A Frequently Asked Questions section on the Racetronics website explains that the "electronic traction control/brake control works by comparing front wheel speed or vehicle speed, using GPS, to rear wheel speed … When the rear wheels lose traction above a selected limit the control applies the rear brakes for 1/7th of a second to control the wheel spin. The driver can simply drive off the corner and put his/her foot to the floor (and) wheel spin is controlled automatically." It goes on to state that "when adjusted correctly, the car will simply feel 'hooked' up" to the driver.
Those details of the GPS traction control are being used by some pit-area observers to question the Dream Week dominance of Evans, Ga.'s Brandon Overton, whose David Wells-owned Longhorn Chassis has chugged ever-so-smoothly around the half-mile oval's low and middle grooves to three consecutive victories ($127,000 Dream XXVII on Thursday sandwiched by $10,000 preliminary feature wins on Wednesday and Friday). The 30-year-old will seek an amazing sweep of the four-night meet in Saturday's $126,000-to-win finale, so the popular opinion is that the postrace impound and in-depth inspection has been scheduled to address any doubts about the legality of Overton's machine if he were to complete his domination of double Dreams.
After running his three-night earnings to $147,000 with his runaway triumph in Friday's 25-lapper, Overton stood in his trailer and acknowledged he's heard the speculation that his car is equipped with a form of traction control. He dismissed the notion out of hand.
"I do (realize people are talking), but it's not 1990 anymore," Overton said. "Traction control's not gonna win you a race no more.
"Like I said (in multiple interviews), I just got my car real balanced right now and everything's going my way. Look, when you're supposed to win, you're just gonna win. It's just how it goes. I mean, I just spun a zero on the (casino) wheel (that determines Saturday's heat-race inversion), so when stuff's going your way, stuff's going your way.
"I just keep putting myself in position and keep making the right adjustments to my car," he added. "Everything's good and everything's clicking and everyone's working well together, and it's just fun right now."
Overton welcomed the prospect of being involved in a postrace impound should he finish among the top three on Saturday.
"I think it's awesome. If they're worried about me, I'm glad," said Overton, who tipped his hat to Kenneda and the DIRTcar technical team for scrutinizing cars all week. "Listen, if they want to check (the car), they can check it, and I'm cool with it. I know when you get your ass kicked (by another driver), you wanna know (why).
"(The impound) doesn't really bother me at all. I hope they tear 'em all the way to the ground. That's cool. I don't mind it. Go ahead with it. If mine's gonna be right, everybody's needs to be right, and if that's how it is I'm totally 100 percent cool with it. Rock on.
"We'll sit right here and watch 'em tear 'em to the ground," he added. "It don't bother me at all. I ain't got nothing to do. As long as we're in Magnolia next Thursday (for the start of the Columbus, Miss., track's Lucas Oil Series tripleheader), we're fine."
Kenneda isn't surprised that Overton's strength has caused his rivals to wonder what's making him so fast.
"A guy gets on a roll and gets to winning a bunch of races, everybody's gonna speculate," Kenneda said of Overton. "But they work hard and they're on top of their game."
The tech man doubts that Overton would risk using a traction control system against DIRTcar's rules on such a big stage.
"I wouldn't think so, not with that much money on the line," said Kenneda, who noted a race-procedure change announced Friday — if a driver stops their car on the track after the pace truck leaves the pit area to pick up the field under caution, the offending racer will be put to the rear of the field — was instituted because word is that drivers have to bring their cars to a halt on the speedway to trigger GPS mapping of the racetrack for the traction control unit to work properly. "I think they (all teams) know when they come here that they're gonna get a good look-over, and I've been on 'em all weekend. I think I've walked 10,000 miles this weekend and I don't think I've left the inside of this pit area."
Kenneda doesn't know if Saturday's top-three will have to stay impounded until noon, but he's not going to rush the technical procedures. He done plenty of work already over the week's first three nights and will finish strong.
"I've confiscated MSD boxes and sent them off and had 'em checked (for traction control)," Kenneda said. "I haven't done anything this week, but I took some at Speedweeks and I took some about a month ago. I'm not gonna say I'm not gonna take any this weekend — I'm capable of it, and there's a pretty good chance I will.
"We've taken shocks apart. We've had shocks in the (WoO) trailer this weekend taking them apart looking for the technology and electronics and stuff in them.
"To do the impound and the stuff we do after each and every event, it just lets them know, 'I am here and watching,' " he continued. "My goal is that, when everybody goes up the hill and out the gate on Saturday night, they know they've raced with everybody who was legal."