2021 Dirt Late Model Dream at Eldora Speedway
Notebook: Thursday's 27th Dirt Late Model Dream
Notebook: Thursday's 27th Dirt Late Model Dream
Kyle Bronson's run during Thursday's Dream XXVII at Eldora Speedway was one of extremes.
Jun 11, 2021
by FloRacing Staff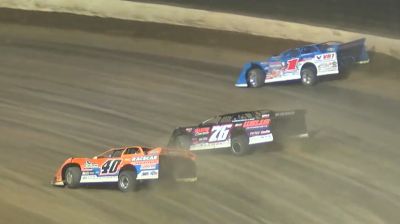 ROSSBURG, Ohio — Kyle Bronson's run during Thursday's Dream XXVII at Eldora Speedway was one of extremes. At times the Brandon, Fla., driver had the fastest car on the track and appeared to be destined to go to the front. At other times he struggled with poor restarts or got out of shape, dropping seemingly out of contention before fighting back again.
His yo-yo performance ended up well enough, though, as his third-place run in the $127,000-to-win event won by Brandon Overton marked Bronson's best in an Eldora 100-lapper by 10 positions.
"Overall, that's probably the best finish I've ever had here, and like I said, the best car I've ever had here," said Bronson, who posted a runner-up finish in a Wednesday preliminary feature to kick off Eldora's four straight nights of racing. "It's nice to be able to contend for wins and I get two podiums so far this week, so we'll take that and move on. We've got two more great days of racing here."
Bronson started third but slipped back a few spots early before he got rolling in the high groove by lap 25. But a stretch of poor restarts, then frontstretch contact with Jonathan Davenport on a restart that bent Bronson's right-front tie rod, saw him bounce between third and eighth place through the middle stages of the race.
Bronson took the blame for the restarts, saying he shouldn't tried "to start so far out," and also wondered if his tires weren't cut up enough to improve performance after they cooled under caution.
The tie rod — the car "wasn't never the same after that," he said — was bent on a lap-33 restart when Bronson was underneath Davenport in a battle for third.
"Usually he's always the cleanest guy here and I guess he thought he had me cleared and he just go going there on that restart and turned left and knocked the tie rod off my car," Bronson said. "I felt like that really cost me the race. I couldn't turn after that."
Bronson later tempered his remarks about Davenport — "I know he didn't mean to, but that's the way it goes," he said — but knew he'd have had a better chance at keeping up with Overton and runner-up Tim McCreadie if his Rocket Chassis was up to snuff all race long. Still, he took third from first-half leader Brandon Sheppard on the 71st lap and held that spot the rest of the way, occasionally moving within striking distance of McCreadie.
"My car was really good really all night long and it was just kind of like I was going pretty hard and kind of biding my time and going pretty hard," Bronson said. "Finally, I said to hell with it there at the end.
"Overall we're really happy to run third. ... it's 100 laps and I still feel like we've got a little bit of tuning to be better (on the lower part) of the racetrack, but overall we were pretty good," he added "I wish I could've gotten a win for my guys. They work really hard on all this stuff. We're just going to keep on digging and try more (the rest of) the week here."
Early leader fades
Rocket Chassis house car driver Brandon Sheppard of New Berlin, Ill., stretched to a full straightaway lead in the opening laps, but once eventual winner Brandon Overton closed in on him as the frontrunners entered traffic, it appears Sheppard's fate was sealed.
The 2019 Dream winner held on to lead 60 laps, but after tumbling out of the lead it took him just 15 laps to drop back to fifth, where he finished.
"You know, it's tough to lead them races sometimes. You don't really know where to go. Every time they would show me I would get a little bit of a lead, I was searching some," Sheppard said. "I knew Overton was good down in the middle there — I could see his nose a few times there — and he drove me really clean, so thanks to him for that. It was a really fun race.
"We got a little bit free there late in the race. We were good early and then we were getting freer and freer as the race went one. The way I see it, we've got something to work with the rest of the weekend. We would've like to have come out of here a few spots better tonight, but I feel really good about the car and the direction we're headed with it. Congratulations to Brandon like I said, and (runner-up Tim) McCreadie and Kyle (Bronson) and Dale (McDowell). That was a fun race and we're going to get to work on this thing and get a little better."
Sheppard turned back a few Overton pass attempts — and a caution saved him another time — but he simply wasn't as good exiting the corners as the winner.
"I tried the middle there a few times. (Overton) could roll into the middle and then turn down and drive off lower than I could driving off the corner, and that's where he was beating me," Sheppard said. "I could drive into the corner with him, but then when I'd get to the center, I had to get all the way up to the top to come off the corner, and he could turn lower leaving the corner — and there's where he was a lot better than me."
J.D.'s charge fizzles
After cruising to a preliminary victory Wednesday, Jonathan Davenport of Blairsville, Ga., looked like the prohibitive favorite heading into Thursday's program. But his task was made a bit more difficult with a third-place heat finish that forced him to start 13th on the 28-car grid.
It took him 23 laps to break into the top 10, but gained four spots after a restart a few laps later and suddenly was in the mix up front with Brandon Sheppard and Brandon Overton. He flirted with the lead before slipping back a bit, then fell completely from contention after a lap-48 restart when Kyle Bronson ran Davenport high in turn two and Davenport lost three spots when he was briefly caught up in the fluffy backstretch cushion.
"I had to buzz my tires really hard to get back going there and once you do that, you're killed for like three or four laps. I had to keep going though because I was gonna fall back farther. I just never could recover from that," Davenport said. "We just didn't have a good enough car. We kinda got lucky on one of those restarts and got up through there. Then we was racing for the lead and I thought we had a chance if we could've got out front in clean air."
He lost a final spot and ended up seventh on the last lap after a run-in with Dennis Erb Jr., but he focused on the next two days and another shot at $126,000 on Saturday in the second of back-to-back Dreams.
"We're still just a little free and missing a little something, but I think I know which direction to work and we'll be better Saturday," Davenport said. "It would suck if we were pulling out of here tonight with as good as we've been. It definitely helps to have another shot here. We'll get us a good night's sleep and come back and change some things tomorrow and go after it again."
Miscue spoils Larson's Dream
NASCAR and open-wheel star Kyle Larson of Elk Grove, Calif., set himself up for a strong 100-lap run with a heat race victory, but things went away on the 64th lap when he tried to get the fourth spot from Dale McDowell. Larson, who had run just inside the top 10 in the first half of the race, ended up spinning out of contention in turn two.
He blamed the mistake on trying to position himself better for restarts, which proved to be his undoing in Wednesday's preliminary feature.
"I just got impatient," Larson said. "I kept restarting on the bottom and it was kind of a penalty to restart down there. I finally got a good restart and wanted to get to fourth in case you got some more cautions because the leaders kept choosing the bottom. I just got impatient and made a mistake and spun out.
"I entered hard and thought he was gonna run a lane off the wall, but (McDowell) kind of arched and started coming back down. I had to lock it down. I still got into a little bit and spun and kind of tore up my car."
He hopes to rebound in his Kevin Rumley-owned car for the rest of the weekend.
"I definitely think we learned a lot, both me and Kevin. I'm super bummed out right now, but also excited that we get to come back tomorrow and try again. Try to take what we learned and be better," said Larson, who has fewer than 20 career Late Model starts. "I'm happy with where we're at in such a short time, but I still have a lot to learn. I just get myself in bad spots on restarts and stuff and just making too many mistakes. I've got to figure that out quickly, but I feel like I learn something each time, which is good."