2021 Dirt Late Model Dream at Eldora Speedway
Masterful Run At Eldora Lifts Brandon Overton To Pinnacle
Masterful Run At Eldora Lifts Brandon Overton To Pinnacle
Brandon Overton walked into Eldora Speedway's infield media center, sat down and smiled at his surroundings like a wide-eyed little kid.
Jun 11, 2021
by Kevin Kovac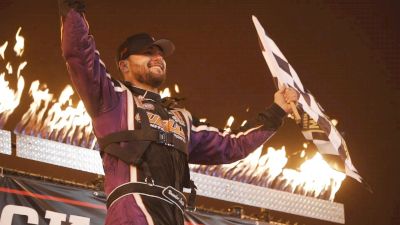 ROSSBURG, Ohio (June 10) — Brandon Overton walked into Eldora Speedway's infield media center, sat down on a chair in front of a logo-filled backdrop and smiled at his surroundings like a wide-eyed little kid.
"It's fancy in here," Overton joked as press members closed in to ask him questions about the $127,000 victory in Thursday night's Dream XXVII he had just finished celebrating on the famed half-mile oval's winner's stage.
Then Overton, 30, of Evans, Ga., made one more lighthearted crack when he was reminded that in a mere 17-or-so hours — it was nearly 1:30 a.m. because an hour-and-a-half rain delay prolonged the program — he would begin chasing another Dream checkered flag in the second half of Eldora's unprecedented double crown jewel extravaganza.
"Dude," Overton quipped, "I don't give a s--- if I ever won another one."
Overton certainly wasn't serious about abandoning his competitive spirit after capturing the most biggest triumph of his burgeoning Dirt Late Model career, but his comment did illustrate the personal satisfaction derived from his first major Eldora victory.
Noting that he's watched a long line of star drivers pull off the "bad-ass" accomplishment of winning the Dream, Overton acknowledged that becoming the race's 17th victor was truly a dream come true for a humble Peach State country boy who debuted behind the wheel of a Dirt Late Model as a teenager and has experienced many highs and lows on his way to sitting atop the division with veteran car owner David Wells and Wells & Sons Motorsports.
"Like I tell you all the time, this is what I wanted to be the whole time I was growing up," Overton said. "I didn't want to do anything else. I wanted to be a race car driver. And to win a race at the top of my class, it's awesome. There ain't no better feeling.
"Like, I'm just a normal dude. We ain't got no money (as a family), man. We just worked hard, just kept our head down and got where we are. I just want to be that guy to let everybody know they can do it. You just gotta keep digging.
"So much stuff's going through my head, like all the struggles and the wanting to give up," he added. "This is why you don't, right here."
The 64-year-old Wells, a native of Hazard, Ky., who now spends a majority of his time when not traveling to races at his home outside Sarasota, Fla., remarked during the postrace technical inspection that he was "so proud" of Overton. Watching from the VIP tower outside turn three, Wells witnessed the driver he hired in the fall of 2019 continue his ascension to superstar status with an impeccable performance that demonstrated his combination of talent, smarts and setup acumen.
Overton ran a masterful race, staying away from the treacherous cushion — and avoiding even the slightest of scratches on his Clements-powered Longhorn Chassis doors — as his methodical low-side pursuit of the top-running Brandon Sheppard of New Berlin, Ill., finally ended when he grabbed the lead on lap 61. He stayed perfectly smooth over the remaining distance en route to defeat Tim McCreadie of Watertown, N.Y., by 2.189 seconds.
"That's what he's been working after, to get in the middle (of the track) and run," Wells said. "He knows that's where these (major Eldora) races have been won."
A starter in four previous Dream features since 2015 (best finish: third in '17), Overton started fourth in the 100-lapper hot off a victory in Wednesday's first 25-lap preliminary feature that was worth more to him than just the $10,000 first-place prize. He also obtained valuable technical knowledge for Thursday's headliner by bolting a Hoosier LM-40 hard-compound tire on his car's right-rear for the short sprint.
"Every time you put a different tire on, whether it's an LM or a 1600 or 70s, the car reacts different," Overton said. "You just gotta build that whole program up, and I just wanted to jump to (running hard rubber) instead of trying to gamble on a (soft) tire to win 10-grand. If I was gonna get outrun last night, I just wanted to see what I needed to work on tonight. You gotta set up for them longer races."
Sheppard calmly stuck to his specific gameplan as he settled into second behind Sheppard in the week's first century grind.
"I kept looking up at the scoreboard and I kept seeing that 39 (McCreadie) and 49 (Jonathan Davenport), and I felt like that's the ones I needed to stay in front of," Overton said. "You gotta position yourself to be good at the end. At Cedar Lake (Speedway in New Richmond, Wis.) I did it and won that 100-lapper (last year's USA Nationals), and I just kept playing it back, 'Take it easy, take it easy, get it on them restarts, drive hard and don't let 'em get me, and then calm down and just pressure Sheppy enough to make him run hard enough to slow him down later.'
"I was just trying to keep my cool and keep my tires on it and it all played out."
Sheppard, who slipped to fifth in the final finishing order, and Kyle Bronson of Brandon, Fla., who finished third, both ran the extreme outside lane while battling with Overton. Overton's steadier line lower on the track proved more advantageous.
"They were out there pounding that top, and the middle to the bottom was good," Overton said. "You know, you just watch so much of this stuff, they get lucky every now and then and win it (running) up there, but you risk knocking the motor out of (the car) or tearing it up. I've just been trying to get my car to run that (lower) line.
"(Kyle) Larson was giving me hell yesterday," he continued. "I brought him a mud cover over there to sign for a little guy back home, and he said, 'What do you need that wheel cover for? You never even got near that cushion.'"
Overton had no need to run that riskier lane. With that danger out of the equation, his primary worry as he ran alone out front for the final 40 laps was his engine that was overheating to a temperature of 260 to 270 degrees.
"I was trying to baby it and just, like, pat the gas," Overton said of his tactics to preserve his powerplant. "I was messing it up, but (crewman Grant) Pearl was telling me (with signals from the infield), 'Just keep going, chill out, chill out.' So I was going through there and burping it and patting it and trying to get some fuel in it just to try and cool it off. I wasn't gonna stop unless it just shut off."
Overton made it to the finish first — with some serious emotions blasting through him, of course.
"I was focusing on Larson (as a lapped car in the closing circuits), and I'm like, 'Damn, there's Larson. I ain't gonna drive past him … ah s---, I'm gonna pass him!'" Overton said of the race's final laps. "And then I looked up and it was the white flag, and I come down the backstretch and I'm like, 'S---, I'm gonna win! I'm gonna win! This is for real!'
"When I took that checkered flag, I was screaming at the top of my lungs. I probably would've looked like a jackass if I got out there (in victory lane) and hollered like that."
Overton didn't bawl on the winner's stage like he did following his first-ever World of Outlaws Morton Buildings Late Model Series triumph on June 25, 2016, at Lernerville Speedway in Sarver, Pa., but tears welled during postrace ceremonies. He came close to completely losing control of his water works when his parents joined him on the stage.
"My mom was down there crying," said Overton, whose fiancee, Heather Nicole Curry, was unable to attend the event but watched the live FloRacing stream back home in Georgia. "I was like, 'Get the hell out of here, you're gonna make me cry.'"
The whole celebration was mind-numbing for Overton.
"I don't even know what to think," he said. "This is the coolest thing I've ever done and I'm gonna enjoy it."
The victory was Overton's 13th overall already this season, putting him halfway to his 2020 total of 26 triumphs. With every success it becomes increasingly clear that Overton and Wells are a sublime pairing.
"I think we're both good for each other," Overton said of Wells. "I know he knows how much I appreciate this (opportunity), and I like to see him having fun. Everybody who sees me and Eric (Wells, David's son who operates a racing parts business), they tell me, 'You come along at the right time for Dave.'"
When Overton began talking to Wells in the fall of 2019, he was at the end of his stint driving for the Coulter family's Rum Runner Racing while Wells had silenced his operation in September following the cessation of his five-month run with driver Kyle Strickler of Mooresville, N.C. With Wells, who for the decade preceding his stretch with Strickler fielded cars on a national level for his son Eric, still desiring to go racing, he found a perfect match in Overton.
"Brandon and I, we've always been good friends and him and Eric always talked," said Wells, who has enjoyed racing as a pastime since the 2008 sale of his surface mining coal company, B&W Resources, allowed him to retire comfortably. "Eric called me up and said Brandon wasn't satisfied where he was at, and I told him, 'Well, if he wants to come get our stuff, he's welcome to take it.'"
Wells's willingness to entrust the entirety of his ample racing effort to Overton was ultimately the key factor in building a formidable team.
"I do my best when I have fun, and I think he knew that," Overton said of Wells. "When I called him up about driving, I said, 'What do you think about me taking (the equipment) to Georgia?' He said, 'That's the only way I'm gonna do it.' I said, 'Hell yeah, let's do it.'
"I think he sees everything I kind of told him when we sat down and talked about it: 'This is how I think we need to do it' … (and) if you see me doing something wrong, just tell me, 'I don't like the way you're doing this, and let's talk it out, and we'll never have a problem. And he said, 'If I'm doing something wrong, then you tell me.' And that's what we've done, and it's been great.
"To have somebody who wants this just as bad as I do," he added, "it's what all makes it work."
Wells couldn't be more satisfied with the job Overton is doing for him on the track and in the shop, where he works to maintain Wells's stable of cars with two full-time crewman: Kent Fegter, a veteran 54-year-old mechanic who spent nearly 20 years working on NASCAR teams and also did a stint from 1994-1999 crewing for chassis builder Barry Wright and Hall of Famer Scott Bloomquist (which included a 1995 Dream victory), and 19-year-old Chapman Mohr, who recently joined the team following the departure of experienced wrench Steve Dixon.
"It's a big obligation to turn people loose with all your equipment and everything you've got, but that's what I done," Wells said. "I had enough confidence in him and said, 'You take it, you run it, you hire the people you need to work, and if you make a bad boo-boo, you handle it.' I've got the confidence in him, and he's got the confidence in me.
"Brandon, I give him the tools it takes to work with. There's no pressure on him, and he can go do his thing. It's been such a perfect fit for us, and I'm looking forward to many, many years together."
Indeed, the potential for Overton and Wells appears to be limitless — even though Overton views his seat as never being totally secure.
"To win Cedar Lake, I was like, 'Well, if I suck for a whole year, at least he'll remember I won $50,000,' you know what I mean? He ain't gonna fire me too fast," Overton said. "So now to win this, maybe that'll save me another year."
Collecting the biggest single paycheck of the 2021 Dirt Late Model season and etching his name among Eldora's legends didn't shake his self-effacing demeanor.
"The money's cool," Overton said. "I mean, I'm building a house so I can use that money. But it ain't even about the money. This is why we do it, the stuff like this, and to put your name on that list. I wish everybody out there that races could feel what I feel right now."
Wells, meanwhile, pointed out that the winning Thursday's Dream XXVII could just be the first half of an epic four-day stretch for Overton.
"You look at this, it's unreal that you come to a Dream, and the next two nights we race for another Dream," Well said, noting that Saturday's Dream XXVI pays $126,000 to win. "Me and him were talking, and we said it would be awesome if we could sweep the weekend. I told him I'd buy him a big broom if he could do it."