2021 Dirt Late Model Dream at Eldora Speedway
Eldora's Prelim Winners Continue Data Collection
Eldora's Prelim Winners Continue Data Collection
Jonathan Davenport and Brandon Overton just wanted to use Wednesday's preliminary program at Eldora as a tuneup for Thursday's finale.
Jun 10, 2021
by Kevin Kovac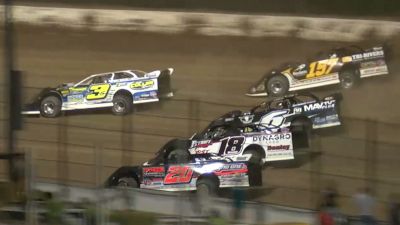 ROSSBURG, Ohio (June 9) — Jonathan Davenport and Brandon Overton just wanted to use Wednesday's Dream XXVII preliminary program at Eldora Speedway as a tuneup for Thursday's 100-lap, $127,000-to-win finale. Winning the 25-lap features would be gravy.
So after the two Georgia born-and-bred racers — the current No. 1 and No. 2 drivers in the DirtonDirt.com Top 25 Poll — split top honors in the twin 25s that kicked off an unprecedented double Dreams week at the famed half-mile oval, they found themselves enjoying the best of both worlds. They not only gained the knowledge they sought for the next night's mega event but collected $10,000 victories in the process.
Overton, 30, of Evans, Ga., asserted that he was prepared to trade a checkered flag in Wednesday's first prelim if it meant a better shot at victory in Thursday's lucrative show. Davenport, 37, of Blairsville, Ga., had the same big-picture mindset.
Davenport, of course, has been a prolific winner of preliminary features since the races were added to Eldora's crown jewel weekends in 2013 — Wednesday marked his eighth career prelim victory (six during the Dream, two at the World 100) — but he also understands the true significance of the lead-in programs. It's all about improving his chances of success in the weekend's headliner, which he's won five times (World 100 in 2015, '17 and '19, Dream in '15, Intercontinental Classic Invitational in '20).
"Just (making) adjustments to the car, (and) how it changes over a longer run," Davenport said while standing alongside his Double L Racing Longhorn machine in Eldora's postrace technical inspection area following his win in Wednesday's nightcap. "And I just learn the track every lap I make. I drive a little bit different line, I learn the lapped cars and how to react to what they do, where they move air around.
"I'm just always trying to take a little bit of data from every lap to try and get better."
Beyond the mechanical side of his car, Davenport uses the prelim nights to sharpen his skills dealing with slower traffic and mastering the vagaries of how air affects his car on the fast track so he'll be more likely to make the correct moves when the big money is on the line.
"First of all, you have to set yourself up in the position where you think they're gonna go," Davenport said when asked to describe how a driver can avoid experiencing an aeropush. "And it all depends on what line you're in, how many cars you're behind … and every racer races different, so you've got to know who's around you, too. That's the reason I watch videos (of Eldora races). I like to see what everybody does on restarts, how they go in the corners.
"But for the most part, I've raced long enough with most of (his competition) that I think I know what they're gonna do. Every now and then they'll surprise you and do something different, but it's just learning."
Davenport possessed a dominant car in leading his 25-lap feature from flag-to-flag off the pole position without receiving a serious challenge, but he was looking ahead to Thursday throughout his romp.
"I know what I was doing in the car," said Davenport, who, for the first time in his 15-win 2021 season, was joined in victory lane by his wife, Rachel, and their son Blane. "I felt some things I didn't like and I felt some things I did like, so I'll just have to go back and compare, watch the video, look at lap times. I saw what Brandon (Overton) did (in the first feature), so I tried to run kind of the same line he was but then manipulate it a little bit so I could see lap times and how we stacked up against him."
Scheduled to start Thursday's second of six heats from the outside pole thanks to a two-car invert of Wednesday's points standings, Davenport pronounced his car ready to chase a Dream triumph he hopes will come in more traditional fashion than his previous win, which he inherited after apparent victor Scott Bloomquist of Mooresburg, Tenn., was disqualified for weighing in light.
"For the most part, I guess we made a good call by putting that car up for a few months because it was pretty damn good," said Davenport, whose last start in the car he's running this week came in March's Bristol Dirt Nationals.
Overton, meanwhile, shifted his preliminary-night strategy from expressly chasing the checkered flag to working toward massaging his David Wells-owned Longhorn car into a winner 24 hours later. He ended up winning the prelim with some help from a miscue by race-long pacesetter Stormy Scott — the Las Cruces, N.M., driver slapped the turn-one wall on lap 21 to hand the lead to Overton, who was in the process of challenge Scott — but nevertheless had his eyes focused on Thursday.
"What happens is, instead of trying to prepare myself for the 100-lapper, I'm more like, 'S---, I just wanna win,' " Overton said of his usual outlook that had helped him capture three previous preliminary features (2017 Dream and World 100, '20 Stream Invitational). "So I'm just doing whatever that thing is at that time, and that's what I put in there, and I go run these prelims because I'm like, '10-grand's 10-grand. I need to go get it.'
"Tonight, I knew I wasn't gonna start on the front row (he was the race's fourth starter), and I was just like, 'The hell with it. It's a $127,000 (for Thursday's payday). Who cares about $10,000 if you can set yourself up for that?
"You just want to learn tonight," he added. "When somebody puts this kind of money up and you win one of these (Dreams) … just say you win this and you don't win another race all year, you're all right."
Overton's tilt toward Thursday was evident by his tire choice. He went with hard-compound LM-40 rubber on the right-rear corner while debuting a new Longhorn.
"Usually, every time we're here, most of the prelims are (won) on a 20 (softer compound)," Overton said. "Like last year when we were here (for the Stream Invitational), (Kyle) Strickler won (a prelim) on a 20. So when (crewman Grant) Pearl said, 'What tire?' I just said, 'Put a hard tire on it, whether it's right or wrong.' I didn't even where I was starting, so I just told him, 'Put the hard tire on and let me do my adjustments and see if that's the right direction, and tomorrow we just need to go a little more if that's what we're gonna have.
"That (hard tire) is what we're gonna race on (in the 100-lapper), so you need to get your stuff balanced for that tire. Obviously, if (the track surface is) anything like tonight, we'll be right there."
Overton will start from the outside the front row in Thursday's third heat as he bids for his first crown jewel win at Eldora. The driver with whom he'll share the front row, former Dream and World 100 winner Dale McDowell of Chickamauga, Ga., just happened to be a topic in Overton's postrace comments about his desire to break through on Eldora's big stage.
"I'm trying not to think so much about the money," said Overton, who has a top Dream finish of third (2017) in his four previous feature starts. "I want to be good here in these 100-lappers like Dale (McDowell). Dale, I don't know what he did tonight (he finished seventh in the first feature), but I promise you, 100 laps tomorrow, that guy's gonna be in the top five.
"That's what it takes to win — you gotta be there every time, every time. And I'm still building. A lot of these guys have been running here a lot longer than I have. They're a couple years ahead of me, so I'm just trying to catch up and learn as much as I can every time we get a chance to come over here."