2021 Dirt Late Model Dream at Eldora Speedway
Bitten By Big E Concrete, Stormy Scott Aiming To Rebound
Bitten By Big E Concrete, Stormy Scott Aiming To Rebound
A dejected Stormy Scott surveyed the damage to his No 2s Longhorn following a mishap while leading late in one of Wednesday's prelims at Eldora.
Jun 10, 2021
by Joshua Joiner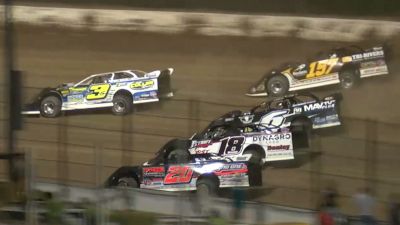 ROSSBURG, Ohio (June 9) — With his many big race wins and championships as a team owner and car builder, Kevin Rumley has earned a reputation for knowing just about everything there is to know about the workings of Dirt Late Model race cars. It turns out he knows a bit about psychology as well.
As a dejected Stormy Scott surveyed the damage to his No 2s Longhorn Chassis following a heartbreaking mishap while leading late in one of Wednesday's two Dirt Late Model Dream preliminary features at Eldora Speedway, it was Rumley who was quick to give his client some sage advice.
"You got to do that so you can learn," Rumley told Scott with a hearty hug and a pat on the back. "Don't be disappointed, just put it back together and get her done."
Indeed Scott will need to follow Rumley's advice and move on quickly from his Wednesday night miscue. Even though it denied the 31-year-old Las Cruces, N.M., driver both a potential $10,000 victory and a front-row starting spot in a heat race for Thursday's conclusion to the 27th Dirt Late Model Dream that pays $127,000 to the winner, Scott still has plenty of reasons to move forward with optimism.
After all, there's still plenty of racing to be done at Eldora during the historic half-mile track's double Dreams week with the conclusion of the 27th Dream set for Thursday and another split-field prelim night planned for Friday ahead of Saturday's 26th Dream that pays $126,000 to the winner. Based on his performance Wednesday, Scott has a car that's capable of contending in the historic double Dreams.
"It's frustrating because we have a really, really good car. We have a car that can win one of these deals," said Scott, who led the opening 21 laps in the first of Wednesday's two 25-lap Dream preliminary features before climbing the turn-one wall while trying to hold off Brandon Overton's late charge. "I feel really bad for my guys because this is a bunch of work that we shouldn't have to do. Hopefully we can have a good rest of the week though and I can make it up to these guys."
Scott was quick to take the blame for his miscue and was honest about what caused it. He was watching Eldora's large video screen outside the turn-two wall to keep an eye on the closing Overton when he missed his entry in turn one.
"I started watching the TV screen going down the front stretch and I thought I could see Brandon there," Scott said. "I thought I was OK through three and four, but I could see he was way low in one and two and I just was afraid to go in there too slow and he was either going to slide me or I was going to get tight.
"That one lap, I was watching the screen and when I looked back down and when I went to turn in I turned in a split second too late from what I had been. It was just enough to get the right front in the fluff and it just shot me in the wall.
"It sucks because we were so good. Now everything on the right front is probably bent and probably the rack. We're going to have to go through it all and pretty much replace it."
The unfortunate mistake ended what would've been a memorable performance and a career-boosting victory for Scott. It also would've been a confirmation of Scott's vast improvement this season after switching to Longhorn over the offseason.
"Finally everything's starting to come together," said Scott, who earlier this season earned his first ever Dirt Late Model victory in Lucas Oil Late Model Dirt Series Speedweeks action at East Bay Raceway Park in Gibsonton, Fla. "I've got a really good group of guys right now that work on my stuff and they're awesome. And Justin Labonte and Kevin Rumley, just everyone that's helped us. We just have things really starting to go our way and it was showing tonight. I hate it that I didn't get it finished off, but I think we can get one before this deal's over with.
The good news for Scott is he has plenty of time left in the week to make up for his mistake starting with Wednesday's program.
"Tomorrow, we'll just have to see where it puts us at in the heat race (fourth), but I think we'll be pretty good again," Scott said. "If we can get in (the feature), it's 100 laps. That's a long time around this place and I feel like if you have a good car, you have a shot. And when everything resets Friday, I think we'll be in really good shape."