2021 Dirt Late Model Dream at Eldora Speedway
Column: For Dreams, Jonathan Davenport Gets In Eldora Zone
Column: For Dreams, Jonathan Davenport Gets In Eldora Zone
It's Dirt Late Model Dreams Week at Eldora Speedway, which means that Jonathan Davenport isn't his usual self.
Jun 9, 2021
by Kevin Kovac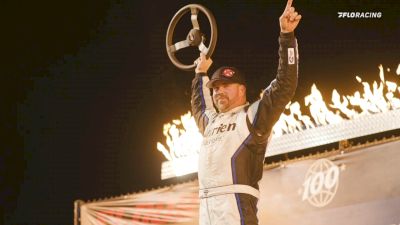 It's Dirt Late Model Dream Week — make that "double" Dream Week this year — at Eldora Speedway, which means that Jonathan Davenport isn't his usual self. He's squarely in the midst of his twice-annual transformation into a hungry animal craving the Rossburg, Ohio, track's crown-jewel meat.
"At Eldora, he, like, turns into a werewolf," said Matt Langston, a Longhorn Chassis staffer in his third season providing at-the-track mechanical assistance to Davenport's Double L Racing effort. "He gets up there and gets after it."
"He gets in a different zone, a different mindset there," added veteran crewman Vinny Guliani, who this week will work with Davenport at Eldora for the first time but has already glimpsed the Blairsville, Ga., star's focus on the famed half-mile oval in the lead up to one of its major weekends.
Yes, Davenport — the 37-year-old standout known as Superman — switches into Eldora Mode every June and September as the Dream and World 100 approaches.
Davenport certainly isn't the only driver whose body becomes swamped with thoughts of Eldora before its crown jewel events — every serious Dirt Late Model chauffeur understands how important a victory at the track can be for their careers and bank accounts — but no one has so successfully translated their concentration on the weekends into results in recent years. He is enjoying a spectacular run at Eldora since 2015, winning the World 100 three times (2015, '17, '19), the Dream ('15) and last September's pandemic-season World 100 replacement, the Intercontinental Classic Invitational, to put his name among the all-time Eldora greats with three-or-more crown jewel victories like Scott Bloomquist, Billy Moyer, Donnie Moran, Jeff Purvis, Larry Moore and Jimmy Owens.
An Eldora big-race entrant since the late 2000s, Davenport broke through for his first Dream triumph in his sixth career feature start and his first World 100 globe trophy in his third appearance in the division's most prestigious race. He's added four more wins in his 10 major-event starts at Eldora since his 2015 sweep, giving him a legend-level stretch of success at a track that has long been so confounding and frustrating to so many drivers.
How has Davenport arguably become Eldora's modern-day dominator? The four team members who will accompany him this weekend and are thus the closest to him — crew chief Jason Durham, Langston, Guliani and first-year crewman Clint Campbell — will tell you J.D.'s greatness starts inside his head with his Eldora infatuation and addiction to winning there.
"We aggravate him all the time," Durham said, "if there's a race at Eldora, he'd be hanging on the gate two days before they even open."
Durham, who has been Davenport's head wrench since the pair joined together with car owner Lance Landers in 2018, asserted that his driver "just really loves that place," and it's why Davenport becomes so anxious for Eldora's big shows to arrive on the calendar.
"He gets geared up for it mentally," Langston said. "Like, he'll come to the shop — don't get me wrong, J.D. will come to the shop and work, but the week before Eldora, he's already planned on being there, you know what I mean?"
"That's about the only argument we ever had," Durham added, continuing the topic of Davenport's pre-Eldora shop visits. "He wants to just come in and nitpick every little thing, and the rest of us are saying, 'Man, we do the same thing whether we're running for $5,000 or $150,000. We always try to make it the best we can make it.' But he really wants to come in and make sure everything's right … not that we're changing anything, but he really wants to be there and get everything ready (for Eldora) because he loves it so much."
An unmistakable air of confidence emanates from Davenport as he makes his Eldora preparations as well. It's grown stronger with each passing year, a byproduct of his maturity and the victories he keeps adding to his resume.
"A few years ago, I don't know if I'd say he was nervous, but I'd say it was more an anticipation thing," Langston said of Davenport's demeanor heading to Eldora. "Now I think he expects to run good there, and I wouldn't say he puts a lot of pressure on himself, but he's like, 'Hey, we've done it before. We should be able to do it again.' "
Guliani remarked that "a lot of people" put extra pressure on themselves at Eldora and "it has to get mental eventually" if a driver doesn't win, but Davenport "has enough experience there now to get past that."
Indeed, Davenport has come of age as a racer, and, beyond his three Lucas Oil Late Model Dirt Series championships, Eldora is the track where his development behind the wheel might be most evident.
Durham is one person who has seen Davenport's progression to all-world talent. He was there, on the same racetrack, when Davenport was launching his career in the Southeast.
"I watched him start racing, at North Georgia, Blue Ridge and all that, when he was in his teens," Durham said. "And I raced with him — we raced together at North Georgia and some other places — and, at that point, he was kind of like me and didn't have great equipment. You usually didn't have to worry about outrunning him because he either broke or got in a wreck. But if he didn't break or get in a wreck, he was still gonna win back then. He was very wild but was very fast."
Davenport was becoming a big Dirt Late Model winner when he began trekking to Eldora just over a decade over, but he lacked the polish he's got now.
"He's matured, and he's a top-three driver in the country," Durham said. "There's a lot of people along the way who've helped him, like (chassis builder) Barry (Wright) is one.
"He don't hardly ever get himself in a bad position now," he continued. "If something happens, it's unpreventable. He knows you can't win the race until last 10, 15 laps, so he's usually good saving tires, being patient. He's done gone 180 degrees from when he started racing to where he is now as far as knowing when to go and when to be cautious and take care of his equipment."
Durham said that Davenport likes big tracks ("Well, except for Knoxville," he cracked about a speedway that's frustrated J.D.) so Eldora is comfortable surroundings for him. But he's also learned to block out the many distractions inherent to the oval's high-profile shows — like the heat-race inversions, rival drivers and pressure to win — and just focus on circling that racetrack while making a bare minimum of mistakes.
"That's the key to Eldora, just running the right lines and knowing how to run around there without just tearing your car up," Durham said. "Air's really bad, too, and he puts a lot of effort, a lot of time into Eldora. Not that he doesn't everywhere we go, but he really, really likes that place and he's just learned and watched videos and studied how he needs to race that place, where he needs to be, and he's just really good at putting himself in a position to be where he needs to be at the right time.
"He's very confident when we go there. It just fits him. With the hundreds of racetracks we've raced at, that's by far his favorite and it just fits him. I swear that him in the car is worth two- or three-tenths (of a second) just because of his feeling towards Eldora."
Durham recalled Davenport's $50,000 victory in last year's Intercontinental Classic, which he captured with a good dose of luck — he was handed the lead on the final lap when Kyle Strickler of Mooresville, N.C., blew a tire — but nonetheless had put himself in position to benefit from Strickler's misfortune. Davenport's five-victory 2020 season was undoubtedly below his lofty standards, but he still found a way to stand on Eldora's winner's stage.
"We raced two cars there, (used) three motors … we had a terrible time at Eldora (last year)," Durham said. "But if you can get him somewhat comfortable, he'll be there."
Durham knows when Davenport has an especially good feeling about his car at Eldora. He just has to note the changes Davenport starts to suggest.
"We always make jokes," Durham said. "When it comes down to something like the brakes, he'll say, 'I think the brake has just one little air bubble in it,' or, 'My steering wheel is off just one click.' Then he's nitpicking. He's so comfortable that now he's nitpicking and he's looking for something to make it a little bit better."
One thing about Davenport and Big E: there is no complacency in his opinion of his car's performance nor his desire to win. Davenport's now-trademark hugging of the Eldora Speedway banner behind the winner's stage after he emerges from his car is totally heartfelt and an action he wants to keep doing over and over again.
"I think the more he wins there, the more he wants to win there," Langston said. "A lot of people can do something once. If you can keep doing it and doing it and doing it, that says something.
"I heard Bloomquist say one time that being a champion was being able to repeat it, and that definitely motivates J.D."
This week's double Dreams — boasting a $127,000 top prize Thursday and $126,000 on Saturday along $10,000 prelim checks Wednesday and Friday — provide Davenport all the financial incentive he could ever want at Eldora. An amazing sweep of the unprecedented extravaganza would push his total earnings for 2021 over the half-million-dollar mark before even the official start of summer, putting him in line for a truly historic campaign.
That kind of cash on the line had Davenport in Eldora Mode even earlier than usual.
"He's been in Eldora Mode for two weeks already," said Durham, who brought Davenport back to his shop in Kentucky following J.D.'s $35,000 sweep of last weekend's Historic 100 at West Virginia Motor Speedway to make final preparations for Eldora. "We talked about car stuff and tires and stuff. Our Eldora (Longhorn) car is pretty much brand new and ready to go. This is the car we built at the end of last year and the first race we ran was Gaffney (South Carolina's Cherokee Speedway in November). We fixed it (after a crash) and raced it the last night at East Bay and at Ocala (during Florida Speedweeks) and the we didn't run it again until Bristol (Davenport's $50,000 Bristol Dirt Nationals victory on March 20) and it ain't been raced since Bristol. We've carried it as a spare but fortunately we haven't had to unload it and run it, so it's ready."
And, of course, so is Davenport.
"I think a lot of guys go in there (to Eldora) just hoping to make the race, and that's a victory for 'em," Langston said. "But J.D.'s like, 'We want to win it.' He's done it before, so you want to keep doing it. He'll be good again."
Ten things worth mentioning
1. G.R. Smith, who plans to drive J.C. Clary's Brodnax Shaker Motorsports No. 89 in this week's double Dreams in his first visit to Eldora since winning the 2017 World 100 with Davenport, certainly understands what makes J.D. so successful at the Big E. "Getting to see it up close, I think probably right now, in today's game, he's the best momentum racer in the sport," Smith said. "I think you seen the first couple years he went up (to Eldora), he was always fast, but he could never keep the spoiler on for the whole race. Once he learned to keep the spoiler on, when his car's right, he's damn near unbeatable. He's got that special gift — and a lot of experience now, too — to know how far he can push it."
2. Smith also noted that Davenport's World 100 triumph in his machine was a milestone of sorts in J.D.'s evolving mastery of Eldora. "When he won it in our car, everybody said that he couldn't win it without banging the top," he said. "I think that (victory) gave him more confidence because he won that race in the dead-slick around the bottom."
3. The 39-year-old Smith is anxious to hopefully start his first Eldora crown jewel finale this weekend, but ask him who he'd bet on to win and he'll point directly at Davenport. "Growing up, Bloomquist was the man there," he said, "and now, if you're going there and you had to put it all on black, you're putting it on the 49."
4. Scott Bloomquist of Mooresburg, Tenn., was a good person to ask for his thoughts on West Virginia Motor Speedway after the sprawling 5/8-mile track in Mineral Wells hosted last weekend's Historic 100, the oval's first big-money, two-day event since promoter Cody Watson reopened it this season following seven years of silence. He was certainly impressed by the massive crowd that covered the terraced hillside, but he noted that the racing surface "needs a little bit of work" to return WVMS to what he remembers it being during his visits in the '80s and '90s. "When it opened up and we came here, I was just telling Devin Moran and Tyler Erb, there was a big show connected with Pennsboro," said Bloomquist, who relinquished fifth place in Saturday's 50-lap feature because of overheating. "We were leading our heat race and dropped out and then it rained out, and we came back a month later and they had a bunch of cars, 100-and-some cars, and we started at the back of the C (main) and won it, started at the back of the B (main) and got second, and started at the back of the feature and got second. You could run from the inside wall to the outside wall and with zero dust. The clay was just so clean, smooth, packed down. It was the smoothest, probably nicest, place that I've ever raced. It was a darker red, and it was clay. You could run the softest tires all night long. It never did wear tires, you never saw any slices in your tires from rocks … there wasn't even a rock in it. They used to turn the sprinkler system on around the top and water the thing. It was a masterpiece."
5. Bloomquist acknowledged that WVMS's sheer size does produce speeds that make it more difficult to draw cars; he noted that the track is "hard on stuff," especially when it has traction, rough spots and rocks like it did last weekend. But he feels the speedway could attract sufficient teams to fuel more well-attended events last weekend's well into the future if Watson is able to get the surface close to its former consistency. "So many places, it boils down to the dirt and where they get the dirt," Bloomquist said. "With good clay you can layer it in and get it compacted. I don't know where that dirt (in WVMS's early days) came from and if they can go find it again, but it would be worth it to do some research into that."
6. Bloomquist, by the way, plans to debut a brand-new Team Zero car in this week's double Dreams at Eldora. Last a Dream winner in 2018, he's coming off a 2020 season in which his trips to the two spectator-free invitationals resulted in three DNQs at June's Stream and a more respectable seventh-place finish in September's Intercontinental Classic finale.
7. While standing on the WVMS hillside shortly before the start of Friday's feature, I spotted Joey Moriarty, who was seated in a lawn chair spectating with his wife Jessica. A chat with Moriarty and his wife revealed that he's sold his Dirt Late Model equipment and, at 51, has effectively retired from a driving career that also included competition on pavement in the supermodified division, among other classes. The 51-year-old spent several seasons flying in from his home in Phoenix, Ariz., to run special events in the Southeast and Midwest — he put his cars under the care of hired hands on the East Coast — before relocating to the Charlotte, N.C., area after he sold his family's business, Total Seal Piston Rings, in 2019. He said trying to race competitively with a Dirt Late Model on a part-time basis had grown increasingly difficult, so he decided to back away and enjoy racing from a different, more relaxed angle. Moriarty and his wife — a former sprint car racer herself in the Southwest — are now in a sense race-chasing fans; they traveled to WVMS to take in the race while also visiting with Moriarty's daughter, Kaitlin, who is dating Tyler Erb, and the Moran family (Devin Moran's brother and crew chief, Wylie, is seeing Moriarty's younger daughter Jordan). The couple were planning to head to Ohio after the weekend to check out Wylie Moran's new home, spend time with Jordan and then attend the double Dreams at Eldora.
8. WVMS promoter Cody Watson gave his massive Historic 100 crowds some thrills by blasting off infield fireworks and fire bombs during each night's national anthem and victory lane festivities. The pyrotechnics also provided a shock to one of the track's tow truck drivers, who happened to be inside a Port-A-Potty in the infield during Friday's opening ceremonies when the giant firebombs were set off not far away at all. Needless to say, witnesses said he emerged with his eyes wide open from the experience.
9. While interviewing Gregg Satterlee's veteran crew chief, Robby Allen, at WVMS for a story on his Eldora memories, the 51-year-old from Hagerstown, Md., mentioned that his late father, Bobby, employed at least 32 different drivers during his 20 years fielding a Dirt Late Model prior to his passing in October 1995. Allen said Ronnie McBee probably was his dad's longest-tenured driver with two separate multiyear stints in the seat, while Gary Stuhler and Booper Bare were others who spent extended periods in the car. But many more racers made only fleeting appearances behind the wheel. "We had more than one driver in a night sometimes," Allen said. "We went to Hagerstown for triple 20s and he had a different driver in all three races. There were several times we'd go to the racetrack with no driver. He put about anybody in his car, and you might race it once, twice, and he'd say, 'You're done … next!' He always said, 'Drivers are like stop signs. There's one on every corner.' "
10. Allen, whose father died of a massive heart attack brought on by other health issues including diabetes, offered one illustration of just how much his dad loved racing. "Back in the early '80s he went to the Hagerstown for the Hub-City 150, a two-day show at the end of the year," Allen recalled. "This was on Saturday and Sunday, and on Friday night he started feeling this pain. Well, he was in so much pain — he didn't know what was wrong — he had an ace bandage wrapped around his waist and stomach and it was tied. He couldn't hardly stand (the pain), but he goes to the races all weekend. Monday morning he gets up and goes to work (still suffering) and the one guy at work takes him to the hospital and he's got appendicitis. They said to him, 'If you'd have gone another five hours, you'd have been dead.' " Allen recalled his father offering an explanation for his attempt to dull the pain while at the track with a bandage wrapped around his mid-section: "He said, 'If you pull it real tight it don't hurt that bad.' Well, I've had appendicitis, and I don't know how he did it. That's pain like I've never experienced. But he wasn't gonna miss those races. He had to go."