2021 All Star Circuit of Champions at Attica Raceway Park
Fans Pouring In Donations To Help Ease Team Costs For OH Speedweek
Fans Pouring In Donations To Help Ease Team Costs For OH Speedweek
Updated: Stephanie Linder is helping bridge gap between fans and race teams, by accepting donations to help support teams for Ohio Sprint Week.
Jun 11, 2021
by Tyler Burnett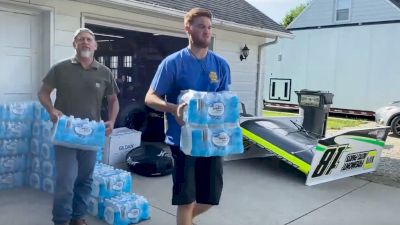 8 days of racing over 9 days. It's not easy, but they've done it in Ohio for decades. The FloRacing All Star Circuit of Champions is back in Ohio this week for one of the most challenging weeks of racing that leads right into the month of money in sprint car racing (July).
Watch the FloRacing All Stars Ohio Sprint Week Live for 8 days This Week!
Attica, Fremont, Wayne County, Sharon, Waynesfield, Muskingum County, and Limaland with only one days break, for a combined winning total of $42,000. But wait, to add the cherry on top of a sprint car racing sundae, a $17,554 winning total on the final night at Portsmouth.
Despite the large amounts of money given to the winners, the week is a grind. On the race teams wallets, more specifically. Think about this, tires, fuel, damage fixing, food, batteries, general supplies, you name it. Yes some are winning money, but most aren't. Most are doing it for the love of the sport.
Like Stephanie Linder and her husband Mike. They love sprint car racing, the Linder name synonymous with the buckeye states rich sprint car racing history. They field a car every year for up and coming drivers such as Buddy Kofoid, Christopher Bell and now Cole Macedo, with their partner Ray Brooks. Macedo has been tremendous this season, winning at both Attica and Fremont already regionally, but also some impressive runs with the World of Outlaws sprint car series, most specifically at the Burg; and a great top 5 effort with the All Stars at Kokomo in the Rudeen Race.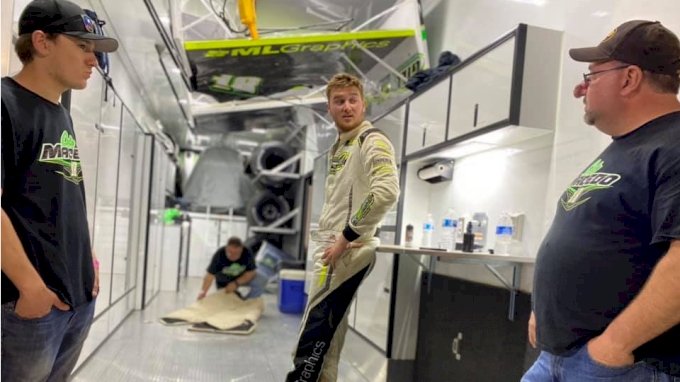 Cole Macedo chatting with Mike Linder and the crew following a race in 2021
They love sprint car racing, just as many do who grew up in awe of the heroes that made a name for themselves behind the wheel. And it's in their blood naturally to give back to the sport, that has created them so many great family memories.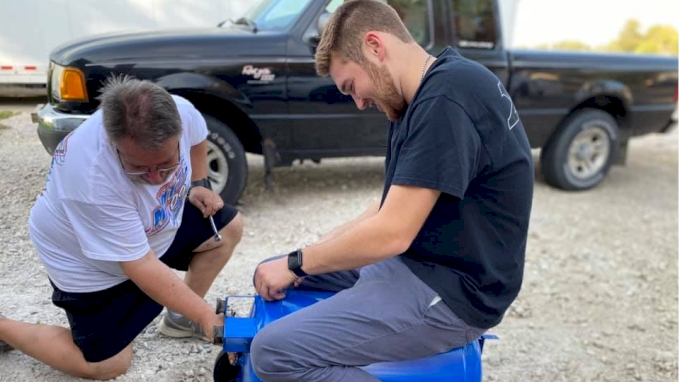 Cole Macedo and Mike Linder goofing off in front of race shop on an off day in 2021
For the past three years Stephanie through her Facebook has been accepting donations to give to the race teams during Ohio Sprint Week.
The first year the donations were incredible, but manageable, the second year it got bigger and now it's rolling down the hill. As the popularity of Ohio Sprint Week grows with the eye balls from live streaming and even the boom in racing attendance soaring. So too does the kindness from the fans, who's lives are for the most part, getting back to normal following a global pandemic, and the donations have already been overwhelming.
"If I could do this anonymously I would." Linder said, "I love helping others and I felt I was in position to bridge the gap between the fans and the teams."
The Linder family just like the Jacobs, Haudenschilds, Blaney's Ferkel's, Hewitt's and so many more in the Midwest Ohio area, are the backbone of the thriving race tracks that surround them. And those facilities that house 410, 360 Winged and Non-winged sprint car racing for generations of star gazers like myself, who crave to see their hero be the most brave.
"I first did this a few years back and each year it has gotten bigger. This year has been the biggest yet. To me it says all you need to say about this sport. During a time of so much uncertainty and negativity, the racing family banned together and helped each other during a crazy busy week. How awesome is that?"
Too awesome...
The (Racing) Family, it's a common theme throughout inner circles, in fact even if you're not blood related, you're still claimed, just walk up to a campground and start bench racing, it's simple. The entire racing community is one family, and it's examples like this that make it more visible.
Yes families are trying to beat each other on the race track, but off, it's different. Even in the work area on a race night, I promise you there are more non-team members working on an opponents race car, than actual team members on the team that's car is broken.
As far as the donations, they're first given to the smaller teams, the ones more at risk of dropping off the grueling week due to funding or non-fixed race cars.
"As much stuff as I have, I think just about all the teams will get something. How awesome is that? Fans are being so generous! I do start with the smaller/low dollar family teams that are trying to make it to as many as they can."An important clarification, as the majority of teams running this week, fall under this category.
"I'm truly lost for words" Stephanie Linder sent via her facebook page "Since we've been talking I got $600 sent to me. I am heading out to meet someone at 2 and someone at 4:30 with more donations."
It's families like the Linders and more that call the ohio sprint car region home that make going to the race track fun, that others want to be around, and more importantly...we need more of.
More Donations From The Fans, Families and Businesses who love Ohio Sprint Week And The Drivers and Teams that provide the entertainment:
Hey @stephlinder312 we just dropped off our donation. You should see it soon . Good luck to all the teams running with @ASCoC for #OhioSpeedweek shipping tape sponsored by @traileralarms pic.twitter.com/JKwmTKABq7

— Sprint Cars of New England (@SprintCarsofNE) June 4, 2021