Castrol® FloRacing Night In America
Castrol® FloRacing Night In America At Florence Nixed By Rain
Castrol® FloRacing Night In America At Florence Nixed By Rain
Action Resumes September 14 at Fairbury Speedway.
Jun 1, 2021
by Tim Truex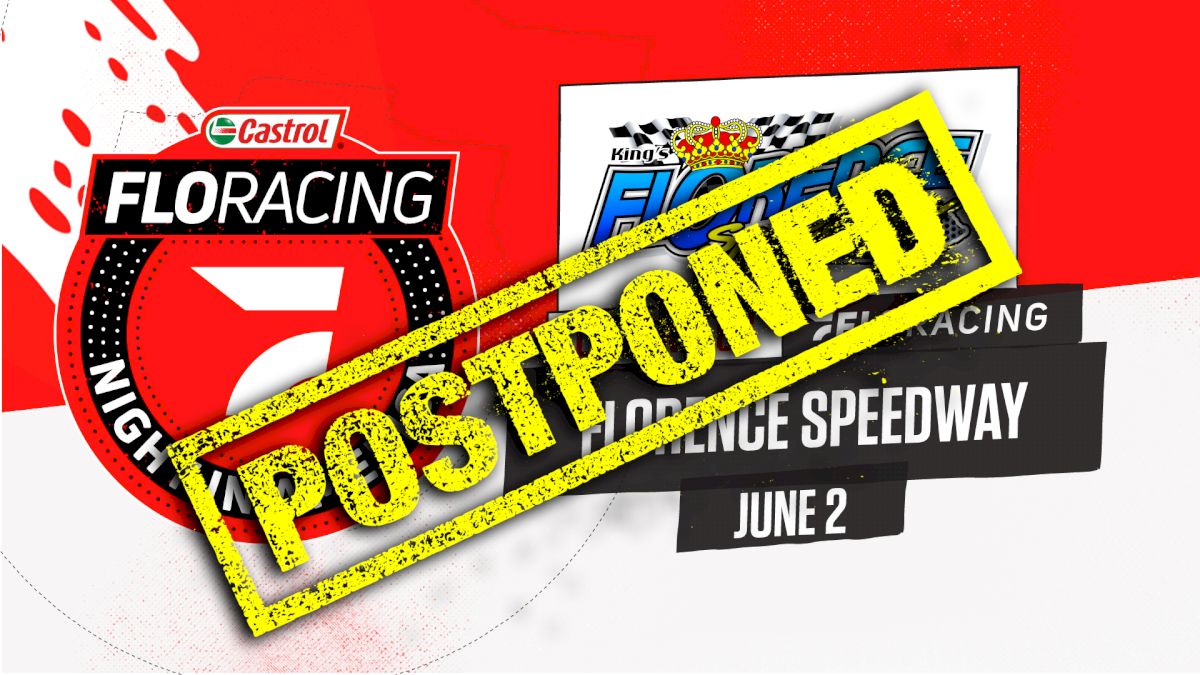 AUSTIN, Texas (June 1, 2021) — Mother Nature continues to affect the inaugural season for the Castrol® FloRacing Night in America miniseries. The latest event to fall victim to wet weather is the Florence Speedway event, which was slated this Wednesday, June 2.
High probabilities of rain for the storied, ½-mile Kentucky oval led to the decision by track and series officials to postpone the event.
"For the past week the rain chances have been progressively going up for the Florence Speedway event, and now they are as high as 90%. While we want to race as much as anybody, we also want to be realistic and don't want to waste the time and money of any of our teams and fans. As a result, after speaking with track promoter, Josh King, we made the decision to postpone this week's event," said series general manager, Ben Shelton. "We're currently evaluating some possible reschedule dates and hope to make that information available soon.
"Even though the weather has been an absolute nightmare for us in year one of the series, the events we've been able to host have been extremely successful. We can't thank everyone enough for their support, and we'll hope for bluer skies, when we return to action at Fairbury Speedway in September."
With the Florence Speedway event for June 2 postponed, the Castrol® FloRacing Night in America miniseries embarks on its scheduled, summer break. Action is scheduled to resume on Tuesday, September 14 with the second annual One For The Road at the famed Fairbury Speedway. The night's program includes a $15,000 winner's check with a total payout of over $50,000.
For more information on the facility, please visit www.FairburySpeedway.com .
With four events in the books in 2021, there have been four different winners. Jonathan Davenport, Devin Moran, Kyle Larson, and Bobby Pierce have all made trips to Victory Lane with Davenport currently residing atop the series' standings.
Castrol® FloRacing Night in America runs from March through October with races at 10 tracks in eight states. Each event will be streamed live and on-demand only on FloRacing and also feature a new live studio show co-hosted by DirtonDirt.com's Michael Rigsby and Derek Kessinger that includes commentary and expert analysis, social media integration via the FloSports app and special guests from the Dirt Late Model world.
In addition to races paying $10,000- to $22,000- to win, the Castrol® FloRacing Night in America also offers a points fund totaling $62,500.
Any questions regarding Castrol® FloRacing Night in America and its events can be directed toward series general manager Ben Shelton at msrmafia@gmail.com or 901-335-3037.
For more information on Castrol® FloRacing Night in America sponsors, visit the company websites at www.castrol.com; www.renegaderacefuel.com; www.keysermanufacturing.com/brand/integra-racing-shocks-springs; www.pitstopusa.com; www.pfcbrakes.com; www.buzzeracing.com; www.arizonasportshirts.com; and www.hoosiertire.com.
For complete details regarding Castrol® FloRacing Night in America, please visit the series landing page at www.flosports.tv/castrolfloracingnightinamerica/