2021 Dirt Late Model Dream at Eldora Speedway
Kyle Strickler Embraces Quick Shift To Team Zero Fold
Kyle Strickler Embraces Quick Shift To Team Zero Fold
Kyle Strickler is a serious Scott Bloomquist Fanboy — when the Hall of Famer speaks, Strickler is sure to be listening.
May 21, 2021
by Kevin Kovac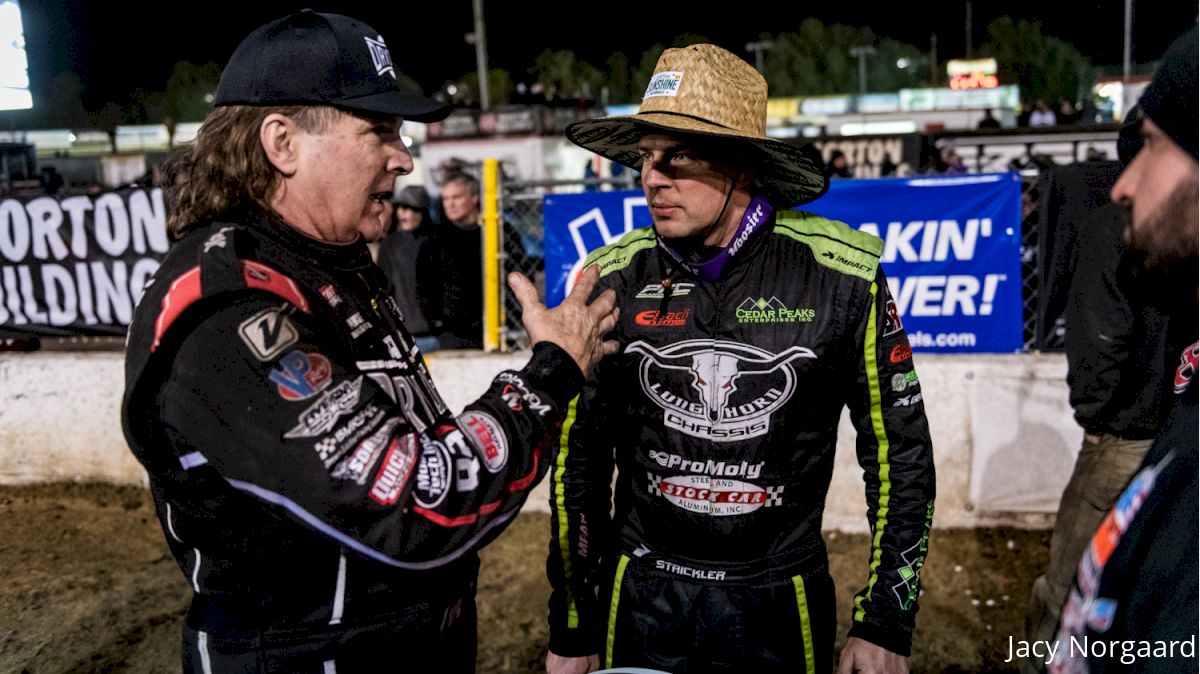 Kyle Strickler is a serious Scott Bloomquist Fanboy — when the Hall of Famer speaks, Strickler is sure to be listening.
So there's no doubt that Strickler is bubbling with excitement over his chance to drive a Scott Bloomquist Racing car — and be tutored personally by the team's legendary driver — in this weekend's World of Outlaws Morton Buildings Late Model Series doubleheader at Port Royal (Pa.) Speedway to kick off his arrival in the Team Zero fold.
"The thing that probably really needs to be noted with this Kyle news is, Kyle has adored Scott," said Cody Sommer, Bloomquist's business partner and president of SBR. "It's been obvious. He calls him dad. It's kind of a joke, but it obviously shows you that he looks up to Scott."
Strickler, 37, of Mooresville, N.C., does not dispute reports of his high regard for the 57-year-old superstar from Mooresburg, Tenn.
"There's so much knowledge with him that if you can tap into that the sky's the limit," Strickler said. "There's nobody that I look up to more."
In fact, even with Strickler ensconced in the Longhorn Chassis camp for virtually all of his fledgling Dirt Late Model career, he's often sought out Bloomquist for advice. The veteran whom Strickler admittedly refers to as "dad" has accepted Strickler's overtures and, in recent months, developed an even closer relationship with the driver from the open-wheel modified ranks, setting the stage for Strickler's inevitable debut in a Team Zero machine.
"I remember calling Kyle last year after Eldora (Speedway's Intercontinental Classic in September) when he got that flat tire leading the race," Sommer said. "I remember literally sitting in the front cab (of the SBR truck) and Scott driving, and I said, 'Let's just call him,' so I called him. It's really been ever since, Kyle and Scott have continued to talk. I don't talk to him as much (as Bloomquist), but he has obviously shown a very big interest in Bloomquist matters, let's call it."
When Strickler's roller coaster 2021 campaign hit its lowest ebb last week upon his split with Hope, Ind.-based PCC Motorsports owner Craig Sims, his search for a new path forward led him to contact Bloomquist.
"Him and I talk a lot, and he's always kind of said, 'We need to get you in a Team Zero car,' " Strickler said of Bloomquist. "When all this stuff happened with Craig, I called (Bloomquist) and I just said, 'Hey, I know we talk a bunch and kind of kid around about you being my dad and me wanting to be involved and part of the plans for the future of Team Zero. With the situation I'm in, I'm kind of at a crossroads in my career, and if you ever want me to drive for you or be involved, now's the time.'
"And you could tell the light kind of went on in his brain and the wheels were turning automatically."
Bloomquist and Sommer almost immediately collaborated to discuss how Strickler could be brought into the Team Zero fold. Sommer says Strickler was an attractive free agent for the company considering his talent and recent performance record (wins on both the WoO and Lucas Oil Late Model Dirt Series as well as Eldora over the past year), but getting him a car of his own in time for him to enter Port Royal's WoO twinbill — he's currently ranked third in the tour's points standings — was too tall of an order. Instead, Sommer and Bloomquist offered Strickler the use of an SBR car and the team's hauler, along with Bloomquist's services as crew chief for the weekend, to bridge the gap and keep him in the points race until a new Team Zero mount could be produced for him.
Strickler didn't think twice about jumping at the opportunity presented to him by the SBR partners for the immediate and near future.
"It's kind of a perfect situation," said Strickler, who spent Wednesday at Bloomquist's shop with his crewmen, Pennsylvanian Cody Kline and Trey Weaver (of Hitman Racing Suspension), getting fitted in the SBR car and making other preparations for Port Royal, including installing his own Cornett Chevy engine in the machine. "If the greatest of all time wants me to come drive for him and be involved in his program, there's really no better situation than to have him bail me out of the situation I was in by helping me put a deal together to go racing this weekend.
"The time restraints were the big hurdle to climb … so it just made more sense to come down here and just work on a Team Zero car (from the SBR stable) and go to the racetrack with (Bloomquist) being my mentor and crew chief, use his rig and just drive for him this week."
Sommer asserted that he and Bloomquist have already cemented an arrangement in which Strickler will "very soon" have Team Zero cars to run under his own banner with assistance from his existing sponsors, including Donaldson Grading and G-Style Transport. Strickler's backers also last weekend helped him obtain a new Vic Hill-built motor — he'll have the powerplant along at Port Royal as another option — and a 2019 Longhorn car that will serve as his backup this weekend.
"Kyle is absolutely going to run his own race team," Sommer said. "He is not going to race for us full time or anything of that nature, but from a business perspective, we are doing what we feel like is important for Team Zero Race Cars and our business. We are helping Kyle. He wants to race our cars and we are giving him an opportunity to do that.
"We're not worried about producing cars (for Strickler's use after this weekend). We're not worried about producing parts. All our ducks are in a row (with the chassis-building operation). But we've got to let Kyle do Kyle right now, because he's got a chance (in the WoO standings) and he really, really wants to make that chance a reality.
"There's not many chassis builders that are gonna say, 'Hey, come up here with your guys and your engines and take all of our equipment to Port Royal,' " he added. "But we're not normal chassis builders or car owners I guess. When you're in the Team Zero circle, we're gonna do whatever we can for you. And he is officially in the Team Zero circle."
Strickler will certainly bring a different style of driving to the Team Zero world. They don't call him the Highside Tickler for nothing, so Bloomquist and Sommer will have a racer known for his cushion-pounding piloting a chassis brand that isn't recognized as being made for those type of conditions.
"It's gonna be interesting," Sommer said. "Even for me, Shannon Babb (who has a Team Zero car) obviously is a high-side hustler, elbows-up type of a driver, and I've always loved that about him. But we don't have a lot of those guys in our little circle that we have, so when you bring in a Kyle it kind of like expands on the Babb thing a little bit. And to me, it's just exciting to think about.
"There's been a lot of races over the past couple of years that we've kind of left the racetrack going, 'Well, we didn't stand a chance because there was a 6-inch cushion or whatever.' I feel like Kyle is gonna put all the Team Zero Race Cars in a position — obviously with the help of the Babbs and all them — where that doesn't really matter anymore. Like, one of our guys is gonna have a chance (when there's a cushion). I know everybody's excited about it."
Strickler is ready to listen to Bloomquist's guidance on tempering his hardscrabble driving … but not too much.
"The (Team Zero) cars are drastically different from what I'm used to, so Scott's just been over here grilling me with questions," Strickler said. "One of the funny things he did say to me was, 'I'm gonna get you to actually race on the racetrack instead of just hammering that cushion all the damn time.' He said, 'There is a whole other racetrack out there to race on.'
"The cars are not really set up to be hammering the cushion, but they also want to have a guy who can do that."
Sommer can sense Strickler's eagerness to race for, and with, his hero. He's hopeful that produces a fruitful association for both sides.
"I think what really is cool, a lot of drivers will say, 'I'm excited for this weekend,' " said Sommer, who intimated that big announcements about Team Zero's chassis manufacturing are in the works and Bloomquist is primed to return to action in the May 27-29 Show-Me 100 weekend at Lucas Oil Speedway in Wheatland, Mo., after taking six weeks off to gear up for the upcoming major events. "He's not even so much excited for this weekend, he just keeps talking about the future. I mean, he is so focused on big picture. He really, really believes that he is going to be, and is destined to be, a big player for Team Zero Race Cars.
"It is very important to us, Team Zero and ultimately SBR (to team with Strickler), but I think it's safe to say this is a bigger moment for Kyle Strickler than it is for any of us. He wants to be one of, if not the top player, at Team Zero Race Cars in three to four years."
Strickler minces no words when discussing how he would like to see his relationship with Bloomquist and Co. develop.
"My hopes, and the way I see this thing going, is a long-term deal where I can find a home and be the guy," Strickler said. "Longhorn has been great to me, but right now they have a lot of big-name guys over there. It's a struggle, for me and for them, to keep everybody happy. All of us drivers have egos and want to be the No. 1 guy, and it's just tough to keep everybody happy when you have so much talent at Longhorn right now.
"When we had the opportunity to put this together, I seen a dream, once in a lifetime opportunity, so I jumped on it. My ultimate goal would be to be the guy who would be the future for Team Zero."